Some Details Emerge for 'Miss Fisher & The Crypt of Tears' Film
Some details have been revealed today about the upcoming feature film based on cult hit Miss Fisher's Murder Mysteries, which is titled Miss Fisher & The Crypt of Tears.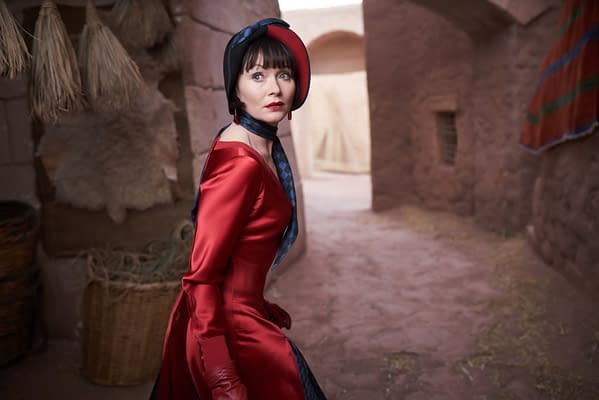 In a lengthy post today on Every Cloud Productions, lots of things were revealed including director, cast, and additional information about the upcoming film project:
British actor Rupert Penry-Jones (Spooks, Silk) and Australian actors Daniel Lapaine (Zero Dark Thirty) and Jacqueline McKenzie (The Water Diviner) have joined the cast of Miss Fisher & The Crypt of Tears, the feature film based on the international hit television series and best-selling murder mystery books by Kerry Greenwood, which is currently filming in Morocco.

They join Essie Davis (Game of Thrones) who returns in the eponymous lead role as the glamorous private detective The Hon. Phryne Fisher, Nathan Page as Detective Inspector Jack Robinson, Miriam Margolyes (Harry Potter) as Aunt Prudence, Ashleigh Cummings as the loyal assistant and maid Dorothy 'Dot' Collins and Hugo Johnstone-Burt as her adoring husband Constable Hugh Collins. Ashleigh Cummings will be seen in the upcoming international feature The Goldfinch.

The first photograph from the set has been released today and features Essie Davis as The Hon. Phryne Fisher.

In this big-screen Miss Fisher adventure, the exploits of The Hon. Phryne Fisher in 1920s Melbourne, Australia, lead her to murder, mystery and mayhem from London to British Palestine. After freeing a young Bedouin girl (Shirin Abbas) from her unjust imprisonment in Jerusalem, Miss Fisher begins to unravel a decade-old mystery concerning priceless emeralds, ancient curses and the truth behind the suspicious disappearance of Shirin's forgotten tribe.

The ensemble cast also includes John Stanton (The Dr Blake Mysteries, Beneath Hill 60), William Zappa (Mad Max 2), b (Matrix Reloaded), Los Angeles-based Egyptian star b (Eyes of a Thief) and the film will introduce Australian actress Izabella Yena to the big screen.

From a screenplay by Deb Cox, Miss Fisher & The Crypt of Tears will be produced by Fiona Eagger, with Every Cloud's Eagger and Cox also acting as executive producers. Lucy Maclaren is co-producer.

The film will be directed by Tony Tilse, who was the set-up director on the television series Miss Fisher's Murder Mysteries. Tony has built a formidable international reputation for work such as Serengoon Road and Grace (HBO Asia), Wolf Creek, multiple episodes of Ash vs Evil Dead for producer Sam Raimi and Chosen for Playmaker / China's iQiyi. He recently completed Grisse, also for HBO Asia.

Miss Fisher & the Crypt of Tears is an Every Cloud Productions feature for Roadshow Films, Australia, with principal production investment from Screen Australia, in association with all3media international, Film Victoria, Fulcrum Media Finance and Film Finances Australasia.

Miss Fisher's Murder Mysteries makes the leap to the big screen having become one of Australia's most successful television brands, both at home in Australia and internationally. It has been hugely successful in North America, the UK and Australia and has been sold into 179 additional territories.
No word yet on when we may be seeing the finished film.