Sonic 2 Poster Debuts, The First Trailer Debuts Tomorrow
This morning, Sonic 2 released a new poster showing off Tails flying a plane with Sonic perched on top, Robotnik behind him. This was released to tease that the first trailer for the film will debut as part of The Game Awards, with stars Jim Carrey and Ben Schwartz being a part of the show. This sequel is a follow-up to the very successful first Sonic film, which opened in February 2020 and grossed $319 million worldwide, right before the pandemic really took hold and shut theaters down. That made it the highest-grossing film of 2020 as well. You can see the new poster down below.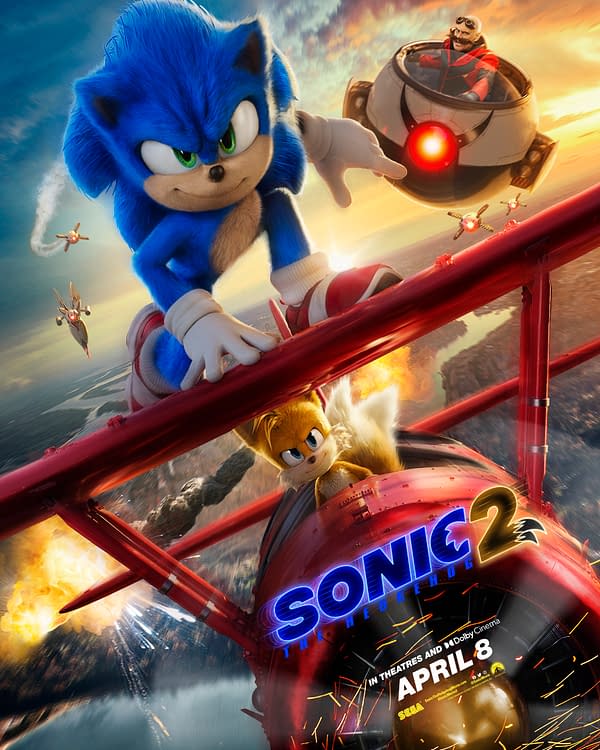 Sonic 2 Should Be Bigger Than The First
Joining Carrey and Schwartz in this one are Idris Elba as Knuckles and returning as Tails, Colleen O'Shaughnessey. I think people are most excited to see Sonic 2 for the debut of Knuckles, and The Game Awards should provide the first look at him in action. As for the show tomorrow, "The Game Awards recognizes and upholds creative and technical excellence in the global video game industry. We bring together a diverse group of game developers, game players, and notable names from popular culture to celebrate and advance gaming's position as the most immersive, challenging, and inspiring form of entertainment. We strive to recognize those who improve the wellbeing of the community and elevate voices that represent the future of the medium." What they mean to say is that they like to debut video game trailers and things like the Sonic 2 trailer, and nobody really seems to watch this for the awards.
Between Sonic 2 and the Halo series trailer, they are going to overshadow whatever awards/game trailers debut. Sonic 2 will hit theaters on April 8th, 2022, and for the most part, will kick off the summer box office a month earlier than usual.