Bill Murray Talks 'Ghostbusters' Relationships, Jason Reitman's 'Ghostbusters 3'
It wasn't long ago when Bill Murray scoffed at doing another Ghostbusters, but he's raring to go again with the upcoming Jason Reitman Sony film.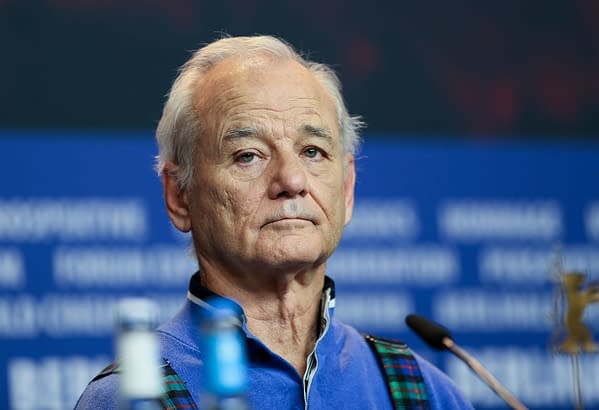 While Murray is at the Cannes Film Festival promoting the upcoming Jim Jarmusch zombie gorefest The Dead Don't Die, Indiewire asked him about how he felt about the Ghostbusters franchise.
"This franchise paid for my son's college. We made this thing. We are the caretakers of it. It's a great thing and it was a really fun movie to make. It's a real movie with some really funny stuff in it."
Murray added his ties to the franchise really relies on the relationship with the core actors of the 1984 original directed by Jason's father, Ivan Reitman.
"They're wonderful people. Danny [Ackroyd], Ernie [Hudson], Harold [Ramis], Rick Moranis, Annie Potts — they're some of the coolest people and they had real careers. They treat people well. They really understand what it is to be a movie actor. It's a complete collaboration."
Murray clarified separating his personal relationship with his castmates and Sony though-
"The relationship you have with those people as collaborators is not necessarily the relationship I have with Sony. For years, they said, 'We can't make another "Ghostbusters" because Bill Murray won't change the deal he made in 1984.' Well, no, I never did. And you know what? They made the movie. You're the new guys, I'm the old guy. It was good enough for the other people so it's going to have to be good enough for you."
Murray did have a falling out with Harold Ramis on the set of Groundhog Day, despite having worked together on other comedy classic projects like Caddyshack and Meatballs. Violet Ramis Stiel wrote their intense, creative differences led to their rift in her memoir/biography "Ghostbuster's Daughter: Life With My Dad, Harold Ramis". Murray and Ramis didn't speak for 20 years and made up in Ramis' final days prior to his passing in 2014.
Murray did accept a role in Paul Feig's female-centric Ghostbusters in 2016, citing his friendship with co-stars Kate McKinnon and Melissa McCarthy.
"I was in that movie just because they asked me, and I knew if I said no, I was saying I didn't support that movie. I felt like, OK, I'm going to support them because I support them as people. So I did that one and I would do this next one."
All of Murray's castmates from the 1984 film (sans Ramis and Moranis) appeared in the 2016 film. Murray's next film reunites him with Lost in Translation director Sophia Coppola for On the Rocks. The 2003 film, which garnered Murray an Oscar nomination, often credited in helping reinvent his acting career.
What do you think of Murray returning for the latest Ghostbusters? Do you see Ackroyd, Hudson, Potts, Moranis, and Sigourney Weaver tagging along?
The Dead Don't Die comes to theaters June 14th 2019. Check out the trailer: