Sometimes it's hard to keep chugging along at your dreams when they aren't paying the bills. It can get discouraging in the age of "we can't pay you, but you'll get great exposure" or going to auditions while working your 9-5 job, like Star Wars newcomer Kelly Marie Tran did. Tran is living the dream now, but as she told Entertainment Weekly, there was a moment where she almost gave up.
"There was absolutely a moment," Tran tells EW. "When I turned 25, I had been at it for some years and I was struggling to pay my bills. I was tired. I had been working [my day job] 40-plus hours a week, plus sometimes I'd have two auditions in the day and then I would write a sketch or do improv at night, or rehearse for the next auditions the next day. So, my days, I would get up at 5 a.m. and then I wouldn't be home until 11:00 p.m. The days were like that for years. I remember thinking, 'This could be my life forever,'" she says. "Like, I could just never make it. I could work this hard for the next 20 years of my life and still be struggling."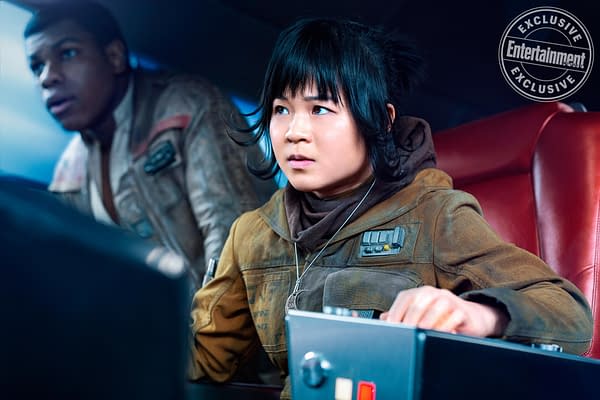 It's hard to keep chugging along when the thing you're passionate about is also the thing that is slowly wearing you down with exhaustion. But Tran believes that despite how hard it is, that passion and love is worth holding onto.
"There are so few times in life where you are passionate about anything," she says. "And I think that if you can find that, you should just hold on to it and protect it at all costs and just follow it, because it's so rare."
Tran was like most people trying to make it as an actor; she worked in an office to pay her bills and then would spend any free time she had going to auditions, writing, doing improv, and rehearsing for the next audition.
"I worked in an office. I was like an assistant. So, I would just answer phone calls, coordinate events," Tran says. "It was a great day job. I worked with amazing people, but obviously whenever you are doing something that's not your dream, you kind of feel like, 'Oh, I'm on this grind.'"
Being on the grind is tough, but it's important, because you usually can't achieve your dreams if you're homeless. What was surreal for Tran was finding out halfway through a shift that she got the role of Rose Tico, but she wasn't able to tell anyone.
"The day I found out, Rian was like, 'Oh we want you in this movie,' I had just left work on my lunch break to go to this meeting," she recalls. "Afterward, he told me that I couldn't tell anyone, so I went back to work and answered phones and answered emails, like nothing happened. It was the most bizarre experience. Inside I was like, Ugh! Crazy!"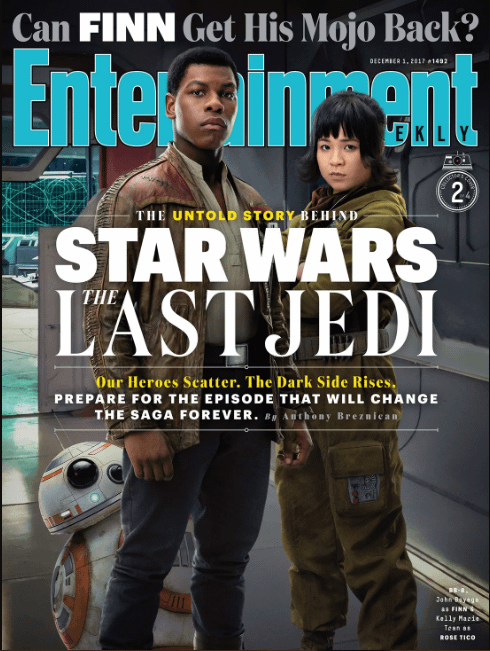 Crazy is one way of putting it, but Tran is still living her life as if the change hasn't happened yet.
"I still just sort of live my life the way that I was before," she says. "I don't know when I will feel that it's different. Definitely, when I saw the action figures, I was like, 'This is insane,' but it still hasn't sunk in or registered on me."
The action figures mean a lot for Tran, because she didn't get to see a lot of people like herself represented on television or in movies. She's the first Asian-American woman to be cast as a lead in a Star Wars movie.
"Growing up I watched a lot of [pop culture] and didn't really get to see a lot of people that looked like me," she says. "I think that I'm really lucky to be this person, and I get to be part of this franchise. I hope that it is a move in a better direction."
The reality of the situation still hasn't entire caught up with Tran, as she still has these surreal, out-of-body experiences where she feels like this is all still a dream she's about to wake up from.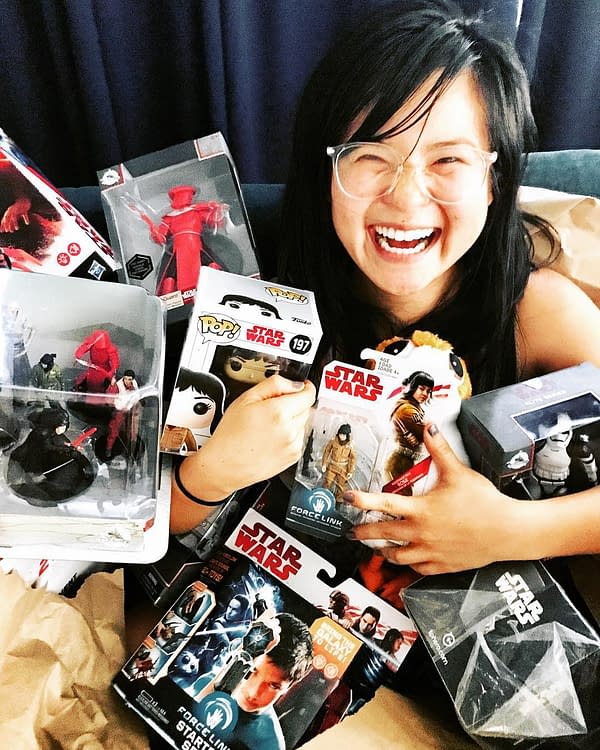 "I still don't really believe it's real," Tran says. "Like when I'm driving past the place I used to work, or when I'm driving past the comedy studio where I used to take photos in exchange for classes, or when I'm driving past the yoga studio I used to clean on the weekends. It's not that far removed from me yet. I get very sentimental over things like that."
No one is punking you, Kelly Marie Tran — this is real, and you're about to help shape the lives of a lot of young woman and Asian-American women in particular.
Summary: Having taken her first steps into a larger world in Star Wars: The Force Awakens (2015), Rey continues her epic journey with Finn, Poe and Luke Skywalker in the next chapter of the saga, Star Wars: The Last Jedi.
Star Wars: The Last Jedi, directed by Rian Johnson, stars Daisy Ridley, John Boyega, Mark Hamill, Oscar Isaac, Carrie Fisher, and Adam Driver. It will be released on December 15th.
Enjoyed this article? Share it!