"Star Wars": Daisy Ridley Promises Resolution in "Rise of Skywalker"
Daisy Ridley knows that scrutiny comes with the territory in the Star Wars universe — even when it comes to doing the press tour for her other films. While promoting her Shakespearean drama Ophelia, Ridley sat down with USA Today to also talk about her experience shooting the Star Wars sequel trilogy with the pending Christmas release of The Rise of Skywalker.
"It feels scary. I've had a secure job for the past few years, but come January, it's going to be like, 'What now?'" When comparing the three films, Daisy Ridley, who plays Rey, said the differences are emotional and the drive in The Rise of Skywalker" is different than the previous two.
"I really missed John (Boyega) during the last one, but we're back together and now Oscar (Isaac) is part of it. To me, it felt like kids going on an adventure."
One of the harsher criticisms of the sequel trilogy is the lack of resolution leaving many audiences asking more questions than satisfying answers, especially when it came to who Rey's parents are after Kylo Ren (Adam Driver) revealed they're "nobodies".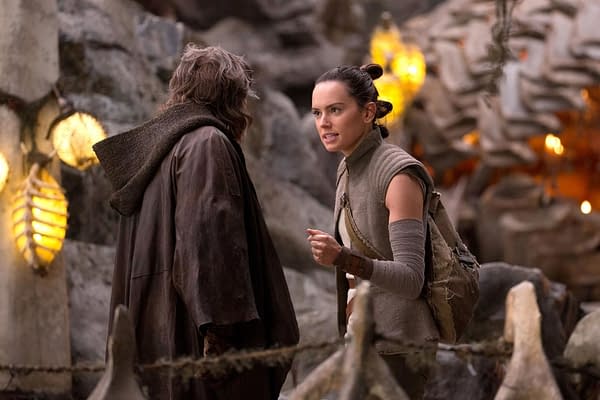 "(Director J.J. Abrams) did say the question is answered. So at the end of the film, you do know what the dealio is."
When asked about the stunt featured in The Rise of Skywalker trailer where Rey does a backflip over a TIE fighter, Ridley admitted the experience of shooting the scene didn't feel like it was shown in the final product.
"I had learnt a version of it, but there was a risk of breaking ankles so I couldn't do the full thing. But there's a bit in the film where you see me upside down. It's funny because I did 95% of my (stunts), but that's the one thing I didn't fully do. People are like, 'Oh, that's so cool,' and I'm like, 'Ugh.'"
When it came to fan backlash for director Rian Johnson and The Last Jedi, Ridley recognizes how passionate the Star Wars base can be and they're entitled to their opinions.
"I wasn't surprised, no. It's just a different thing. Everyone's going to have an opinion now anyway on the internet, but I also think it's fair. If people hold something incredibly dear and think they know how it should be and it's not like that, it's fair for people to think they were done wrong. It doesn't mean they were – ultimately, Rian's a filmmaker and one person can't dictate how a film is supposed to be – but freedom of expression, sure."
You can see Ridley in Ophelia, based on the 2006 Lisa Klein novel retelling William Shakespeare's Hamlet from Ophelia's point of view, currently in theaters.
Star Wars: The Rise of Skywalker comes to theaters December 20th.