"Star Wars": Harrison Ford Breaks Cameo Silence on "Kimmel"
It's no secret fans perceive Harrison Ford having a love-hate relationship with Han Solo in the Star Wars franchise. The 77-year old actor went on Jimmy Kimmel Live! to talk about his surprise cameo in The Rise of Skywalker (2019) given his grim turn in The Force Awakens (2015).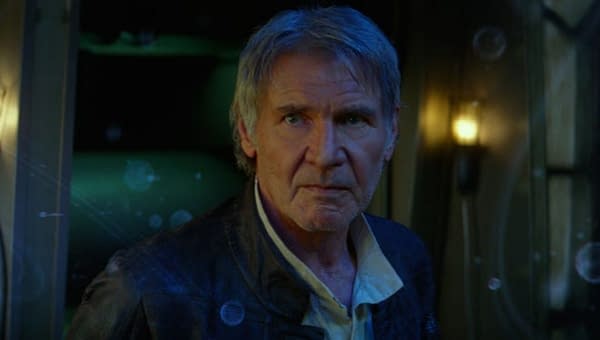 "Star Wars" Fate Left Uncertain
Stemming from Solo's carbonite freezing scene in The Empire Strikes Back (1980), Ford felt comfortable leaving the character behind. Creator George Lucas had other ideas. While Solo's fate left ambiguous, Lucas convinced Ford to finish the original trilogy in The Return of the Jedi. The actor reluctantly agreed and later, felt his character didn't serve much purpose in the finished film.
Wish Granted, Triumphant Return
Fast forward to 2015 following the Star Wars prequels and Lucas' selling his studio to Disney, Ford along with Mark Hamill, Carrie Fisher all sign back to reprise their iconic roles for TFA. During his final confrontation with the former Ben Solo (Adam Driver), Kylo Ren struck his father down in a moment of vulnerability and sacrifice. In Han's final moments, he offered a comforting smile cupped his son's face before falling down to the crevice below at Starkiller Base.
Before shooting TRoS, TFA director J.J. Abrams contacted Ford about appearing in a climactic scene in the film.
"I figured that his utility had been exhausted, bled out, and was … well, I was willing to die for the cause. Bring some gravitas. No good deed goes unpunished."
Ford continued about what Abrams pitched about his return.
"J.J. said, 'This is a good idea. I, J.J., have decided that this is a good idea and I would like you to do it.'"
Abrams revealed in his interview with Vanity Fair, Ford wanted his part to have meaning. He wouldn't simply agree do to something for the sake of doing it.
Ford costars with Karen Gillan in The Call of the Wild for 20th Century Studios. The film comes to theaters on February 21st.