Netflix Debuts Trailer For Anticipated Sequel The Kissing Booth 2
Netflix debuted the trailer to the much-anticipated sequel The Kissing Booth 2 today. The first film released onto the service in 2018, which feels like eons ago, and starred Joey King, Jacob Elordi, Joel Courtney, and Molly Ringwald, all of whom are back for this new film. Joining them are Maisie Richardson-Sellers and Taylor Perez. In this second film, Elle (King) is in a long-distance relationship with Noah (Elordi), who is now at Harvard. After seeing a social media post and some other clues that he may be getting close to another student at Harvard (Richardson-Sellers), she and friend Lee (Courtney) notice the hot new guy at school Marco (Perez). Whatever will happen? Check out the trailer and poster for The Kissing Booth 2 down below.
The Kissing Booth 2 Should Be Huge
"Elle Evans seems to have finally tamed hotter-than-hot bad-boy Noah Flynn, but now they're facing a new challenge. Noah's 3,000 miles away at Harvard, which means they're officially a long-distance couple – and it's tough. After all, there's only so much texts and calls can satisfy – and when Elle sees a post which suggests Noah's getting friendly with someone else, she's devastated. On top of that, it's hard to ignore new boy, Marco. He's gentle, sweet, cute – and definitely interested in Elle. With her heart on the line, what's a girl to do?"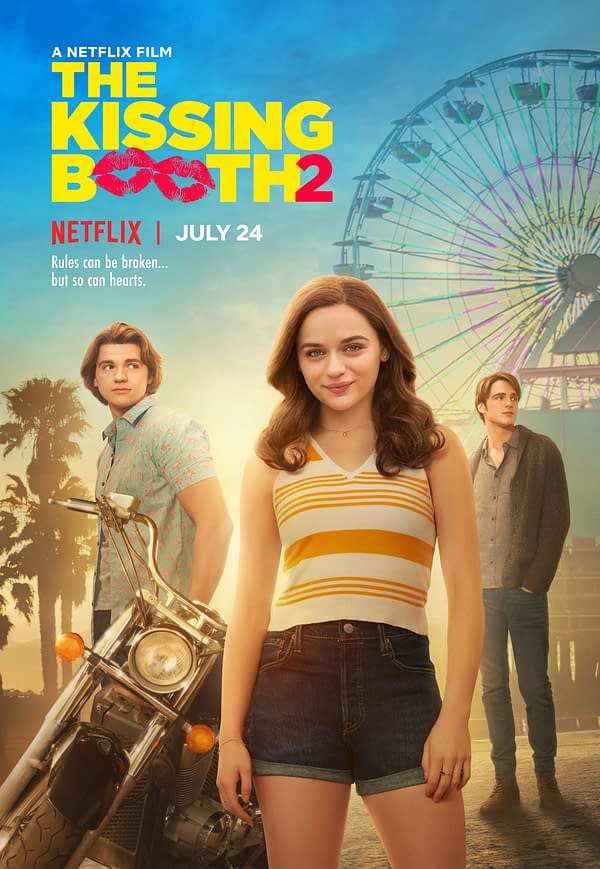 It almost doesn't matter if this trailer was good or not. This will be the huge hit for Netflix this month outside of Umbrella Academy season 2. The first Kissing Booth was a cultural touchstone for young people, reviving the high school romantic comedy for a new generation and making Netflix the destination for those films. This is a no-brainer for a surefire hit, and debuts on Netflix July 24th.