'The Meg' Takes a Bite with New International Trailer and Poster
Just when you thought it was safe to go back in the water, Jason Statham comes along with a prehistoric shark movie called The Meg. Don't get me wrong, I LOVE giant shark movies, and am a fan of the original The Meg books by author Steve Alten, so this summer aquatic blockbuster is right up my alley.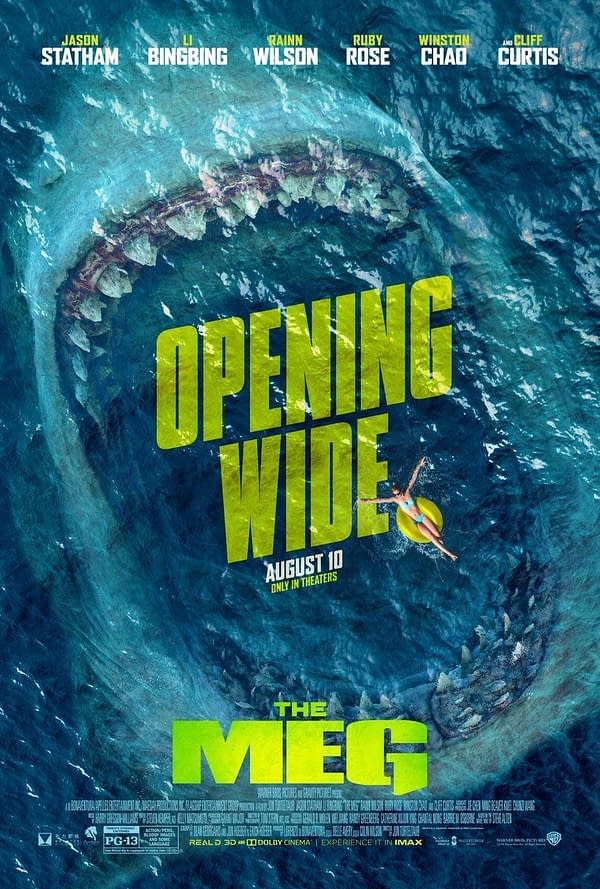 A new international trailer for The Meg hit, as well as a new poster, detailing the incredible size of carcharodon megalodon:
https://youtu.be/TmfQxL4rfgs
The official synopsis for the film, directed by Jon Turteltaub, reads:
A massive creature attacks a deep-sea submersible, leaving it disabled and trapping the crew at the bottom of the Pacific Ocean. With time running out, rescue diver Jonas Taylor must save the crew and the ocean itself from an unimaginable threat — a 75-foot-long prehistoric shark known as the Megalodon.
What's interesting is the cast list, which gives away a few clues as to the mixing of Meg books one and two, possibly three, in the plausible plot.
Statham plays main character Jonas Taylor, former Navy deep sea diver. Cliff Curtis plays James "Mac" Mackreides, pilot and begrudgingly best friend to Jonas. Rainn Wilson will play Jack Morris and Ruby Rose is Jaxx Herd, neither of which are characters in the books. The *really* interesting addition, for someone who's familiar with the books, is Jessica McNamee as Celeste, who doesn't show up 'til The Trench, the second book in the series. This opens up all kinds of other story possibilities for where the film and maybe even sequels would head.
The Meg is set to hit theaters on August 10th, 2018.