The Wrong Missy is the latest Netflix comedy starring David Spade to hit the streaming service. This one stars all of the usual suspects that you will find in these films, with all of the hijinks they also usually contain. In this one, Spade meets a supermodel during a layover at the airport and decides to ask her on a second date to a company retreat to Hawaii. Instead, he texts the wrong woman and ends up bringing a woman he had a disastrous blind date with. Of course, she brings out a side of himself he didn't know was there. You can check out the first trailer for The Wrong Missy down below, along with the synopsis and cast list.
The Wrong Missy Synopsis and Poster
"When Tim Morris meets his dream girl and their relationship quickly escalates through texts, he throws caution to the wind and invites her to his company's corporate retreat on an island resort… However, when a past blind date from hell shows up at the airport for the weekend getaway instead, he learns too late that he's been texting "The Wrong Missy". Starring David Spade, Lauren Lapkus, Nick Swardson, Geoff Pierson, Jackie Sandler, Molly Sims, Sarah Chalke, Chris Witaske, Rob Schneider and directed by Tyler Spindel."
Say what you will about these Sandler/Spade films on Netflix, but people watch them regularly. In the rare instances when Netflix releases their numbers, their films are almost always near the top. Who knows if that will be easier to see for users with the introduction of the Top 10 on there now. That being said, it is almost a guarantee this will end up in it. The Wrong Missy actually looks a little less zany than some of the others as well. Still zany, but less so. Lauren Lapkus is going to fully breakout form this film as well. She is always funny, and it is great to see her in a starring role in a big Netflix production.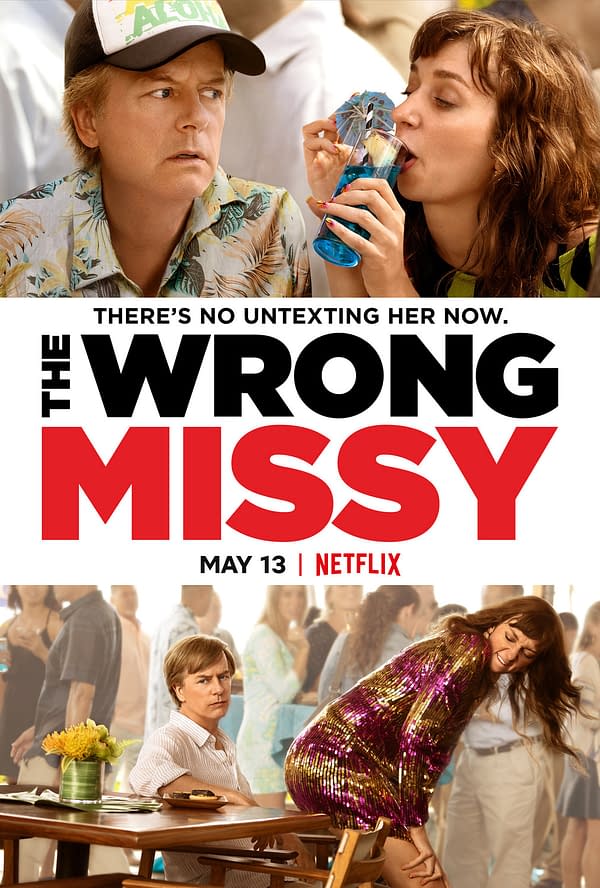 The Wrong Missy, starring David Spade, Lauren Lapkus, Nick Swardson, Geoff Pierson, Jackie Sandler, Molly Simms, Sarah Chalke, Chris Witaske, and Rob Schneider debuts on Netflix on May 13th.
Enjoyed this article? Share it!