Timothée Chalamet says Denis Villeneuve's 'Dune' is a Dream Come True
The beginning is a delicate time, especially for Denis Villeneuve's Dune for Legendary Pictures. When it was first revealed that Oscar nominee Timothée Chalamet would be playing the part of Paul Atreides, we were pretty excited. He's a good choice, his age is about right (although a little old for the true story line), but his demeanor and screen presence will no doubt make up for that.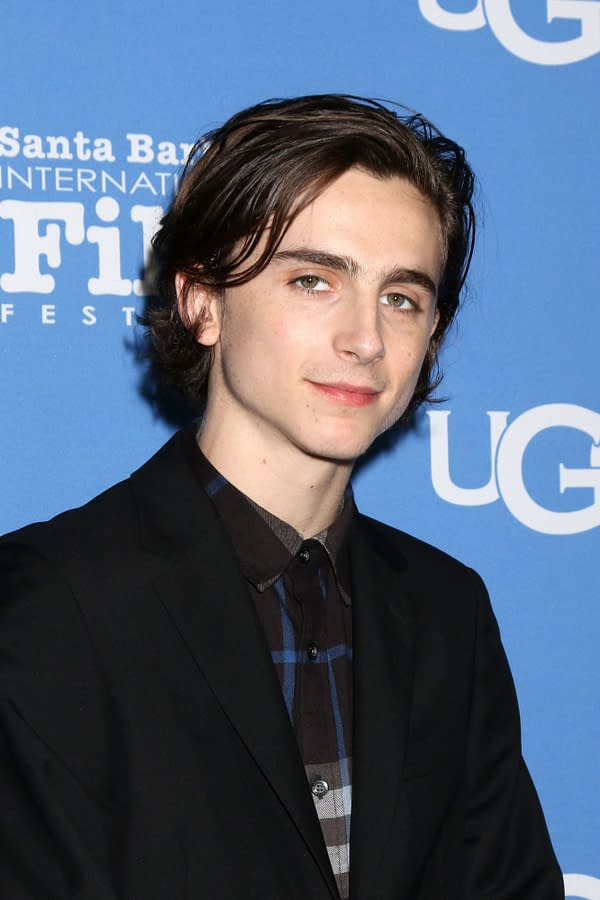 In a recent chat with the Philippine Daily Inquirer, Chalamet opened up a little about why this particular Dune project was important to him, and that yes, he *IS* a fan of David Lynch's seminal version.
"I have read the script and the book and I am so grateful that it's a big movie and yet, there's a real arc to this character. My enthusiasm for the David Lynch version is through the roof. And I got an impression that Denis shares my opinion, too. So working on 'Dune' is like a dream come true…I don't think the film version will suffer from green screen-isms or something, like it's silly or something. It feels like the work is intelligent.

It has always been my dream to do a big movie. And looking at the careers of Leonardo DiCaprio or Joaquin Phoenix, those guys exclusively work with great directors. So I always told myself, if you do a big movie, make sure it's with a really great director. I met Denis at the Hollywood Film Awards last year. I didn't want to scare him away with my enthusiasm for the project, so I didn't even bring it up. I just said, 'Hi.'"

I saw him over the course of last year. They went on a casting search and were looking to get someone younger than I am. I was just biding my time.

Denis saw me in "Call Me by Your Name," but somebody snuck him a link to "Beautiful Boy." Then, in the meeting I had with him, he told me he was going to be at the Cannes Film Festival. So he said, "If you will come to Cannes, we can meet and talk about it."

So, I went to Cannes and then he said, "I saw 'Call Me by Your Name' and I thought you were great. I saw 'Beautiful Boy' and still thought you were great, but then I saw you take in 'The King' and I thought OK, whatever." Which is funny to me because I hadn't done it yet during that time and hopefully it's presentable, but who knows?
Villeneuve's Dune is expected to hit theaters sometime in 2020, and hopefully we'll get some additional casting news soon.