Total Recall: Celebrating the Gritty Sci-Fi Thriller 30 Years Later
Arnold Schwarzenegger was one of the most in-demand action stars for the better course of three decades. One of his most memorable films is 1990's Total Recall, which celebrates its 30th anniversary. Loosely based on the Philip K. Dick short story "We Can Remember It For You Wholesale," Tristar adapted it for the screen getting Paul Verhoeven to direct with Ronald Shusett, Dan O'Bannon, Jon Povill, and Gary Goldman sharing writing duties. The film came out when studios weren't as squeamish about funding R-rated action films. With blockbusters significantly cheaper compared to current production costs, they had a better chance to turn a profit. With some rare exceptions like Birds of Prey (2020) and Deadpool (2016), most target a PG-13 demographic to maximize return, so excessive gore is significantly toned down.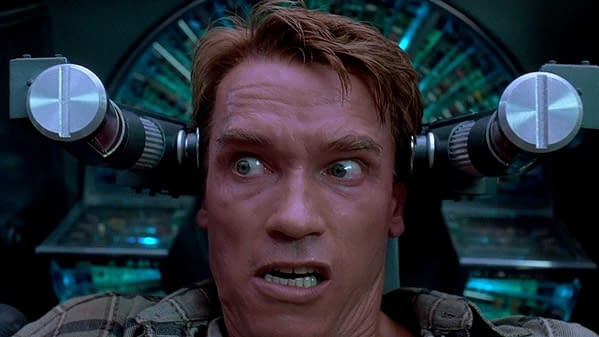 Re-examining Total Recall: 1990 vs. 2012. A Different Age of Cinema
Total Recall starred Schwarzenegger as Douglas Quaid; a construction worker bored with the complacency in his life in need of a vacation. He sees an advertisement for Rekall, a recreational entertainment company that uses memory implantation to give their clients an experience of a lifetime. When Doug comes in, something goes horrifically wrong, and given his choice to live his fantasy as a secret agent, he "awakes" in a paranoid delusional state trying to free himself from the restraints. After knocking Doug unconscious, he wakes in a cab finding out the life he had isn't what it once was. He becomes a marked man as his loved ones turn on him and discovers that he's at the center of a planetary conspiracy. While Total Recall's special effects, setting, and writing solidify the film as a sci-fi classic, what sets itself apart is the cerebral nature. It can easily be conceived by Rod Serling through its use of existentialism. Is Doug stuck in his dream? Verhoeven purposely left it up to the audience to decide.
Despite its graphic violent nature, it still manages to get the kind of emotional and psychological depth the 2012 remake with Colin Farrell never achieves. The current age of cinema is a mixed bag of a few original projects with heavy reliance on nostalgia. When comparing the FX of the 1990 and 2012 films, it felt the latter was just a soulless cash grab with heavily armored robotic nobodies that get tossed around like ragdolls. They appear more like automatons than actual human beings, and perhaps that's by design. In the end, most still talk about the 1990 Schwarzenegger film, because as a sci-fi film, it felt complete.