The Birth Of Ultraman Coming To Blu-ray On July 10th, Ultraman Day
Ultraman is having a moment, and a new Blu-ray box set is coming from Mill Creek on July 10th, which is Ultraman Day. The set will include remasters of seven classic episodes of the popular 1966 show. All are remasters in HD and feature two English subtitle options: one for Japanese audio and a second matching English track. The cover for the set features art by Alex Ross, which will adorn the new Marvel comic coming this summer as well. It will run $29.99. This set will be sold exclusively on Deep Discount, which is setting up a storefront that will sell all of Mill Creek's UM releases. Check out the details for the set below, and peep the cover.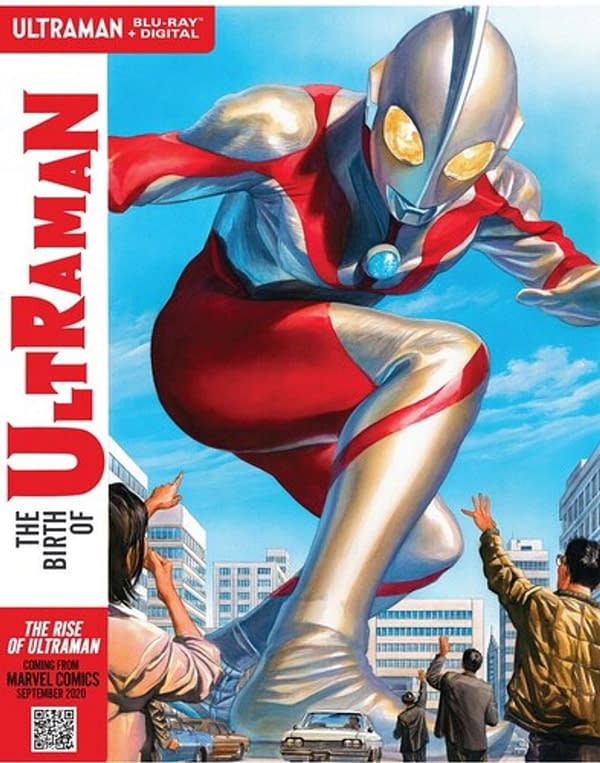 Birth of Ultraman Set Details
"Mill Creek Entertainment now brings a selection of ULTRAMAN episodes in high definition video with DTS-HD Master Audio of the original Japanese soundtrack plus the uncut United Artists English dubs. Each episode will also come with two English subtitle options; one for the Japanese audio and a second matching the English audio track. "The Birth of Ultraman Collection" will include the following episodes…
Episode 1 – ULTRA OPERATION NO. 1 – The story begins as the heroic alien Ultraman pursues the space monster Bemular to Earth, leading to a fateful encounter with Shin Hayata, an agent of the SSSP.
Episode 2 – SHOOT THE INVADER – Ultraman's iconic foe, Alien Baltan, makes its first appearance in a tale narrated by Ide, the SSSP's genius inventor.
Episode 19 – DEMONS RISE AGAIN – An ancient time capsule unleashes the red-skinned monster Banila and its blue-skinned rival Aboras, who wage a titanic battle in the National Stadium.
Episodes 26 & 27 – THE MONSTER HIGHNESS Parts 1 & 2 – The only 2-part ULTRAMAN story features the Ancient Monster Gomora, who escapes captivity and overwhelms Ultraman as it rampages towards Osaka.
Episode 33 – THE FORBIDDEN WORDS – When Alien Mefilas tries to convince a boy to give him the Earth, even Ultraman may not be able to stop him.
Episode 37 – A LITTLE HERO – Ide suffers a crisis of faith as the Friendly Monster Pigmon warns that the evil creature Geronimon is reviving an army of monsters to destroy Ultraman and the SSSP!
Also included is THE BIRTH OF ULTRAMAN – ULTRAMAN Pre-Premiere Special. Airing in Japan on July 10, 1966, one week before the series premiere, this stage show was filmed before a live studio audience and introduced viewers to the story, cast and characters of the show. This July 10 debut of the show on television is now celebrated annually and known throughout the world as "Ultraman Day." Never before released in America, this special is presented in black & white (as originally broadcast) in standard definition with Japanese audio and English subtitles."