Wanna Hear Bear McCreary's Rodan Theme from 'Godzilla: King of the Monsters'?
Maybe we're more than a little excited about the upcoming Godzilla: King of the Monsters film. A kaiju-sized reason for that is director Mike Dougherty's infectious enthusiasm for the subject matter, how he describes the creatures, and every bit of promotional material we've seen thus far.
Add into that the fact that Emmy-winning composer Bear McCreary is handling the score, and King of the Monsters has all the makings of a truly epic time. Like, HOW GREAT is this new version of the classic Blue Oyster Cult song, "Godzilla"!?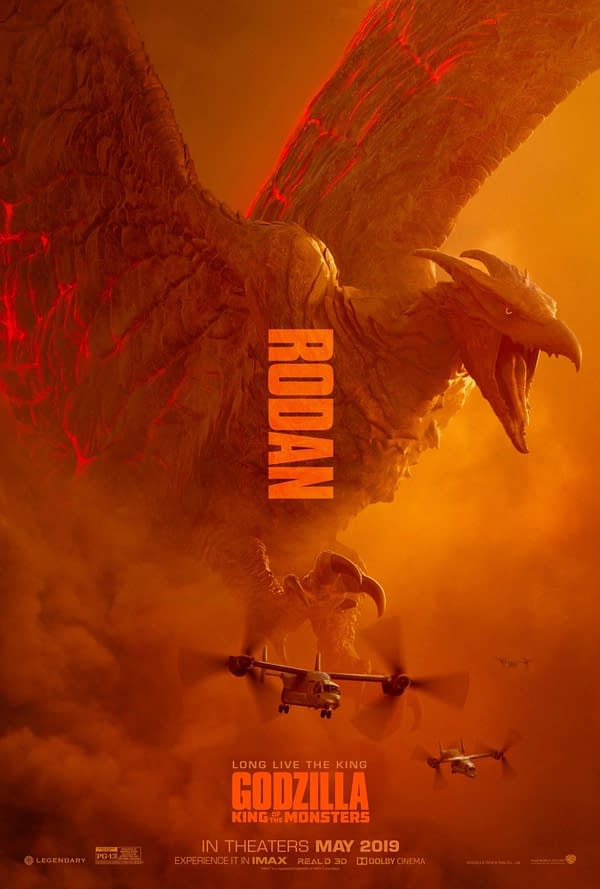 Just today, Warner Bros. Pictures music division Water Tower Music, released yet-another-awesome piece from the soundtrack, and this time it's Rodan.
The official Godzilla: King of the Monsters soundtrack releases tomorrow, May 24th 2019. Keep an eye out for our exclusive interview with McCreary running later today!
"The world is reacting to Godzilla in the same way we would react to any other terrifying incident, in that we are overreacting. But there's paranoia and endless speculation about whether he is the only one out there or whether we're threatened by others like his kind."
Dougherty is directing the film from a script he co-wrote with Zach Shields, which will star Zhang Ziyi, Kyle Chandler, Vera Farmiga, Millie Bobby Brown, O'Shea Jackson Jr., Bradley Whitford, Ken Watanabe, Thomas Middleditch, Charles Dance, and Aisha Hinds. Emmy-winning composer Bear McCreary is doing the score.
Godzilla: King of the Monsters opens in theaters on May 31st, 2019.