Yet Another New Poster for Incredibles 2
We're just a few hours away from the Incredibles 2 preview during the Olympics and we have our last in the series of posters featuring laundry.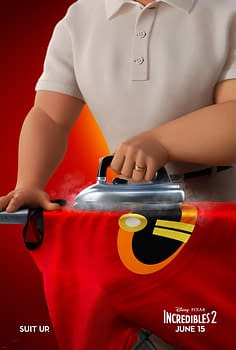 As previously stated we still don't know that much about this highly anticipated sequel to one of Pixar's best movies and the best Fantastic Four movie but this is promising to be more of a preview than a trailer. Hopefully a trailer that explains more of the plot and shots some more footage will be coming out soon.
Also, fine, Pixar, I'll go do my stupid laundry. I'll take the hint, jeez.
Summary: Bob Parr (Mr. Incredible) is left to care for Jack-Jack while Helen (Elastigirl) is out saving the world.
Incredibles 2, directed by Brad Bird, stars Craig T. Nelson, Holly Hunter, Sarah Vowell, Huck Milner, Jonathan Banks, and Samuel L. Jackson. It will be released on June 15th.