The History Channel's runaway success Vikings is charging toward a third season, and if previous seasons are any indication, there will be hefty changes and new directions this time around, keeping things beyond fresh. The show has teased an attack on Paris, new cast members, and a time-jump to take us further along the timeline of the characters' lives.
Travis Fimmel, Alexander Ludwig, Clive Standen, Katheryn Winnick, and Michael Hirst, and History Channel's Julian Hobbs appeared in a fairly epic (sorry I had to) panel at San Diego Comic Con and it was already one of those panels where massive crowds jostled outside hoping to get in before the seats got packed and the room became almost deafening with chatter. Kate Hahn hosted the panel opening with a Season 2 Reel. Then the necessary madness of cast entering to cries of devotion from fans.
Hahn asked what about these people make them great Viking raiders, and Fimmel replied "Come along with us, come sail with us". Hahn asked about Ragnar's movement into kingship, and Fimmel refered to a great speech written by Hirst about the corruption of power, and asks himself if Ragnar will become corrupt and how much more conflict this will cause for the family. Hirst replied that Ragnar is a "profound enough individual to know that most people who have power are corrupted by it" and so the season will be about what it means to rule over people. He referred to the Vikings as one of the most "democratic people of the Middle Ages". Winnick referred to Lagertha as a "modern woman" with the courage to "speak her mind", something still challenging today for women. She's learned a lot playing Lagertha, someone she fell in love with in Season 1 and she sees Lagertha going through a conflict-driven journey where she must "kick ass" and "fight the boys".
Standen was asked about Rollo's development as a character and his change process. Standen referred to Rollo's several near-death experiences, particularly the most recent one, which makes him feel that the gods have kept him alive for a reason. He gave up "everything" in Season 1 to be king for a day and essentially lost his brother, but by the time he gets acceptance from his brother "he's lost everything" and is in the process of making amends despite his "burning ambition". He's "torn" between his family and what he thinks the gods have in store for him, and feeling uncertain creates "emotional turmoil".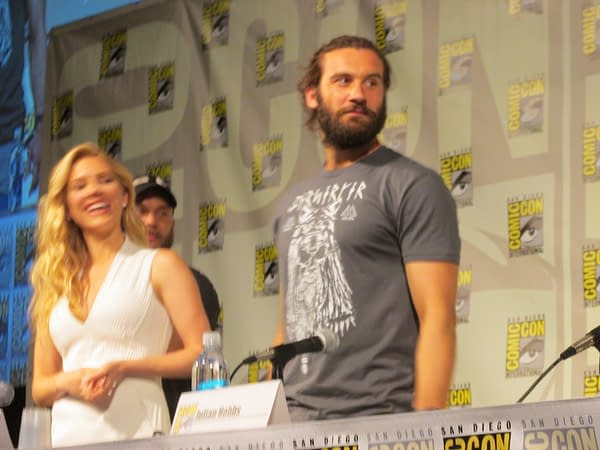 Ludwig, the youngest cast member, opened by saying this is his first Comic Con panel and that the role was "intimidating" because of the success of the show. Michael Hirst let him know that was "the man with the axe" as director, Ludwig said, which prompted laughter from the audience. Jokes were traded about whether Ludwig is taller than Fimmel, and the matter was thrown to moot since it's a close call. Ludwig says that in Season 3 Bjorn will become more of a man, with plenty of battles, and the show is going to become more informative and the dynamics more intense.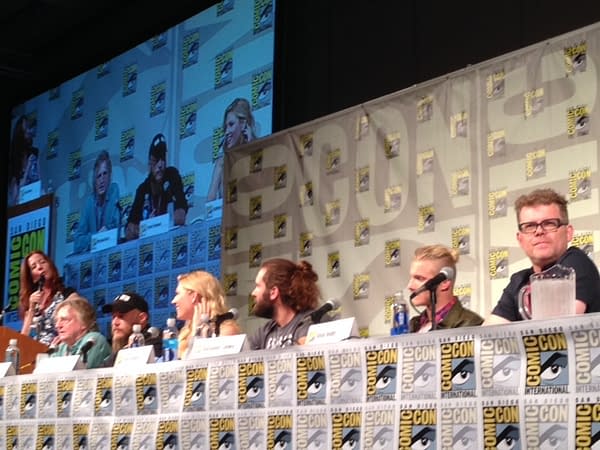 Hobbs says there are plenty of surprises coming they can't reveal, but something they've already revealed is the raid on Paris. "We've essentially been in the Dark Ages", he said, "in terms of tone and feel and suddenly we're in the modern world almost". It would be like "trying to sack Manhattan today", he said regarding the Viking attack on Paris on the way. We move into a new landscape of characters for the Vikings to engage with along with the new setting. In a way, we've only had a "prequel of the great era of the Vikings" historically before the Paris "encounter". This is a big "upgrading" of Vikings ambitions Hirst said. Now we'll have 100 ships and 3000 men attacking a "citadel", Hirst revealed. This is the "dawn" of what became known as the Viking age, he said.
The character Floki, quite a fan favorite, came up, and though the actor Gustaf Skarsgard wasn't present, he was much discussed and missed. Of course in the previous season, viewers were challenged to decide whether Floki was really betraying Ragnar, and Hirst said that the actor was only able to do that because of two things: 1. He could only be persuasive in doing that because it was based on something real, being a frustrated character and 2. You can read episode 10 and in every scene he's in, he's doing two things, both betraying and be loyal, never quite meaning what he's saying in a "brilliant piece of acting" and subtlety. He couldn't let his wife Helga into the secret, of course, and when he brutally sends her away, he's doing it to save her life. He's a "divided personality", Hirst said. It was always a "plot between Ragnar and Floki", he said.
Questions from social media included "When the hell are you going to get back together?" for Ragnar and Lagertha. Fimmel reminded that Ragnar never wanted her to leave, but refused to answer comparison questions between Princess Alslog and Lagertha. Winnick said that Ragnar was Lagertha's first love and it's "interesting to see the dynamic and relationship shift now that she's in power". If anything, they are now more equal, and now it's watching how things develop. In Season 3, Winnick teased another shift and change, perhaps "SOMEONE ELSE FOR HER", prompted by panelists and fans. "I'm a free woman!", she exclaimed.
Standen said that filming in Ireland just recently, they LOST A CAST MEMBER, so somebody's going to die. But this created a lot of emotion among cast members to see them go. "Everybody dies, it's history", Standen quipped.
During Q&A, Winnick discussed her background in Taekwondo, but clarified that her fighting style on the show has to be very different. The determination and training come in and help out, though.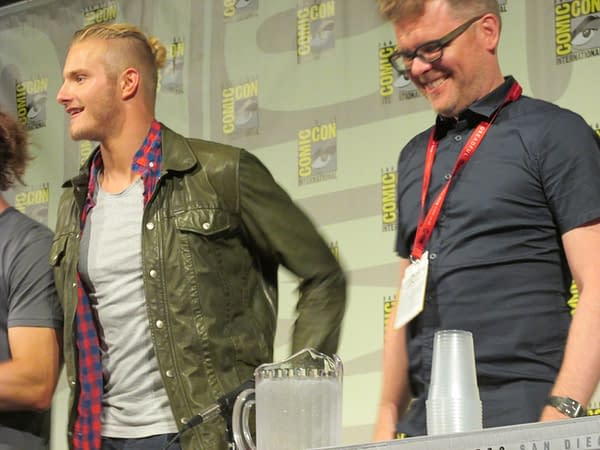 Another question, addressed to the male members of the cast included how they prepare for some of the brutal battle scenes. Standen said that when Vikings go out to battle, they have "blood raging" inside but don't necessarily scream, and he also comes from a boxing background, and it's about inner preparation. The idea is to learn the choreography of the fight scenes and "then forget it" in the "zone". There was a brief call, prompted by Ludwig, for Standen to take his shirt off, but sadly, he resisted taking off his Viking rune t-shirt.
Hahn asked Ludwig what his training was like for being a warrior in the show. He had done a previous film with a little bit of sword fighting, but one thing he likes about the show is that the fighting is "like a schoolyard" and "down and dirty". Once they call "action", the scene goes "nuts" and you try not to get hit by other people who "don't really know what they are doing". A fan asked how many injuries the cast take on, and Winnick responded that the running joke is they can never tell what is real blood and what is fake blood on the set. And then add the weather in Ireland.
Winnick was receiving so much love from the crowd that she got a little teary-eyed and kept directing thanks back to the fans for their support, saying this is her favorite event of the year.
The panel then launched into the sneak peek of Season 3. What I can say about the screening is that it was narrated by the Shaman figure, talking about lives splitting and rearranging, and formed an excellent overarching narrative for the season. We saw a final scene of Floki lifting a bloody crown on a battlefield, and seeing these Viking longships in a river setting in mist is even more impressive and imposing than seeing them in a fjord or at sea. An interesting teaser showed Lagertha talking with the King of Wessex as well, and it was an intense and personal looking conversation.
Michael Hirst then discussed further the world of Paris at this time, using snippets of Frankish language at this time, and the academic community is gearing up to see this world being recreated and "the bottom line is that this is real", Hirst said. He "loves that". We are "collectively learning something about ourselves in this show", he said.
Hahn asked how the relationship between Ragnar and his son will develop in this season, and Fimmel says teaching Bjorn all the sacrifices you have to make in this world. Ragnar lost his son and his wife initially, and may still be annoyed that Bjorn initially went with his mother, even though he's now back. "I've made some bad decisions I guess, but I have four wonderful children", Fimmel said in character as Ragnar. Hahn commented on the presence of kids on the set and Fimmel said it's a joy to have them on the set, "little Irish kids".
Hahn asked where Sigi and Rollo are "going" in the future. "It's always been tempestuous", Standen commented, and compared Sigi to Lady MacBeth and said early on it was a relationship of convenience and in Season 3 it's going to be "very complicated", he sighed. As a man, Rollo hasn't treated Sigi very well, he commented.
Hahn asked Ludwig about Bjorn's relationship with Thorin. He said it will develop as a "contemporary relationship" in which each makes the other "stronger". He was careful not to give anything away. Hahn commented on how Bjorn had to fight Thorin before he could win her, and he laughed, "Isn't that what every relationship is like?" It was "interesting and weird", he said, filming that scene, and defied expectations, "playing opposite" to what people would expect.
A social media question was thrown out to the panelists, asking if any of the actors share similarities with their characters. Ludwig says he does, but it's "so easy to believe you're a Viking when you're on that set" and it's the immersive experience that affects him. Winnick said that it's not just the faces on the screen with this show, but all the people behind the scenes who do the costume, hair, and much more. They should have gotten an Emmy this year, the panelists added, and the audience cheered agreement.
A final fan question actually concerned the role of animals on the show, since Season 3 shows Lagertha holding a large white cat and Winnick enthused about the animal co-stars on the show from horses to goats and now companion animals.
Hirst closed by saying "We've come thousands of miles to be here", and "It's worth it to be with true fans and to appear and see your passion for the show so thank you so much".
The panel concluded with the return of the teaser for Season 3. "I have no truth, only stones and bones", says the Shaman. "I see life splitting, joining, and struggling, each for itself. Alone…".
Enjoyed this article? Share it!