Madeline Potts writes:
In 2008 Dr. Horrible's Sing-Along Blog joined the internet, and it hasn't been the same since. Cast members Felicia Day, Nathan Fillion, and creator Joss Whedon took the Hall H stage to discuss the original series as well as their careers since its inception.
Created during the writers' strike and funded by Whedon himself, Dr. Horrible had a do-it-yourself scrappiness that made it unique. Not only this but it was one of the first shows to ever premiere on the internet as a series. With a low budget, Whedon and his cast and crew created something amazing and the world noticed, the show garnering an Emmy for Outstanding Special Class – Short-Format Live-Action Entertainment Programs (a new category that was created for the show). Felicia Day even commenting during the panel that she served as a makeshift "craft services" on the set while filming.
Throughout the panel, the cast shared moments from filming as well as the reasoning behind the show's iconic characters. When asked why he decided to make Dr. Horrible an anti-hero and Captain Hammer a valid hero, Whedon said, "There's a way to relate to a villain in that even if he makes it he will always be misunderstood."
As a follow-up, Fillion discussed his relationship with Neil Patrick Harris (NPH) on set and what it was like to pretend to hate each other: "It's wonderfully uncomfortable. We both enjoy pretending to hate each other."
The cast also discussed the show's educational value — or lack thereof. From Whedon: "If Dr. Horrible has educational value we have failed."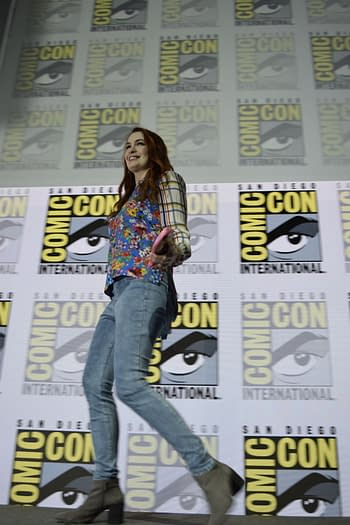 Since Dr. Horrible, it's fair to say that the careers of the entire cast have taken off. Nathan Fillion starred in numerous shows including Castle and will be heading The Rookie this upcoming fall. Felicia Day created Geek and Sundry and became a beloved character on the wildly popular show Supernatural. Joss Whedon, of course, directed The Avengers (no biggie), and Neil Patrick Harris has starred on How I Met Your Mother, taken Broadway by storm, and become everybody's favorite Count on A Series of Unfortunate Events.
With star power like that, it's no wonder that Dr. Horrible became such a success.
Enjoyed this article? Share it!