2 Teasers for FX's 'What We Do In The Shadows' TV Series!
JUST IN TIME FOR HALLOWEEN, FX just released two teasers for their upcoming What We Do In The Shadows tv series based on the film of the same name from Taika Waititi and Jemanie Clement.
According to Rotten Tomatoes, the series follows three vampires who live together: Laszlo (Matt Berry), Nadja (Natasia Demetriou), and Nandor (Kayvan Novak) — the former two are husband and wife. Also living with them is a fourth vampire named Colin Robinson (Mark Proksch), who's an "energy vampire." Instead of blood, he sucks the energy out of his victims by boring them to death with mundane anecdotes and bad jokes. The office is his feeding ground, but his powers also work on his vampire roomies.
The main action is put into motion when our central three vampires receive notice that an ancient leader vampire named the Baron (we're thinking maybe Doug Jones' character) is coming to pay them a visit from abroad, purportedly to see how conquering America is going.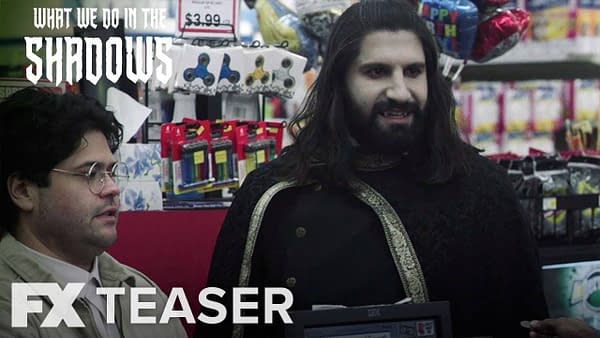 Check out the first two teasers:
What We Do In The Shadows is expected to hit FX sometime in the Spring of 2019. [user_id]