The 2018 Emmy nominations happened this morning for what will be the 70th Annual awards show celebrating the best in television excellence. There were some new categories this year that haven't previously been considered, including outstanding voice-over performance, and four different costume categories.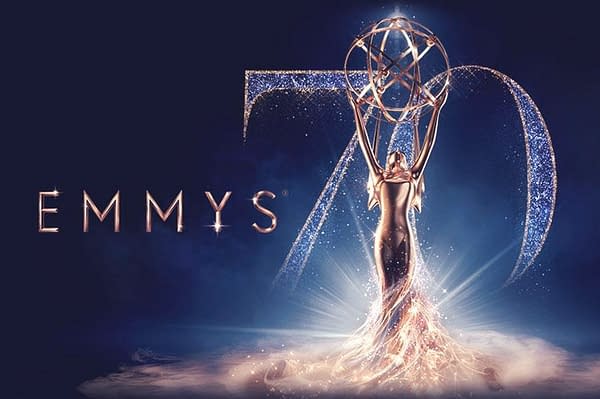 This is a smart move on the part of the Television Academy, as there CAN be excellence in period, contemporary, science fiction-fantasy, and reality/nonfiction/variety costume achievements.
On the reality/nonfiction/variety side:
Dancing With The Stars, for their Disney Night
Jesus Christ Superstar Live on NBC
RuPaul's Drag Race, for "10s Across The Board / Costumes: RuPaul's gowns"
Saturday Night Live, for Natalie Portman's episode
Tracy Ullman Show, for "Episode 1"
For contemporary costumes:
Blackish, for "Juneteenth"
Empire, for "Slave To Memory"
Grace and Frankie, for "The Expiration Date"
The Assassination of Gianni Versace: American Crime Story, for "The Man Who Would Be Vogue"
This Is Us, for "The Wedding
For Outstanding Fantasy/Science Fiction costumes:
A Series of Unfortunate Events, for "The Vile Village, Part 1"
Farhenheit 451

Game of Thrones, for "Beyond The Wall"
The Handmaid's Tale, for "Seeds"
Westworld, for "Akane No Mai"
Last but not least, for Period Costume:
Genius: Picasso, for "Chapter One"
Outlander, for "Freedom and Whisky"
The Alienist, for "A Fruitful Partnership"
The Crown, for "Dear Mrs. Kennedy"
The Marvelous Mrs. Maisel, for "The Disappointment Of The Dionne Quintuplets"
Pretty great to see such a wide selection of costume designers and teams acknowledged; I'm looking forward to seeing who takes home the statue for period costuming most of all.
The 70th Annual Emmy Awards will air live on Monday, September 17th on NBC.
Enjoyed this article? Share it!