'A.P. Bio' Season 2, Episode 2: I Am Jack's Fear of "Nuns" [SPOILER REVIEW]
NBC's A.P. Bio opened the doors on its sophomore year last week, with anti-teacher extraordinaire Jack Griffin (It's Always Sunny in Philadelphia's Glenn Howerton) setting his sights on the fame and fortune that comes from a marketable, best-selling "philosophy." Jack's put together a "Plan B" to escape the clutches of Toledo, Ohio…Whitlock High… and Principal Durbin (Happy!'s Patton Oswalt).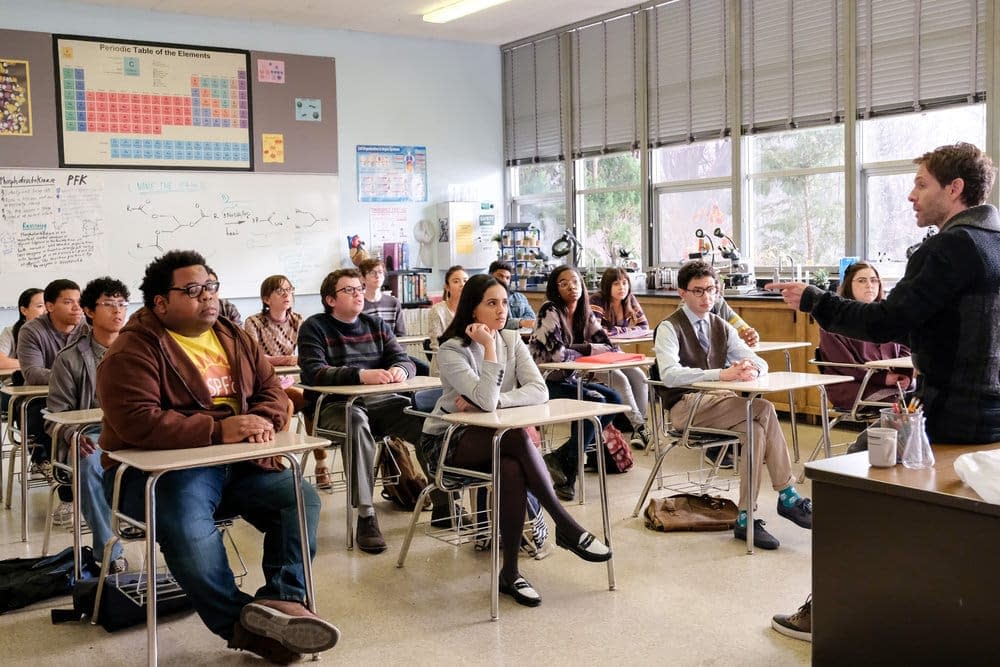 Plan seems simple enough – even taking Jack's ability to save "bad luck" from the the jaws of "good luck." He's going to take a deep-dive into Toledo, Ohio, culture, derive a theory on "happiness" the masses will love and embrace, write a book on the experience, and not let the door (or a bully from his past) hit him on the way out of town – and still, not a single lesson of Advanced Placement Biology will be taught… doesn't mean there still won't be some lessons to be learned, though…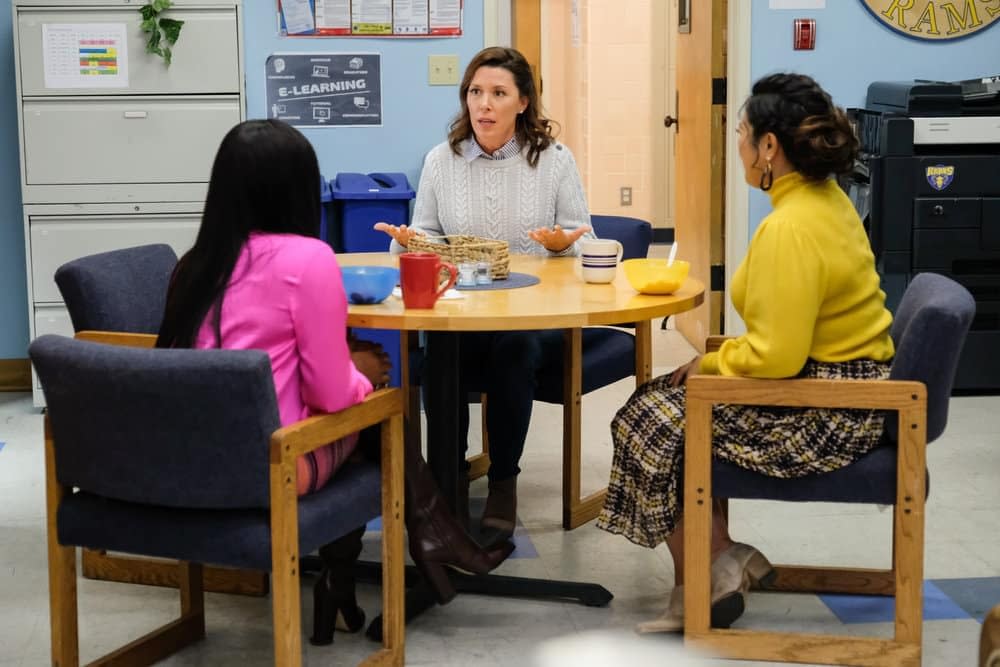 After Jack decided last week's quest for "Happiness" was a bit rushed – and nearly kiling his class in the process – Jack is going to take his time to really get elbows-deep into what puts the "do" in "Toledo." But first? There's a certain matter involving a church, a statue, and Jack still not dealing with his mother's passing that needs to be handled. Meanwhile, Whitlock High's own "White Rihanna" gets "sage advice" from an unexpected source… in this week's episode "Nuns":
A.P. Bio s02e02 "Nuns": Jack is offended when he discovers a local church received a sizable bequest from his dead mother and used it to by a Virgin Mary statue. In an attempt to get revenge, he ropes his students into helping him steal the statue. Meanwhile, Mary, Stef and Principal Durbin attempt to give the right advice to Michelle who is having marital issues at home, but she ends up getting comfort from an unexpected source.
A very "Jack-and-students"-centered episode that not only made for an excellent outing, but was a pleasant reminder of the freshman year's best episodes. Jack finds himself the new Driver's Ed instructor after a literal run-in with Toledo's "wildlife" – which is as good a sitcom premise as any for Jack to right a wrong. Seems the late Mama Griffin donated money to a church for a statue – and Jack wants it back… because he does not have mother issues!
So with the help of Victor, Heather, and Anthony (we're going to use "help" loosely there since not everyone's on board wth "Boss" as Heather is), the statue goes missing. What follows is a sequence of events that includes – but absolutely not limited to – bad driving, nun interrogations, a misplaced retainer, and some of the worst advice ever given (points for Durbin and Helen at least meaning well)… resulting in Jack finally coming to terms with his relationship with his mother.
He could've been a better son to her… and taking back the statue won't change that.
And that's what I liked about the episode: we can learn things about Jack that may not be nicest… and that's okay. One of the things that attracts me to A.P. Bio is its ability to take the "standard sitcom" and give it a twist. Can it be over the top? Yup. Does it also deliver heart and some doses of reality? Absolutely… as it did in this episode.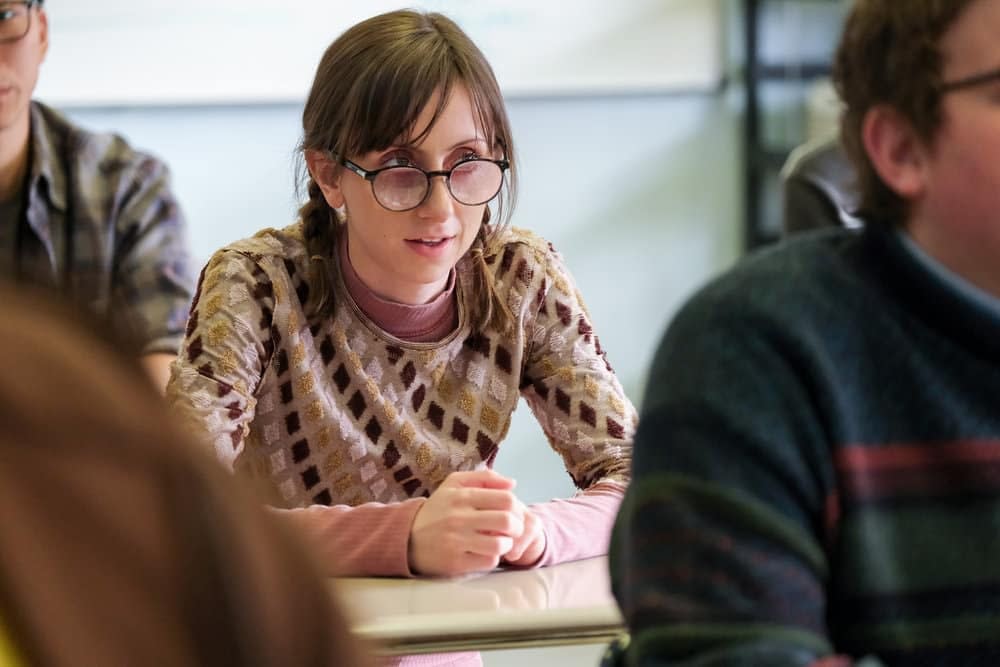 We are seeing Jack evolve as a character, but not at the expense of most of the supporting characters (in particular, Allisyn Ashley Arm's hardcore pimp Heather). The students have some serious screen time this season, and they are going above and beyond with the opportunity. Howerton's chemistry with his classroom of co-stars is infectious – I would actually like to see an episode where Jack teaches a class. Considering that would go against his whole "not learning anything" mantra, it would have to be for another scheme… but an Ocean's 11-type plan.
My one issue? I'd like to see Durbin, Helen, Stef, Mary, and Michelle fleshed-out more as characters. I'm concerned they might be falling into the "wacky supporting characters" trap, which would be a sin since each of them could (and should) front their own sitcom. It's tough to pull off when you have an ensemble this large and talented – just hope everyone gets a little love and their chance to shine.

So after a quality outing that left us feeling all "pep rally" for Whitlock High, here's a look at this week's episode of NBC's A.P. Bio, "Wednesday Morning, 8 AM":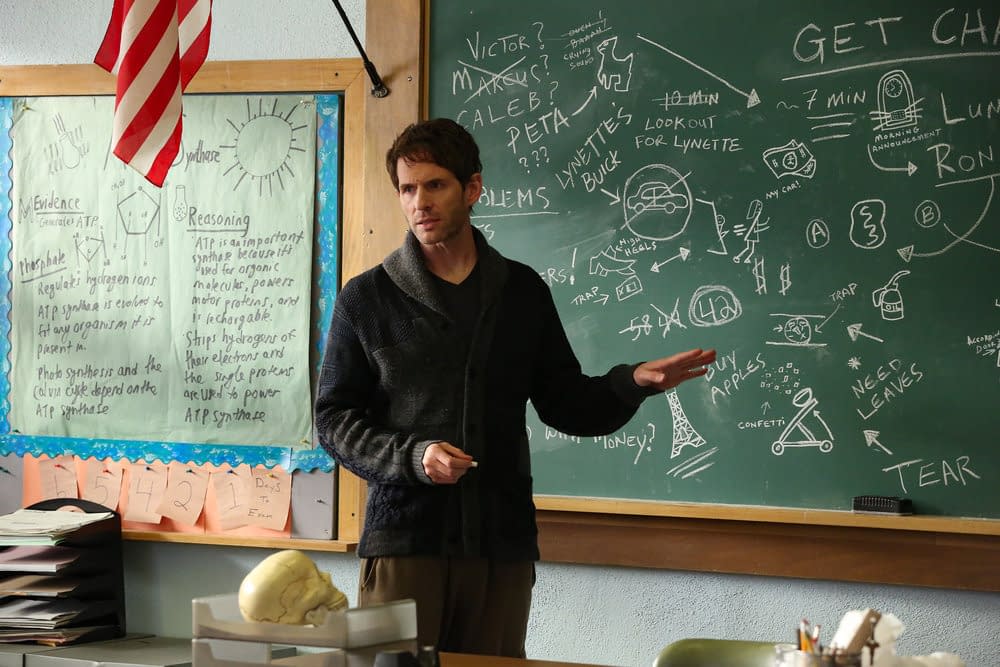 A.P. Bio s02e03 "Wednesday Morning, 8 AM": In the hectic thirty minutes that start every day at Whitlock, Jack tries to retrieve his massage chair from Whitlock's intriguing payroll accountant, Lynette. Durbin and Helen prepare for the morning announcements, Michelle gives a eulogy, and Mary and Stef fix an art emergency.
NBC's A.P. Bio also stars Lyric Lewis, Mary Sohn, Jean Villepique, Tom Bennett, Paula Pell, Charlie McCrackin, Jacob McCarthy, Aparna Brielle, Nick Peine, Allisyn Ashley Arm, Eddie Leavy, Jacob Houston, Sari Arambulo, Tucker Albrizzi, and Spence Moore II also star.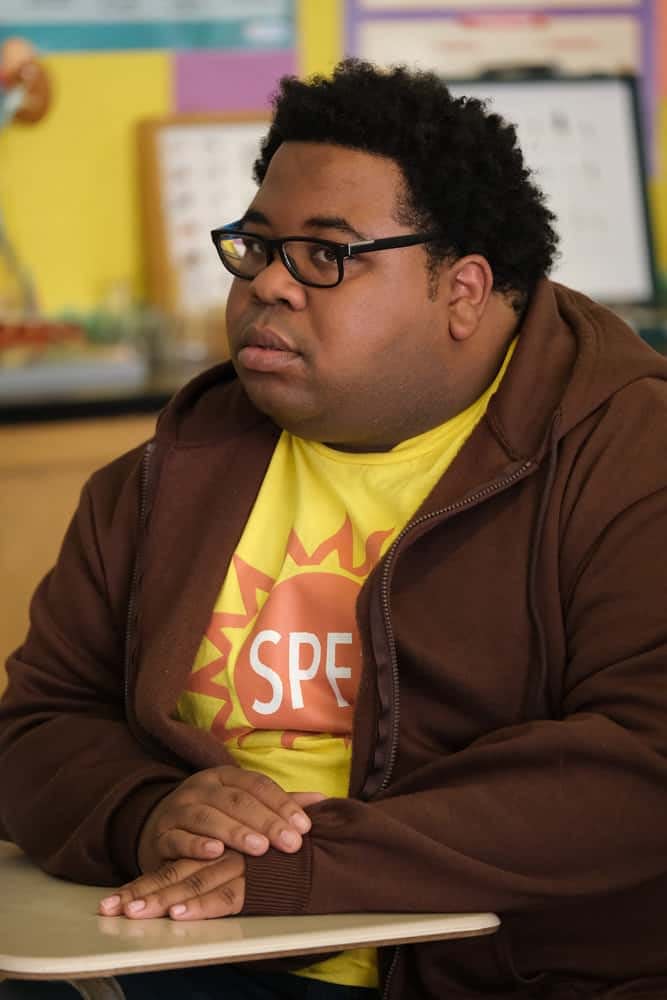 A.P. Bio is written and executive produced by Mike O'Brien. Seth Meyers, Mike Shoemaker, Andrew Singer, and Lorne Michaels also serve as executive producers. A.P. Bio is produced by Universal Television, Broadway Video and Sethmaker Shoemeyers Productions.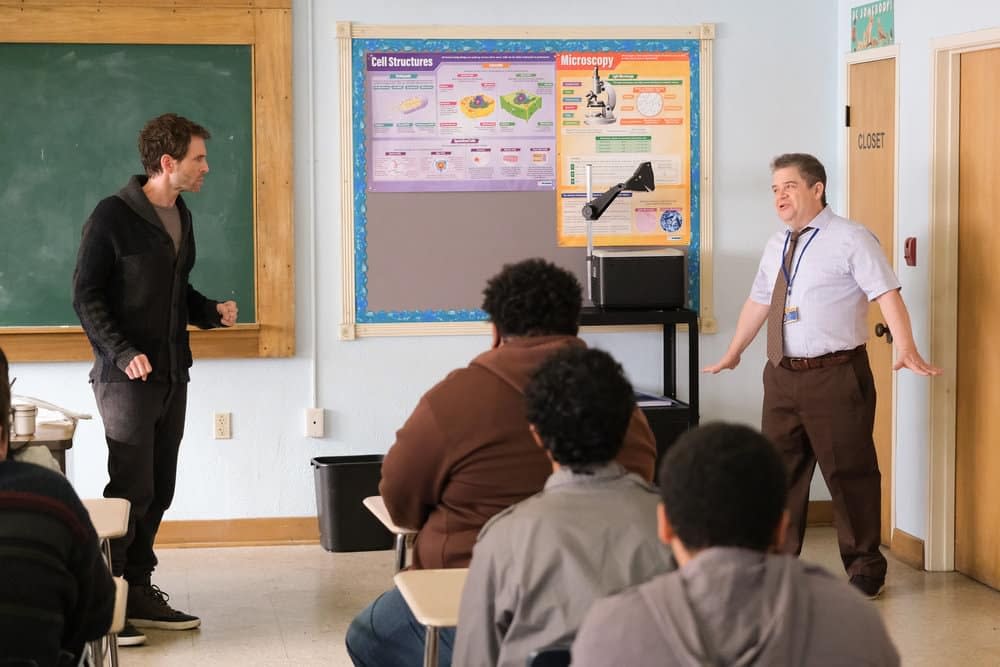 A.P. Bio airs on Thursdays at 8:30 p.m. ET/7:30 p.m. CT on NBC.