ABC has officially canceled Roseanne following the reaction show creator and star Roseanne Barr's "joke" about former Obama aide Valerie Jarrett. Barr tweeted that Jarrett looked like "the Muslim Brotherhood & Planet of the Apes had a baby," prompting Roseanne producer Wanda Sykes to quit the show and sparking a wave of backlash on social media and even from fellow Roseanne stars like Sara Gilbert.
I will not be returning to @RoseanneOnABC.

— Wanda Sykes (@iamwandasykes) May 29, 2018
Roseanne's recent comments about Valerie Jarrett, and so much more, are abhorrent and do not reflect the beliefs of our cast and crew or anyone associated with our show. I am disappointed in her actions to say the least.

— sara gilbert (@THEsaragilbert) May 29, 2018
This is incredibly sad and difficult for all of us, as we've created a show that we believe in, are proud of, and that audiences love— one that is separate and apart from the opinions and words of one cast member.

— sara gilbert (@THEsaragilbert) May 29, 2018
In a press release by ABC, president Channing Dungey said, "Roseanne's Twitter statement is abhorrent, repugnant, and inconsistent with our values, and we have decided to cancel her show."
Prior to the cancellation, Barr apologized for the tweet and announced she was leaving Twitter:
https://twitter.com/therealroseanne/status/1001471669641216005
https://twitter.com/therealroseanne/status/1001470384556752898
However, that wasn't enough to prevent the show's cancellation, and many took issue with the fact that Barr's apology refused to acknowledge the inherent racism in comparing a person of color to an ape, amongst other things. Roseanne's revival was at first a massive ratings success, leading to a bevy of think pieces praising the show's embrace of the Trumpian audience. The show was renewed in March for a second season, which won't happen now — at least at ABC.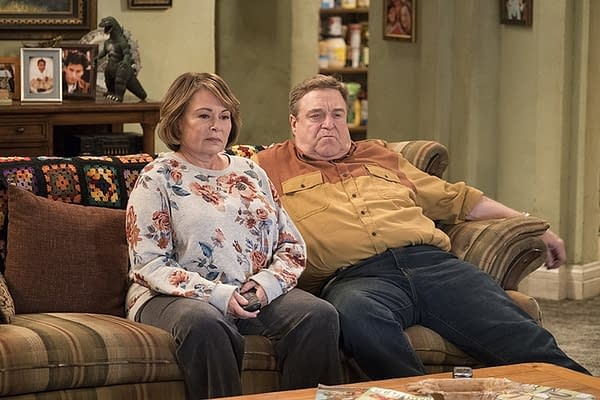 Enjoyed this article? Share it!