AEW Dynamite 7/15/20 Fight for the Fallen Part 2: Excuse Me!
The first hour of AEW Dynamite: Fight for the Fallen featured a very heelish Cody Rhodes taking on Sonny Kiss for the TNT Championship, a heelish FTR facing Lucha Bros, and Chris Jericho declaring himself "The Demo God" for constantly winning the 18-49 demographic in the Wednesday Night Ratings War. No, seriously. How can AEW follow that? How about with a six-man tag match between Jurassic Express and The Elite?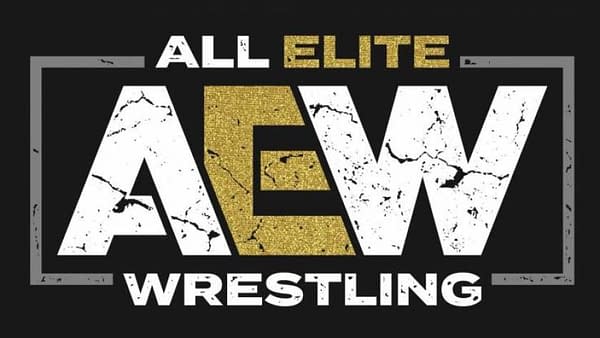 AEW Dynamite: Fight for the Fallen Part 2
Nick Jackson and Jungle Boy start things off. I'm immediately distracted by how clean the ring looks. So far it's had both beer and orange juice dumped on it, the orange juice in mass quantities, not to mention whatever sweat and blood has gotten on it during the first hour (Dax Harwood's chest was bleeding from chops). Jericho, on the other hand, is soaking wet still. How did they clean up this ring so fast?
Kenny Omega displays some very heelish tendencies in this match. He treats Marko Stunt like a joke and gets wrecked for it. Hangman Page watches the match from the bar backstage and he's soon joined by FTR. There are some cool spots, as to be expected. In one, Luchasaurus and Jungle Boy hoist Marko up from the floor and over the ropes, throwing him into Kenny to hit a hurricanrana. In another spot, The Elite hits a triple Tiger Driver 98 on Luchasaurus. When Excalibur calls the move, Jericho becomes annoyed. "Why is it Tiger Driver 98?" "That's the year it was invented." "You were five then!" "I was eighteen, but thanks."
Jericho hates Jurassic Express and just seeing them in the ring makes him angry throughout the match. He keeps referring to Kenny as his new favorite wrestler whenever Kenny beats up Marko. Jericho is really pleased when Nick Jackson punts Marko in the head while he's flossing. Probably the most ridiculous spot of the night has Matt Jackson balanced on the top rope when Marko jumps onto the shoulders of Jungle Boy from the outside and springboards into a Canadian Destroyer on Matt into the ring.
Omega eventually gets the win with One-Winged Angel. After the match, he loses control and pounds on Marko. The Bucks pull him off and ask him what the hell he's doing. Turning heel, guys. Isn't it obvious?
Alex Marvez interviews Hikaru Shida. He wants to know if she'll give Nyla Rose a rematch. Shida says sure, but it doesn't have to be Nyla. She says AEW doesn't have enough female wrestlers right now and issues an open challenge for her AEW Women's Championship for people outside the company.
Jon Moxley cut a promo earlier in the day, and now we get to see it. Moxley says the last several weeks have not been the best for him and he's been pissed off about a great many things. Tonight he will purge his frustrations when he puts the AEW World Championship on the line against Brian Cage. Moxley says Cage is a hell of a challenge and he saw Taz's videos saying Cage is too swole for Moxley to hit a paradigm shift. So Moxley says instead he'll rip Cage's recently surgically-repaired bicep in half and send Cage back to the hospital. This will turn out to be very important.
The Nightmare Sisters head to the ring with Dustin Rhodes. Allie got into this angle here as QT Marshall's girlfriend, but Marshall is out with the COVID. She and Brandi have been teaming on AEW Dark, where they've won three matches in a row. This is their Dynamite debut, and they're fighting Kenzie Page and MJ Jenkins, who are jobbers.
Brandi beats up on Page. She hits a rolling bulldog and a kick to the head. Allie hits a clothesline and some knees to the stomach. Brandi tags in and hits a superkick. Page starts a comeback, but Brandi gets a slingblade. Jenkins and Allie tag in. Allie hits a dropdown punch like Dustin Rhodes does. Brandi runs in and spears Jenkins. Allie hits an elbow on Jenkins and gets the pin. This was a short match meant to showcase the Nightmare Sisters, and it did that.
We see an ad for AEW's action figures, coming out next month. Dynamite takes another commercial break.
Dasha Gonzales is in the ring to interview Nyla Rose. Someone screws up and plays the wrong entrance music for a second. They find Nyla's music and Nyla comes to the ring. Dasha wants to know who Nyla's new manager will be. Nyla says she's not going to give Dasha that privileged information. She's not telling anyone anything because she's gonna let her new manager say it for themselves.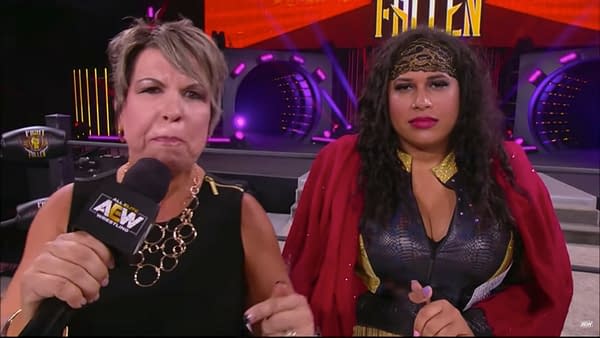 The manager is Vikki Guerrero. Her music is the music that accidentally played for a second earlier, and appears to be an obnoxious techno remix of her saying "Excuse Me." It's brutal. Dasha welcomes Vikki to AEW and asks about her strategy. Vikki isn't sharing that, but she does have a special message for the women's locker room. From this moment on, they should stop lying to themselves. They'll never be smart enough to cheat to win. Nyla Rose is gonna steal every opportunity they've ever dreamed of.
Jim Ross runs down next week's show. There's a TNT Championship match. Hangman Page vs. Dark Order's Five. Ivelisse vs. Diamante. MJF in action. Young Bucks vs. Butcher and Blade. Jurassic Express vs. Jake Hager and Chris Jericho. It's time for the main event now. Brian Cage comes out with Taz. Cage is looking jacked as always. He's wearing the FTW Championship, which we learned over the last week is not a replica but the original belt from ECW, which Taz has kept all these years. Dynamite goes to commercials.
Back from break, Taz calls out Moxley for talking about Cage's bicep. Taz says Cage was wrestling and training the whole time Mox was home quarantining. Taz calls Moxley to the ring so the match can finally get started. Moxley obliges, making his way through the lower bowl (where AEW staff, who have been tested for COVID-19, sit). In the upper bowl, you can see the friends and family of Jaguars sponsors. Not everyone in either area is wearing masks.
Moxley attacks Cage immediately, but Cage hits a clothesline and beats up Moxley in the corner to take early control. The story of this match is Cage overpowering Moxley while Moxley tries to outsmart Cage. Moxley works Cage's arm for a lot of the match, but unfortunately, not always the correct one (the left one). Cage looks great throughout the match. He's incredibly jacked but he can move like a cruiserweight. Unfortunately, he's not slated to win here, which leaves AEW with a problem of how to put Moxley over without making Cage look like crap. The solution? When Moxley gets Cage really trapped in an arm submission near the end of the match, Taz throws in the towel. Cage never taps or shows any indication he's going to tap, but Taz was shook by Moxley's promise to reinjured Cage's bicep.
Immediately after the match, Cage picks up the FTW belt and hits Moxley with it. He pounds on Moxley. The lights go out. When they come back, Darby Allin is on the top rope with a skateboard. He hits Cage with a… diving skateboard? Allin and Moxley stand tall in the ring as Cage retreats. Cage and Taz go backstage. Cage tries to run back out and a bunch of officials have to hold him back as Dynamite goes off the air.
Cage looked fantastic in the main event. I wanted him to win because it would have sucked to see him get pinned in his first big match. Taz throwing in the towel was a smart way to end it that keeps Cage looking good, and it looks like Cage will get into a feud with Darby, which will also make him look good since Cage can throw him like a lawn dart. Jericho's ratings promo was fantastic. The internet is going to be freaking out about it for weeks to come, oblivious to the fact that they're getting worked. The rest of the night felt a little off at times. Occasional production mishaps, some botches or awkwardness in the ring, but those things were relatively minor and Fight for the Fallen was still packed with great wrestling and, as usual, Dynamite's two hours flew by like no other wrestling show does. We also saw some very obvious signs of character changes for Cody and Kenny Omega. and teases for stuff like the Four Horsemen revival. It's been a great night so far, but there's still two hours of wrestling to go because it's time to hit up NXT on the DVR.