AEW Dynamite Recap: An Emotional Tribute to the Late Jay Briscoe
AEW celebrated the life of Jay Briscoe with an emotional main event as Mark Briscoe appeared on AEW Dynamite for the first time to face Jay Lethal.
---
A great injustice has been committed against The Chadster. Yesterday, another reporter took The Chadster's sacred duty of writing the preview of AEW Dynamite. Why did The Chadster's bosses here at Bleeding Cool allow this to happen? Because according to them, The Chadster's "weird obsession with Tony Khan" and "anti-AEW rhetoric" had no place in a post that was largely about the tribute match for the late Jay Briscoe. As if The Chadster couldn't control himself for one post, setting aside his personal differences with the man who has bullied and tormented The Chadster since forming AEW in 2019, causing The Chadster to become sexually impotent, in order to show the proper respect to a beloved member of the wrestling community who was tragically taken from us long before his time? Well, The Chadster will prove that's absolutely not true, because for one night only, in tribute to Jay Briscoe, The Chadster is going to be… nice… to Tony Khan.
With that in mind, The Chadster will only be looking for positive things to say about AEW Dynamite this week. So let The Chadster kick off his AEW Dynamite recap and prove all those haters in Bleeding Cool management wrong!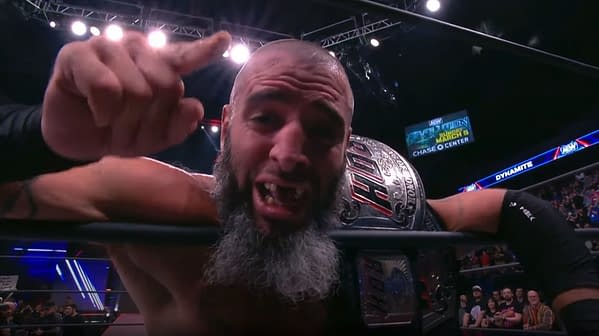 AEW Dynamite opened with a tag team match as Chris Jericho and Sammy Guevarra took on Action Andretti and Ricky Starks. The Chadster is… impressed with Jericho's commitment to putting over young stars, because one day, The Chadster is sure that some of those stars will end up in WWE, where their experience can be used for good. Hey, this isn't so hard! Guevara pinned Andretti after Daniel Garcia hit Andretti with a baseball bat.
Next, Darby Allin defended the TNT Championship against Buddy Matthews. This match had it all: stiff wrestling, high-risk spots, and lots of action outside the ring with the rest of the House of Black, Sting, and Ortiz. Normally, The Chadster would find this to be extremely unfair to WWE, but The Chadster is feeling charitable, especially since WWE Raw XXX did such high ratings this week. Allin retained with the Coffin Drop in a hard-fought battle. Samoa Joe challenged Allin to a rematch afterward.
Matt Hardy and Ethan Page faced JungleHook next. One thing The Chadster… appreciated… about this match is that The Chadster's wife, Keighleyanne, stopped texting with that guy Gary to watch it. The Chadster wishes Keighleyanne would stop texting with that guy Gary altogether, but he's happy to get even a small break from it, even if The Chadster doesn't understand why Keighleyanne is always so interested in matches involving Jungle Man and Hook. She must be a big fan of their wrestling. To each their own. JungleHook won.
Billy Gunn brought his real sons and his adopted sons to a family therapy session that ended with The Gunns announcing their intentions to take the AEW Tag Team Championships from The Acclaimed. The Chadster found a way to enjoy this segment by imagining it as a post-credits scene to the DX segment on WWE Raw on Monday.
In an interview, Hangman Page made a rubber match with Jon Moxley official for next week in Dayton, and he will face Wheeler Yuta on Rampage this Friday. The Chadster does enjoy repetition in wrestling.
Brian Cage faced Bryan Danielson next in the battle of the Br(y/i)ans. Cage was paid by MJF to try to break Danielson's arm in this match. The Chadster really enjoyed watching all the punishment Cage inflicted on Danielson as revenge for Danielson literally stabbing WWE in the back when he signed with AEW. Danielson brought out the best in Cage in this match, which may have been Cage's best in AEW. Danielson won by a rollup, but the beatdown continued after the match with MJF joining in before Takeshita made the save. In a backstage segment after, Danielson insisted he would fight MJF at Revolution regardless of his arm injury.
Ruby Soho took on Toni Storm in a one-on-one match that was originally supposed to be a triple threat before Britt Baker got injured. Storm nearly had this one won by faking a face injury before Baker appeared at the top of the ramp, setting up a Destination Unknown from Soho for the pin. Ruby Soho cut a very compelling promo before the match and The Chadster was surprised to see her get the win, since she normally loses. Maybe Tony Khan finally learned something about the wrestling business and is looking to implement a 50/50 booking policy.
MJF cut a promo on Takeshita and announced Bryan Danielson's opponent for AEW Dynamite next week: former NXT star Timothy Thatcher. The Chadster appreciates that AEW is willing to give former NXT guys a paycheck to hold them over until WWE is ready to give them their real jobs back.
In the main event, Mark Briscoe faced Jay Lethal in a tribute match for the late Jay Briscoe. The match was good and The Chadster is just so impressed with these guys for being able to compete at that level with all the emotions they must have been feeling. Briscoe got the win with the Jay Driller after a very good match packed with great spots. The AEW Roster came out to the stage after the match to show respect to Jay Briscoe. It was emotional for the wrestlers, the crowd, and the viewers, and a great way to celebrate Jay Briscoe.
The Chadster was so touched by that main event that, for the first time ever, The Chadster got through an entire episode of AEW Dynamite without throwing his White Claw seltzer at the television. The Chadster will go back to hating AEW next week, but for now, The Chadster will just say that one thing AEW always does right is to show respect and love to the wrestlers, and that's the bottom line 'cause Chad said so!