As the ratings war between AEW and NXT escalates, AEW has pulled out a secret weapon, one that's sure to give them the advantage in their weekly battles against their rival pro wrestling show. The secret weapon: puppies. And no, not the kind that gets Jerry Lawler excited. These are actual puppies, as in baby dogs, and they'll be competing for the most important prize in all of canine professional wrestling: victory in a puppy battle royale.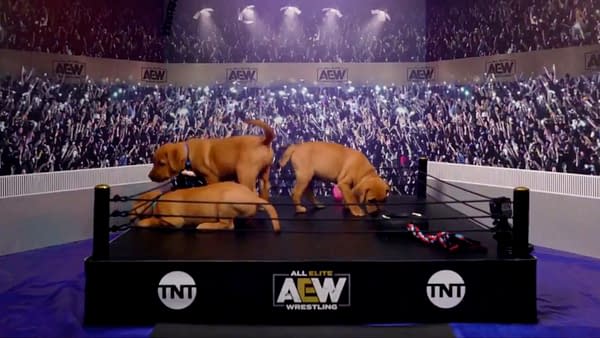 AEW announced the news during last night's episode of Dynamite, the first of a special two-night event called Fyter Fest, featuring PPV-quality matches on free television. NXT has offered its own answer to Fyter Fest, The Great American Bash, raising the stakes in the competition to get the most viewers. But NXT wasn't exactly playing fairly. Due to WWE's horrendously lax coronavirus protection standards, and outbreak swept through that company. One of the infected: Renee Young, wife of AEW World Champion Jon Moxley. As a result, Moxley had to drop off next week's Fyter Fest Night 2 main event, a match against Brian Cage for the title. Moxley will defend the title against Cage the following week instead, after undergoing quarantine.
But this left AEW without their biggest match, on their biggest night when they needed it most. Enter the puppies. Who is going to change the channel from a wrestling show that features live puppies battling it out in a wrestling ring to another wrestling show that does not have live puppies battling in a wrestling ring? This is basic logic, the kind upon which television empires are built. There's no way NXT can possibly compete against this unless, by some miracle, they were able to convince kittens to get in a wrestling ring and have a battle royale of their own, and we all know how hard it is to convince kittens to do anything. They're worse than Kevin Nash when it comes to creative control!
And so, AEW enters the second week of quasi-PPV competition with a distinct, furry advantage. How will NXT answer? That remains to be seen. Watch the Puppy Battle Royale trailer here.
Enjoyed this article? Share it!