Thankfully, the season finale of Ryan Murphy and Brad Falchuk's American Horror Story: Apocalypse put everything in the world back to "normal" (???) again – in large part due to some time-travelling witchcraft and Mallory (Billie Lourd) understanding one of the basic principles of surviving a horror movie: Don't run over the "big bad" with your car once. Reverse. Forward. Rinse. Repeat. So as we wait for the next generation of the Antichrist to reach legal drinking age, TV Line had the chance to sit down with Leslie Grossman to discuss the evolution of Coco St. Pierre Vanderbilt and her thoughts on the season finale.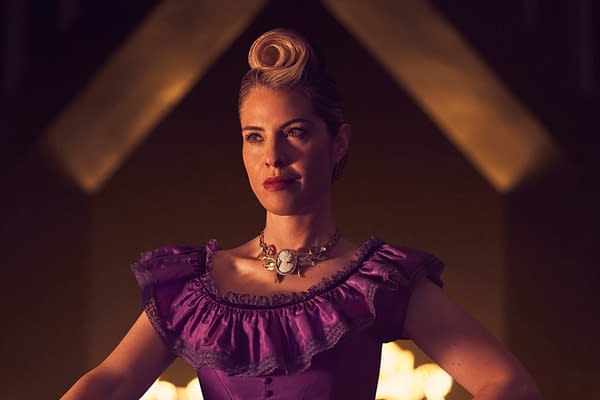 ● On Coco not being the character most people expect when they first meet her, and how the character is someone viewers can really relate to:
"You start off thinking Coco is one way, and then you find out she's just the sweetest person who wants to do anything she can to protect Mallory and the coven. I saw her as someone who didn't have much direction in life, just this spoiled rich girl who never had any reason to do anything on her own, and then she found out she has this special power and I think she felt she really found her calling. Coco was just the silliest, sweetest, most fun character to play."
● Grossman shared details on a scene with Angela Bassett that didn't make it to air, but represented the point that Coco is at with her life and powers: learning to love who she is while still understanding her full potential:
"There's actually this great little scene that was cut between me and Angela Bassett in the finale, right after Madison shoots Michael and we're all running up the stairs. Angela's character stops me and asks, "What can you do? What's your power?" It's this really funny moment where I say what I can do and she just stares at me, and then I go, "I know, I'm useless!" And she gives me this awesome little pep talk in that incredible Marie Laveau accent. She says, "You are a woman and a witch. Never underestimate your power. You can do this!" It was such a great little moment, I'm so sad it didn't make it to the finale. But there was so much stuff to get through in such little time. … I think that if the story had continued, we might have seen that Coco's powers would continue to grow — maybe into something a little more helpful to the safety of the witches, other than their cholesterol."
● As for Coco not being in the final scene with the other Coven witches, Grossman doesn't believe fans have anything to worry about: it's all about time– though it looks like the scene did take its toll on the actress:
"First of all, I am not ashamed to say that I cried during that last scene. I got really emotional when I saw that. It was so nice! That was Mallory's first day, and she's already been there for a while by the time Coco shows up, so I think that Coco is still coming, yes."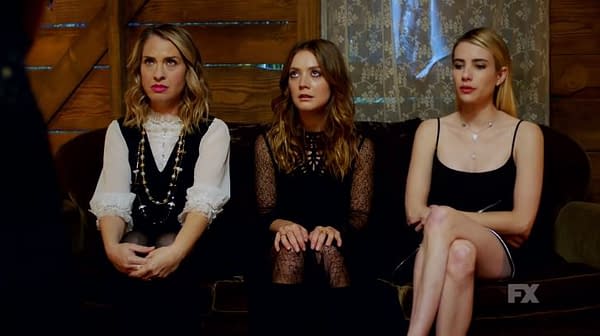 ● As for the season wrap-up, Grossman appreciates that in the world of American Horror Story it's about as close to a "happily ever after" as fans will ever get:
"My reaction was, "Oh, s–t!" There's no such thing as a happy ending on American Horror Story, so I thought it was the perfect way to wrap it up. I have no idea what Season 9 will be about, and I have no idea if this is a story they'd ever want to revisit, but I think it's so clever to always leave the door open. I also love Ashley [Santos] and Kyle [Allen] so much, so I was happy to see them back, even if it was only for a few minutes."
Enjoyed this article? Share it!