American Horror Story: Apocalypse Season 8, Episode 10 'Apocalypse Then': A Strong Finale Saves the Day (REVIEW)
Welcome back to Bleeding Cool's weekly review of FX's American Horror Story: Apocalypse, where this week – believe it or not – we've actually reached the season finale of Ryan Murphy and Brad Falchuk's popular horror anthology series, 'Apocalypse Then.'
We've already seen what the future holds: fire and damnation, brought to you courtesy of Michael Langdon (Cody Fern) and his earth-bound army of influence The Cooperative (aka The Illuminati). Can Cordelia (Sarah Paulson), Mallory (Billie Lourd), Coco (Leslie Grossman), Madison (Emma Roberts), and Myrtle (Frances Conroy) tap into the powers needed to turn the tide in their favor and take down Michael once and for all?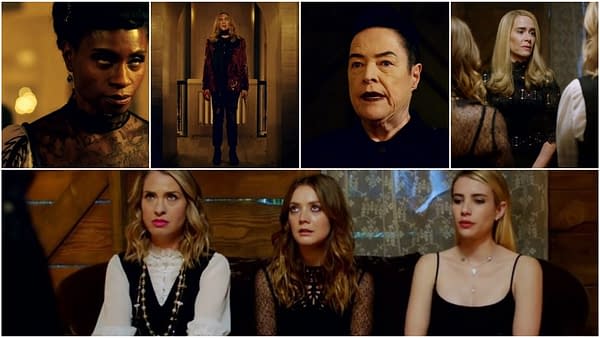 In the season finale of FX's American Horror Story: Apocalypse 'Apocalypse Then,' it's Cordelia who raises a truly ominous question: for the world to live, will they have to watch it burn?
So did we find the season finale of the Murder House/Coven crossover worth going back in time for – or would we rather watch it burn with the rest of this season? Here's our review, followed by the official episode preview…
Spoiler Warning: I'll be covering some themes and takeaways involving major and minor plot points from the episode, so just keep that in mind. Definitely not looking for pitchforks and torches outside my apartment.
https://youtu.be/KNd0Jr6H4Ro
Finally, here's a friendly little flashback to the "simplier times" of the first season of American Horror Story – the one that started it all – Murder House:
Sarah Paulson, Jessica Lange, Emma Roberts, Connie Britton, Dylan McDermott, Evan Peters, Kathy Bates, Cheyenne Jackson, Billie Lourd, Billy Eichner, Adina Porter, Leslie Grossman, Taissa Farmiga, Gabourey Sidibe, Lily Rabe, Frances Conroy, and Stevie Nicks returned to Murphy's horrific universe this season. Joan Collins (Dynasty), Cody Fern (House of Cards), Ashley Santos (We All Fall Down), and Kyle Allen (The Path) were the newest members of the ensemble.