Altered Carbon Season 1, Episode 6 Recap: Man with My Face
This article contains spoilers for Altered Carbon episode six – Man with My Face.
.
.
.
.
.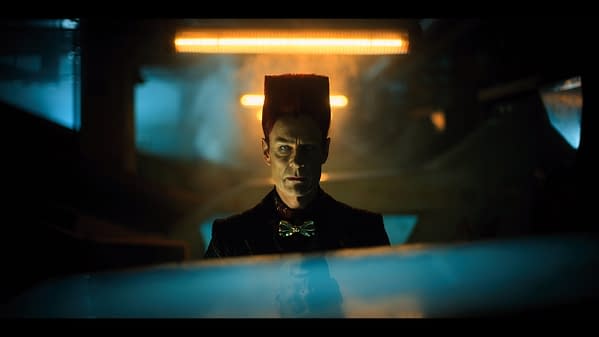 The episode starts with Kovacs (Joel Kinnaman) flying through the city with a dying Ortega (Martha Higareda) in the back. She was attacked by the ghost walker. They are able to save her original sleeve, but her arm has to be replaced. He buys her the top of the line with Bancroft's money. Poe (Chris Conner) makes progress with Lizzie (Hayley Law) until Vernon (Ato Essandoh) jumps in and scares her. He leaves and catches up with Kovacs once Poe discovers who paid for Isaac's (Antonio Marziale) art in his apartment. They go to the house of Sergei Brevlov (Chris McNally) and find Isaac there. Kovacs takes both of them back to Bancroft's. Meanwhile Prescott (Tamara Taylor) retrieves the printed clone from the police and takes it there as well, which leads to a conversation between all of them where Bancroft learns what Isaac did about the deal in Osaka and where he want to kill Isaac, he beats the clone to a bloody pulp instead, but they know Isaac didn't kill Bancroft, he wanted his approval.
Dimitri currently in the gang banger sleeve (Matt Biedel) meets with his benefactor, Hemingway (Arnold Pinnock), who also employees the ghost walker. They try to kill Dimitri, but he makes a deal with Carnage (Matt Frewer) and ends up in Kovacs original sleeve (Byron Mann). Captain Tanaka (Hiro Kanagawa) arrives at the hospital and Kovacs figures out that he's on the take. They go to a VR diner to meet with Tanaka's contact and it appears to be Hemingway, but before they could do more, Ortega (now fully recovered) pulls Kovacs out because the place has gone quiet. Everyone in the restaurant is dead and only Dimitri is there with a bomb, knocking our heroes out. They wake in chains at Fight Dome where they are expected to fight in a humiliation match. They are pitted against two mutants, but with Kovacs' Envoy training and Ortega's new cybernetic arm, they are able to defeat the mutants, only to have Dimitri attack with reaper filled daggers. He makes them bleed quite a bit, but by working together they kill Dimitri and destroy his stack. Carnage order everyone in to kill Kovacs and Ortega, but a masked figure drops in with a gun and sword, tearing the bad guys to ribbons. She also knocks out Ortega before removing her mask to reveal Reileen (Dichen Lachman) who calls Kovacs big brother.
Watching Kovacs work something out is kind of interesting. Unlike the way most shows portray a super-genius, this all takes place inside his head and we don't 'see' it. He just glares at the person he's talking to and you get the sense he's just following a train of thought to it's inevitable conclusion. Like he doesn't know where he is going, but he's confident he's going the right way. The expansion of character like Bancroft, Ortega, Poe and the creation of Isaac, etc, have all moved this from a single focused series to an ensemble which gives everyone their time to shine without losing anyone along the way. It's still Kovacs story, but we now a lot more of the world around him.
The Isaac story isn't in the novel and it's nice to see it wrap up without directly changing the outcome in the novel. Doesn't mean that is where we'll end up, but that is still a possibility. The cybernetic arm is an interesting touch to move Ortega closer up to Kovacs level as a fighter. She was already a bad-ass, but now she has something on part with his modifications and training. You don't hire James Purefoy and not get every scene possible out of him, so the expanding of Bancroft makes perfect sense. Having Reileen be the one to save him at the Fight Dome instead of her hired gun and the cops in the book moves her character up as well. Still have to see how the sister/brother thing works out. Even having read the novel just last week, I don't feel like I know how the season is going to end, which is really good.
Back to the binge.