The Twelve Days of 'Sunny': Season 3, Episode 9 'Sweet Dee's Dating a Retarded Person' (Day #3)
On The Third Day of 'Sunny,' The Gang from Paddy's gave to me…
…three huffs of spray paint…
…two months community service…
…and Dee Reynolds in a pear tree!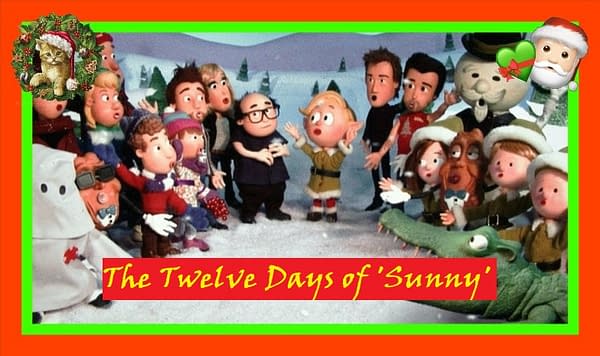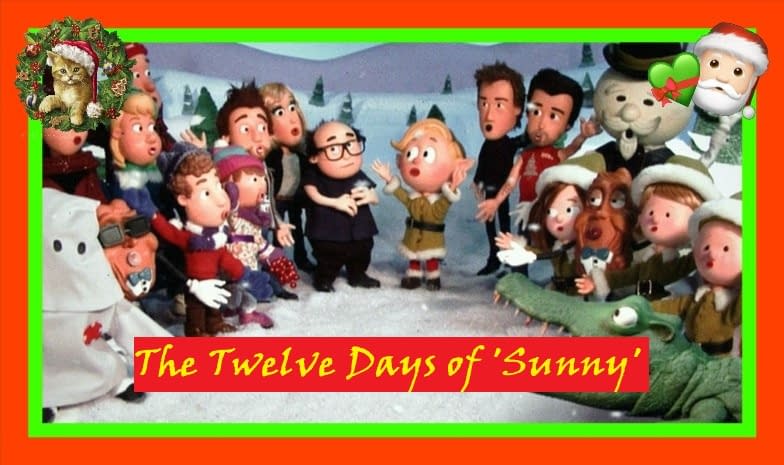 For the past thirteen years and thirteen seasons, The Gang from Paddy's Pub–Charlie (Charlie Day), Mac (Rob McElhenney), Dee (Kaitlin Olson), Frank (Danny DeVito), and Dennis (Glenn Howerton) – have quietly turned FX/FXX's It's Always Sunny in Philadelphia into one of the most shocking, tasteless, and subversive sitcoms to ever hit the airwaves. It's also one of the best.
Because for nearly 1-1/2 decades, The Gang's put themselves on the frontlines of major social and political issues with all the satirical subtlety of a hand grenade–with Dennis, Dee, Charlie, Mac and Frank usually finding a way to blow themselves up in the process.
"We immediately escalate everything to a ten… somebody comes in with some preposterous plan or idea, then all of a sudden everyone's on the gas, nobody's on the brakes, nobody's thinking, everyone's just talking over each other with one idiotic idea after another! Until, finally, we find ourselves in a situation where we've broken into somebody's house – and the homeowner is home!"

– Dennis (s07e09 'The Gang Gets Trapped')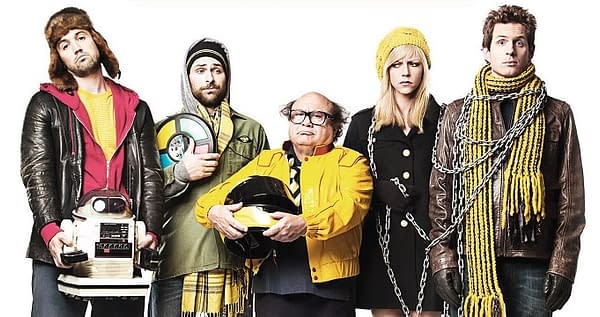 So with the holidays being a time to spend wih family and friends, the fine folks at Bleeding Cool are honoring South Philly's favorite sons (and daughter) with a rundown of our 12 favorite It's Always Sunny in Philadelphia episodes–one per season (sorry, season 13: you're sitting this one out until next year) – with "The Big Present" on Christmas Day as we crown an overall champ – and dump a little coal in your stocking in the form of the worst It's Always Sunny in Philadelphia episode of the first 12 seasons (spoiler: it's probably holding the crown next year, too).
It's Always Sunny in Philadelphia s03e09 'Sweet Dee's Dating a Retarded Person': Dee's new rapper boyfriend may be mentally challenged; and the guys try to form a band. Writer: Glenn Howerton (story), Scott Marder & Rob Rosell (teleplay) / Director: Jerry Levine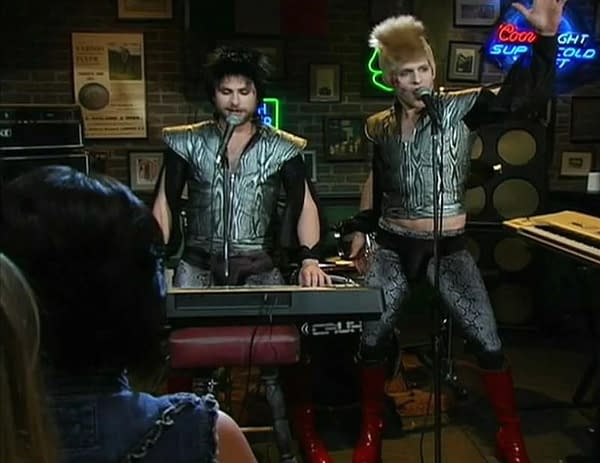 Now I could rattle off a manifesto's worth of righteous reasons why this episode deserves to be the season's top pick (though the title is still a wee bit cringe-worthy) – and I will: Dennis's ease at using the word "retarded," convincing us that maybe he really is the unfeeling sociopath-in-training he claims himself to be; how The Gang's rational for starting bands (yup, plural) jacked up their "blatant ignorance" and "self-absorbed" levels to a Spinal Tap-honoring 11; and Charlie's not-so-silent mastery of the keyboard – and of anything he can spray into an old sweat sock and shove up his nose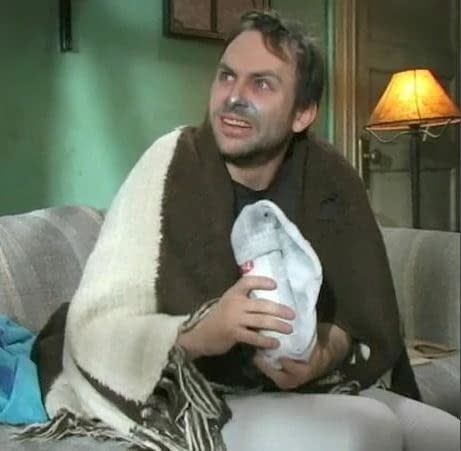 Along with that, we have Dennis and Dee engaging in a "Is He or Isn't He?" points battle in a very twisted bro-sis bonding moment – with Lil Kev (Kyle Davis) none the wiser; Frank learning the "punchline" to Mac and Charlie's room-wrecking "rock gods" run; that scene above and how bad you feel laughing at it – and how it makes you laugh even more; Dennis's obsession with being a glam rocker; Chemical Toilet and Electric Dream Machine on one of the shortest concert tours ever: one night, one song, one bar; and of course, our "Champion of the Sun" begins to shine (but more on that later…).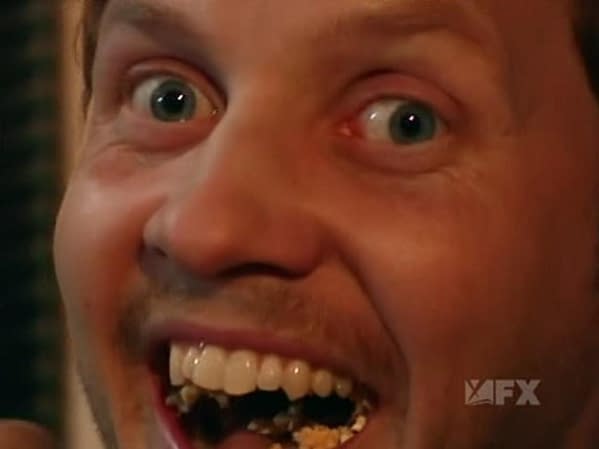 We thought it would be fitting to end with Lil Kev's rap response to The Gang – and to Dee specifically – at the end of the episode: one of the best push-backs we've seen from a supporting cast member ever. Not that The Gang learned anything from it – or that it kept Lil Kev away from Dee, since he was suspected of being the father of Dee's baby in season 6 (though he wasn't alone) – but for this one moment? Yeah…
Righteous thanks to the fine folks at It's Always Sunny in Philadelphia Wiki for their work on transcribing Lil Kev's lines:
"This one's for my girl Dee
This one's for you, baby WORD
Yo! Let me tell y'all a story 'bout a girl I knew!
A broke ass bitch with a gay ass crew
She said that I was cute, she said that I was funny
But the honey couldn't stop
Lookin' at my money
Busted old lady with a flat tiny ass
Her body like a skeleton in science class!
Face beat up by the school of hard Knox
Hair so fried and bleached with (by) Clorox
It's like she's skinny and fat in all the wrong places!
Mothers gotta cover their baby's faces!
When she walks by, people think she's Godzilla
Straight outta Compton? Naw, y'all
Staight outta Thrilla!
Lookin' like a zombie
Walkin' like a chicken
Mouth is fulla shit
That's why her breatha be stinkin'
Just one question Dee
Before ya take yer bow
Your gravy train's leavin'
So who's retarded now?"