"American Horror Story: 1984" – This "Nightmare" Proves All Too Real [VIDEO]
Combine our professional obsession with uber-creative genius Ryan Murphy (Glee, Pose, 9-1-1, Feud, and a billion more) with our love for 80's horror/slasher film, and it's easy to understand why we're excited for FX's American Horror Story: 1984. In fact, executive producer Tim Minear only confirmed our excitement when he said this about the upcoming season of Murphy and Brad Falchuk's horror anthology series American Horror Story:
"I think it's awesome. I think it's gonna be really scary but a lot of fun, like it always is. And that if you have a taste for '80s horror, you're in for a treat."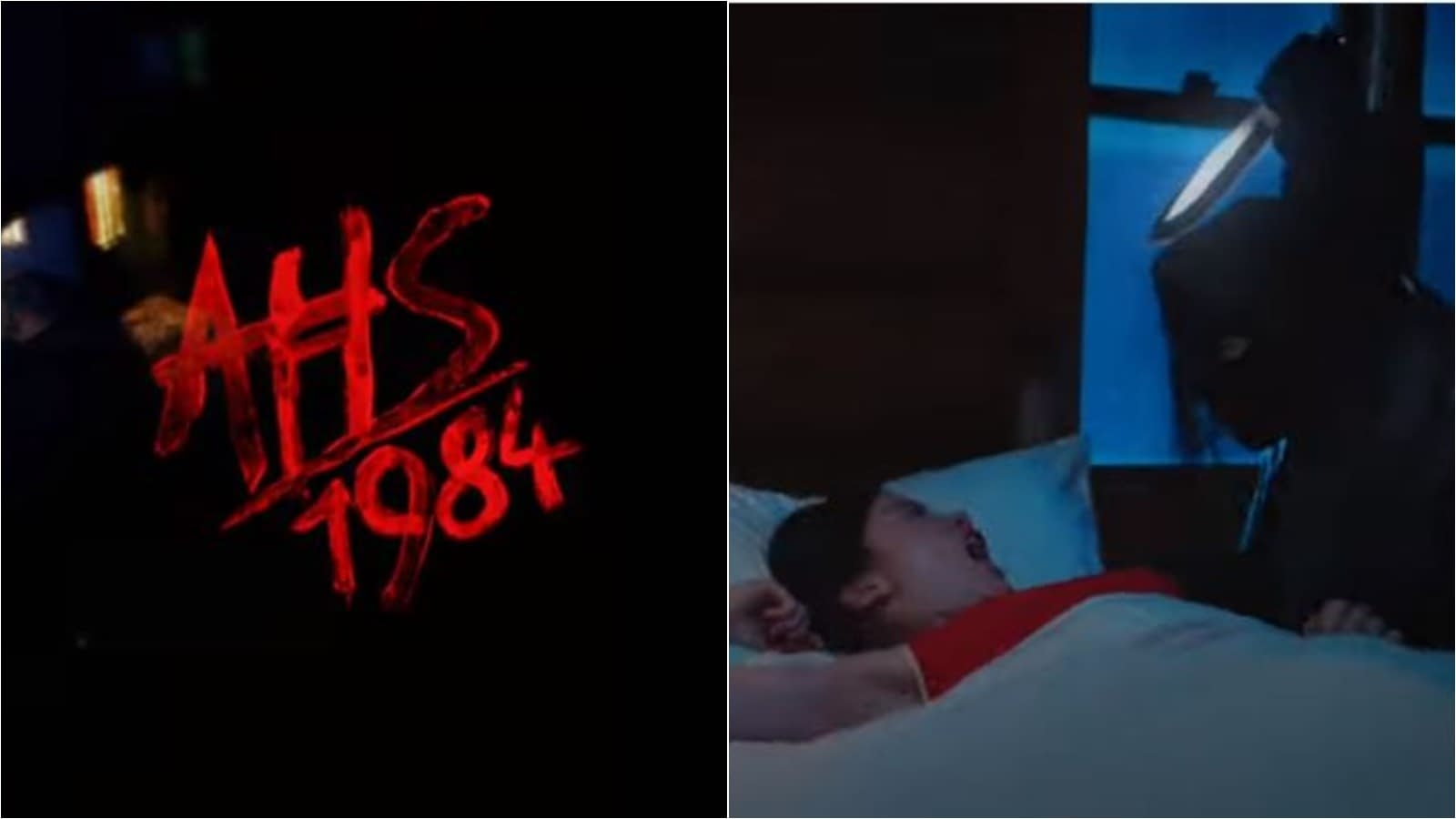 Now that we know the theme, who's going to be in it? Well, now we know! Murphy officially revealed the cast (so far?) for the upcoming ninth season earlier this month – including Emma Roberts (Brooke), Billie Lourd, Cody Fern, Angelica Ross, Leslie Grossman, John Carroll Lynch, Gus Kenworthy, Glee's Matthew Morrison (with the large…"friend"), DeRon Horton, Zach Villa, Alhan Bilal (Jamie), Tara Karsian (Chef Bertie), Ashlyn Mackenzie (Debrah), Kaleina Cordova, and more… and possibly Sarah Paulson (???) if certain online speculation turns out to be true.
Coming off the release of the official trailer (!!!), the identity of the latest victim in the AHS sweepstakes, and more wonderfully disturbing FX key art, and now we're getting yet another teaser. This time? The waking world offers deadly dangers that no "Nightmare" ever could for this camper:
https://youtu.be/JGVNpIZ6biU

Here's a look at the offcial trailer for American Horror Story: 1984 – along with the titles of the first four episodes and the *possible* episode synopsis for the season premiere (translated from French):
https://youtu.be/9wcEiFIM3mM
Season 9, Episode 1: "Camp Redwood": In the summer of 1984, five friends leave Los Angeles to work as counselors at Redwood Camp. As they adapt to their new jobs, they quickly find that the only thing scarier than the stories told at thecampfire is the past that haunts them.

Season 9, Episode 2: "Mr. Jingles"

Season 9, Episode 3: "Slash Dance"

Season 9, Episode 4: "True Killers"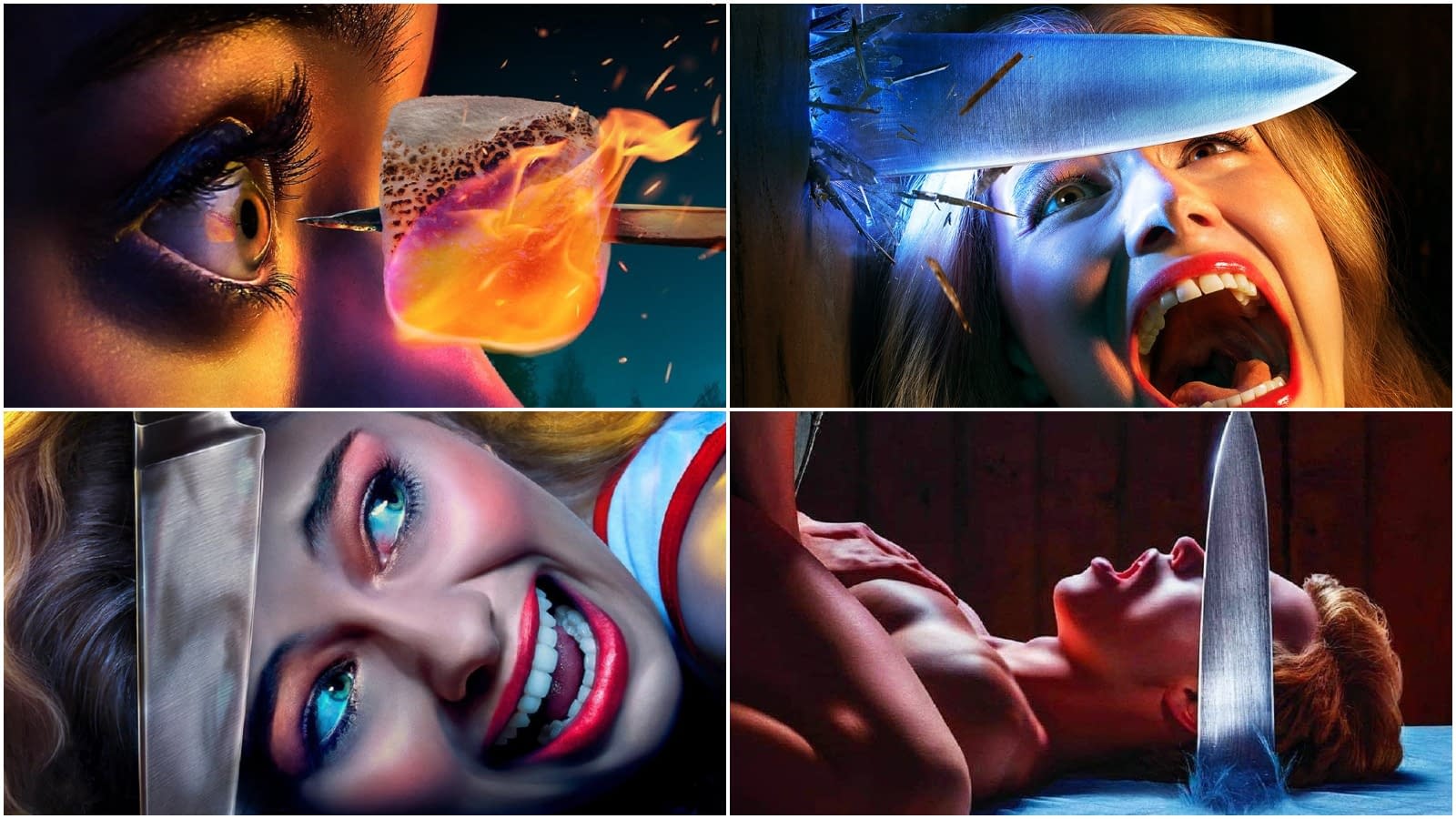 In "Bedtime," we learned two important lessons and needed to ask one question. First, always respect your bunkmate – it could save your life. Second, always look under the bed before getting in – it could save your life.
The question? Exactly how long was Mr. Jingles waiting under there…?!?!?
https://youtu.be/WrP1yKaUMQw
In this teaser, we learn that Camp Redwood has a "zero tolerance policy" when it comes to skinny-dipping… one that doesn't suffer "repeat offenders":
In this teaser, we learn why it's important to always be aware of your surroundings: one minute, you're sitting on a dock in the middle of the woods… in the middle of the night… by yourself… enjoying The Motels… without a care in the world. Next thing you know? A masked 80's serial killer is dragging you to the bottom of the lake.
Let this be a cautionary tale, people…
https://www.youtube.com/watch?v=RBs5CTxxxaY
Fans were treated to a previous teaser that embraced the 80's slasher film theme. As the sound of John Cafferty & The Beaver Brown Band's "On the Dark Side" and The Motels' "Suddenly, Last Summer" ominously played in the background, it appeared our resident maniac-in-the-woods Mr. Jingles was planning to make this summer at "Camp Redwood" a very deadly one (though we still feel like a twist of some type is coming…):
https://youtu.be/z5s8KQX9hwU
In case you're like us and you need to see it for the 97th time, here's a chance to see the cast in all their '80's slasher film glory (though it feels like something else is going on there), followed by reactions from the cast:
And of course, here's the teaser that got all the excitement started: