'American Horror Story': Stevie Nicks Ready to Get the 'Coven' Back Together
So we've made no bones about the fact that we're (A) huge fans of Ryan Murphy and Brad Falchuk's long-running FX horror anthology series American Horror Story; and (B) borderline obsessed by the entire creative geniius machine that is Murphy – in particular, his ability to tease fans in fun and interesting ways about what they can expect from an upcoming season.
So we take good news whever we can find it – and in this case, it's our fine friends over at Rolling Stone who were able to feed our spoiler addiction by confirming Fleetwood Mac member/ iconic "White Witch" Stevie Nicks has every intention in the world (and beyond) of returning to American Horror Story and Murphy's Coven project (see below).
https://youtu.be/ohz-8QSizJc
Hot off the heels of a season 8 that saw the long-rumored Murder House/Coven crossover become a reality and as she begins the 2019 leg of the band's world tour, Nicks was asked how she is still able to maintain her energy at age 70 – during a time when she's finding herself more in demand professionally than ever before.
That's when we were blessed with this little tidbit:
"There's so many things I want to do. I want to do another record. I want to make a mini-series. If the coven reforms, I want to go back to American Horror Story. I tell myself, 'Do it now, because you're spry, you're in good shape, you can still do the splits, you can still dance onstage and wear a short skirt and high six-inch heels.'"
Why are these "lyrics" from Nicks so particularly sweet?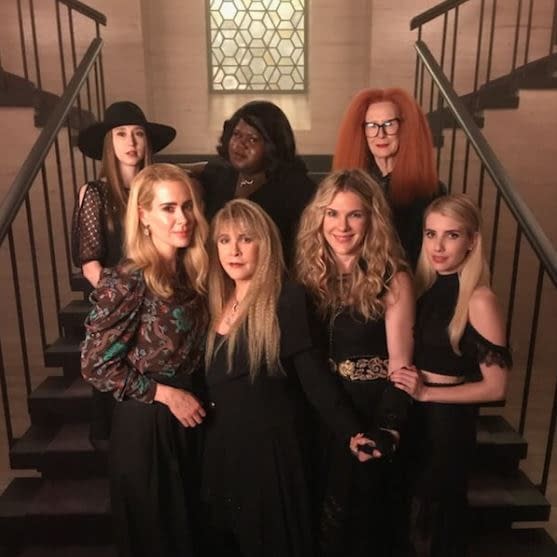 Speaking with Entertainment Tonight following his receiving a star on the Hollywood Walk of Fame in late 2018, Murphy beat his personal record by offering some very tantalizing teases for American Horror Story's future – both next season and beyond. When asked about the possibility of Cordelia (Sarah Paulson) and her coven (Nicks, Billie Lourd, Leslie Grossman, Emma Roberts, Taissa Farmiga, Frances Conroy, Gabourey Sidibe, and Lily Rabe…and hopefully Joan Collins) making a return appearance, Murphy was surprisingly candid: "The witches will be back. Not next season, but we have something really fun planned."
So if not next season, what can fans expect? C'mon, folks! This is Ryan Murphy we're talking about here – did you really think it was going to be that easy? Two takeaways from his response, though? They have a storyline, and the cast he's interested in are about to get the reveal:
"I can't say what it is! I'm going to this luncheon, and many of the Horror Story actors are there, and I'm gonna tell them for the first time. So I have to tell them first."
So someone knows… hmmm…
https://youtu.be/xKrpgJTS-Vg
Sarah Paulson, Jessica Lange, Emma Roberts, Connie Britton, Dylan McDermott, Evan Peters, Kathy Bates, Cheyenne Jackson, Billie Lourd, Billy Eichner, Adina Porter, Leslie Grossman, Taissa Farmiga, Gabourey Sidibe, Lily Rabe, Frances Conroy, and Stevie Nicks returned to Murphy's horrific universe this season for the crossover event; joined by Joan Collins (Dynasty), Cody Fern (House of Cards), Ashley Santos (We All Fall Down), and Kyle Allen (The Path) serve as new cast members for the season.