This week's episode of Arrow is called 'Brothers in Arms', and it focuses on the growing rift between Oliver Queen (Stephen Amell) and John Diggle (David Ramsey). Diggle has basically been Oliver's right-hand man since the beginning. He was the first to join Oliver on his quest to save the city and has been there through thick and thin. When Oliver needed to step away for his son, Diggle stepped up, ignoring his own injury, to become the Green Arrow. But after Diggle got hurt and Oliver suited up again, he's stayed in the hood — which has been a growing problem for Diggle, who fully expected to get it back.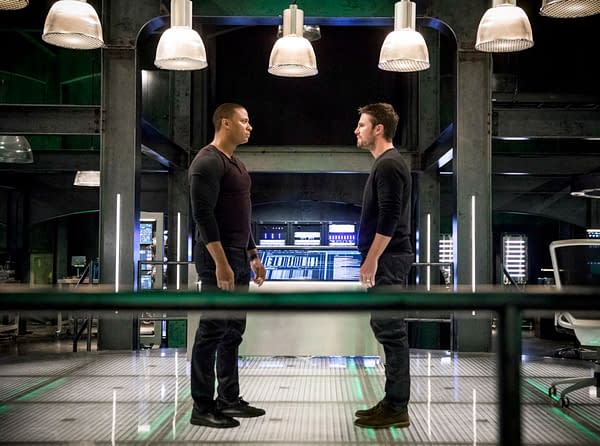 This has been a bit of a sticking point for a lot of viewers, as it seems like a minor reason for them to have a falling out. Diggle has his own costume and code name; it doesn't make sense why he is so adamant to be the Green Arrow. The folks over at TVLine asked Ramsey about that and how it will be addressed in the upcoming episode:
It's much more complicated, clearly, than him wanting to be Green Arrow. What John sees is that there's more than one way to save the city. Arguably, people have died both close to us, i.e. Laurel Lance, and in our city from the invention of the Arrow, the Hood character. And it's not a forgone conclusion that these people would not have died had Oliver Queen listened to different varying points of view as to how to fight the Damian Darhks and the Ra's al Ghuls of the world. Diggle feels like perhaps if some things were listened to, we could've spared ourselves some pain."

Diggle has always gone along — even, in his own words, against his better judgement — because he trusted and loved Oliver, and still does. But I think he really does see now that there's a different way of doing this. At the end of the day, Oliver Queen is our Bruce Wayne character. He's a loner of sorts, and though he's grown past that with Felicity and with Diggle, John sees that [Oliver] is a guy who makes his own decisions, and he's not quite sure where he fits in that.
And it all boils over when Oliver tells Diggle he's going to stay being the Green Arrow. And the photo below shows he doesn't take the news well.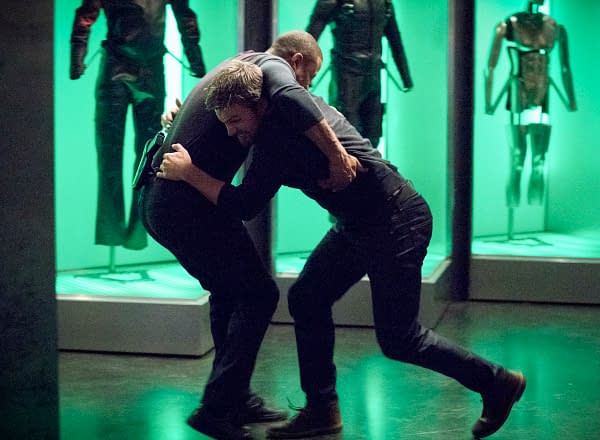 Arrow airs Thursdays at 9 p.m. ET on the CW.
Enjoyed this article? Share it!