Arrow Season 6: Inside the Episode 'Brothers in Arms'
We have a new "insider" video for tonight's Arrow, and for the first time it's hosted by co-executive producer Beth Schwartz. The video takes a look at the episode called 'Brothers in Arms', which focuses on Oliver (Stephen Amell) deciding he isn't giving the hood back to Diggle (David Ramsey) and just how that goes over. And from everything we've seen in trailers and images released… that answer is not well.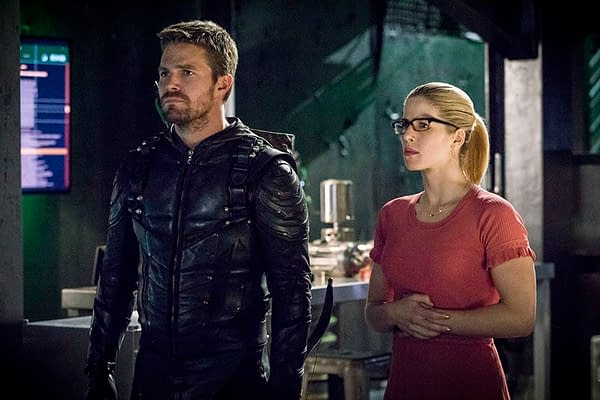 The video stats with Felicity (Emily Bett Rickards) asking Oliver when he's going to tell Diggle. We get a clip from last episode with Thea (Willa Holland) talking to Oliver about he is complete when he is wearing the hood. And we get to see that when Oliver does tell Diggle, it bothers him far more than even he expected, and he's not sure why.
Meanwhile, the Ricardo Diaz (Kirk Acevedo) story moves forward, as he is bringing in Vertigo to further corrupt the city and bring more cops onto his side. Dinah (Juliana Harkavy) is trying to fight back with Green Arrow and Spartan backing her up. Maybe the ice is starting to break just a little between Dinah and Oliver.
Arrow airs tonight at 9 p.m. ET on the CW.
https://youtu.be/nWn9K_xIvFc