Arrow Season 7: Title, Writers, and Director of the Season Premiere
Proof that production of Arrow season 7 is well under way was posted by the series new showrunner Beth Schwartz yesterday. She posted the below photo showing the original Arrow Pop! Vinyl figure standing in front of a copy of the season premiere script.
Episode #701 will be titled 'Inmate 4587' and is written by Schwartz and Oscar Balderrama and directed by James Bamford. All three of these people have been with the series for a very long time. Schwartz joined the show in season 1 as a writer's assistant working her way up to executive producer and showrunner. Balderrama joined the crew in season 2 as a script coordinator and moved up to writer and executive story editor. And Bamford has been the fight coordinator and stunt director on the series since the pilot, moving into directing in season 4. This will be his 10th episode directed, and he's done one of Supergirl.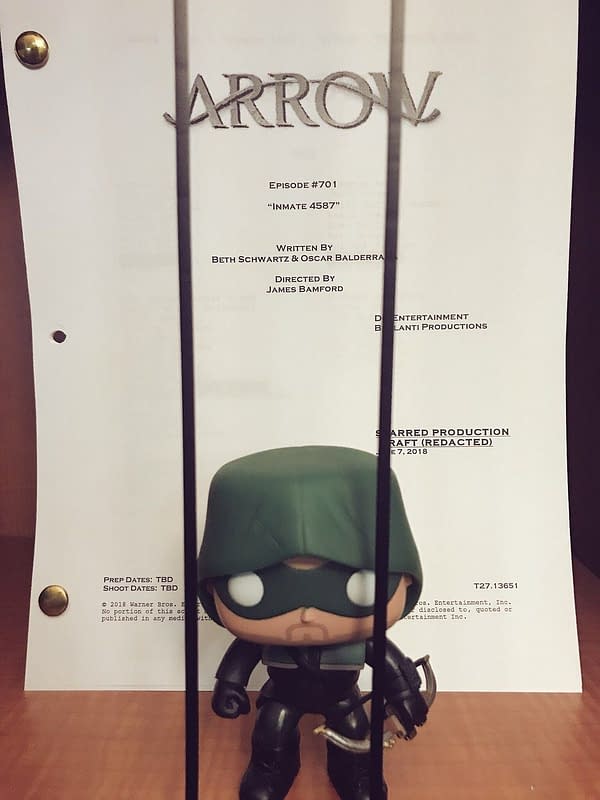 The season will pick up with Oliver Queen (Stephen Amell) as an inmate in Slabside Maximum Security Penitentiary.
It's said that the number 4587 is a running gag among all of the Arrowverse shows and ties in to the Television series Wiseguy. It seems that Marc Guggenheim, one of the founders of the Arrowverse, loved the series and that was Vinnie Terranova's agent number. But the story behind that is Wiseguy is said to have begun filming on April 5th, 1987. Perhaps seeing this is why there are so many hidden Easter eggs like it in the Arrowverse series, like last season's episode 'Docket No. 11-19-41-73', which was the date of the release of More Fun Comics #73 — the first appearance of Green Arrow.
The seventh season of Arrow kicks off on Monday, October 15th at 8 p.m. ET on The CW.