Game of Thrones fans looking for something new to toast after their 827th group rant about how much of a "disappointment" the show's finale was, Johnnie Walker and the HBO department that helps bring licensed merchandise like Euphoria hoodies to life (you know it's gonna happen) have got you covered. Starting this month nationwide and October 29 globally, the duo are following up on 2018's White Walker limited edition blend with two new Scotch Whiskies: Johnnie Walker A Song of Ice and Johnnie Walker A Song of Fire.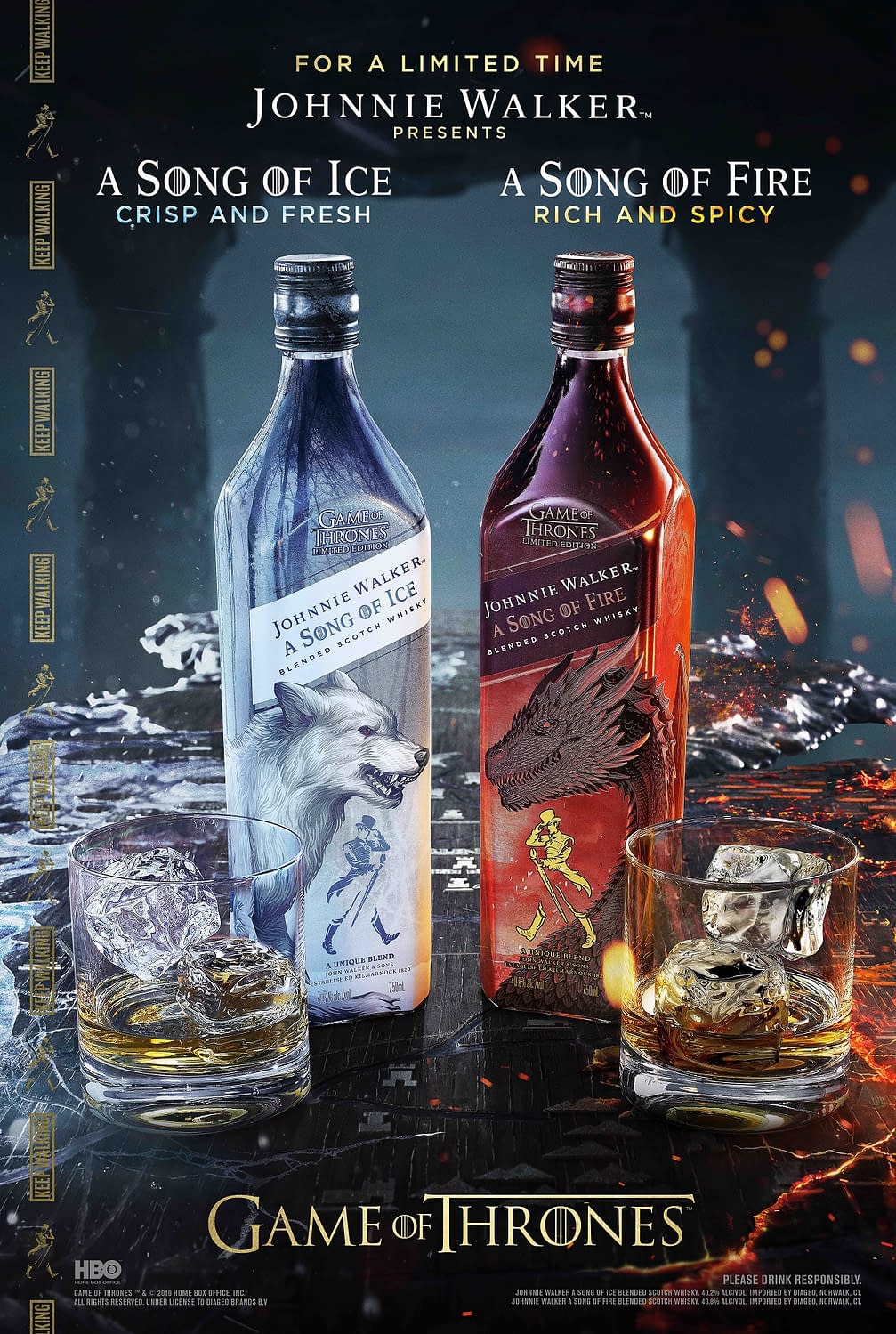 Released to honor the global phenomenon that ended its run earlier this year and inspired by author/creator George R.R. Martin's House Stark and House Targaryen, Johnnie Walker A Song of Ice and Johnnie Walker A Song of Fire have inspired two jokes that we feel compelled to get out of our systems beofre we move on:
● "Best part? You don't have to wait for them to make the next bottle."
● "Rumors the taste starts off strong and bold, but falls apart at the end have not been confirmed."
"We were very proud to partner with Johnnie Walker again to bring more whiskies to the realm. The Game of Thrones audience continues to both engage with the culture fostered around the series and look for the special collectibles that let it live on. After seeing the excitement there was for White Walker by Johnnie Walker, we are thrilled to celebrate the end of an epic tale by offering more quality whisky for fans of the show and whisky enthusiasts to collect and enjoy."

– Jeff Peters, Vice President-Licensing & Retail, HBO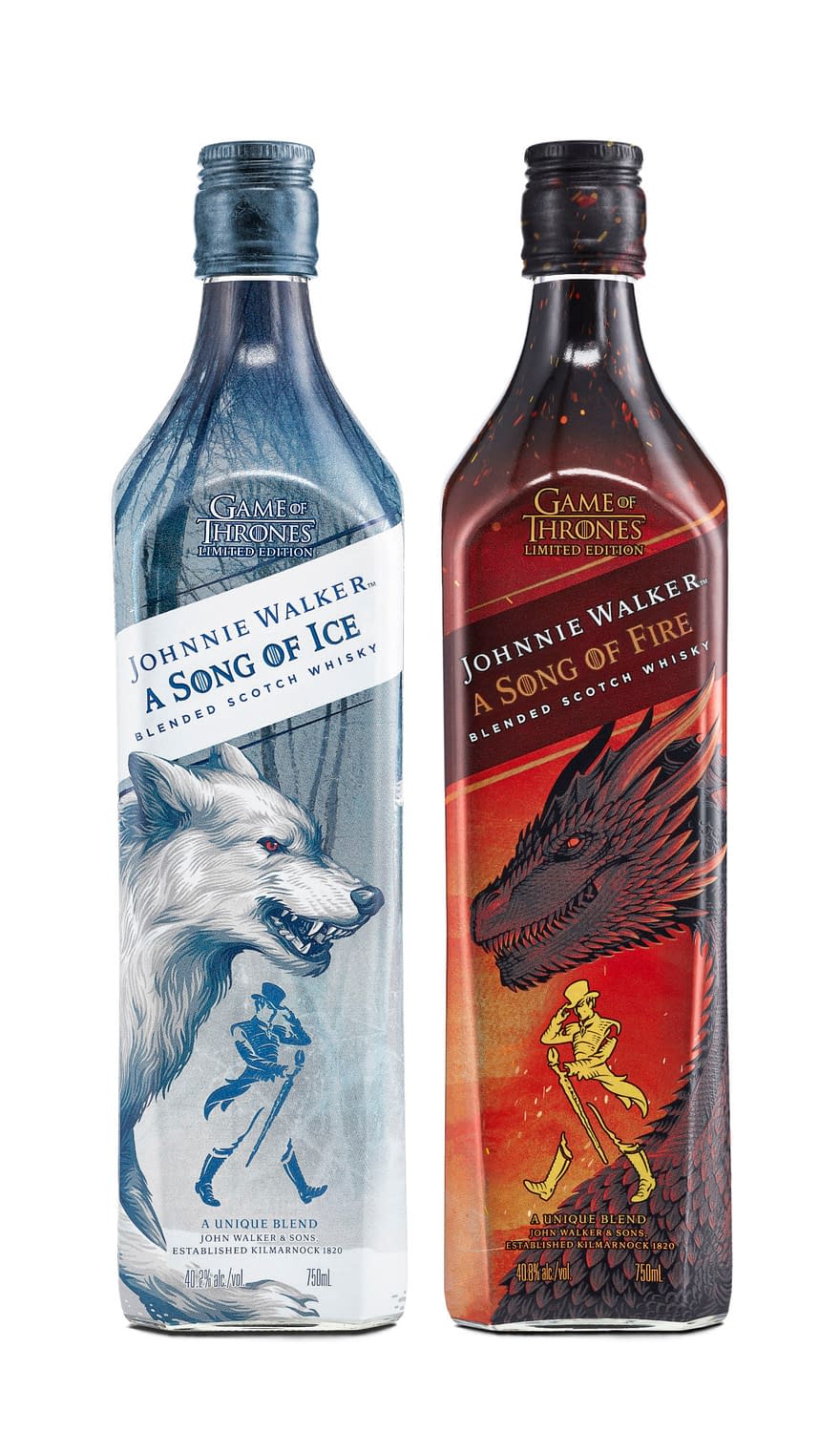 Here's the down-n-dirty on what you need to know about your options, stright from the source:
● Johnnie Walker A Song of Ice: ingle malts from Clynelish, one of Scotland's most northern distilleries, and exudes a crisp, clean taste like the unforgiving force of ice that shapes mountains and stops rivers. The new blend has an ABV of 40.2% and the bottle design evokes an icy setting with frosted blue and gray colors inspired by the North, known for its cold winters and frozen landscapes.
● Johnnie Walker A Song of Fire: Rich and spicy, boasting flavors of subtle smoke from the peated malts of the Caol Ila distillery with an ABV of 40.8%. Inspired by the dragons of House Targaryen, feared for their fire breathing, the bottle design evokes a fiery setting with deep-red colors.
"Johnnie Walker and Game of Thrones are an epic pairing. There is as much for people to discover and explore within the world of whisky as there is within the world of the show. Johnnie Walker A Song of Ice and A Song of Fire perfectly capture the essence of House Stark and House Targaryen, from the bottle designs to the unique Scotch whiskies within. Each new blend brings to life a different profile of flavors – one crisp and clean, the other rich and spicy. We hope people enjoy trying both while reliving the series with friends."

– Sophie Kelly, Senior Vice President, Whiskies Diageo North America
So for more information on how you can remain a faithful fan and drink the blues away until You-Know-Who finishes his novels, check out all things Johnnie Walker A Song of Ice and Johnnie Walker A Song of Fire over at their website.
Enjoyed this article? Share it!