Batman, Spider-Man U & More: The One Streamer to Unite Them All
Between Batman: Caped Crusader, Spider-Man Noir & Silk: Spider Society, Amazon is taking advantage of some shifting streaming strategies.
---
So we've got the eagerly-anticipated animated series Batman: Caped Crusader on the way, with a two-season deal, a creative line-up that includes Bruce Timm, J.J. Abrams & Matt Reeves, and a vibe that harkens back to the classic Batman: The Animated Series. A pretty big score for Warner Bros. Discovery & HBO Max and a major addition to James Gunn & Peter Safran's DCU "Elseworlds"… right? Nope. Back in November 2022, we learned that Marvel's live-action streaming series universe was going to be expanding in a big way. Thanks to a deal with Sony, viewers can expect five upcoming projects, including Spider-Man Noir from Oren Uziel (The Lost City, 22 Jump Street), Phil Lord & Christopher Miller (Spider-Man: Into the Spider-Verse); and Silk: Spider Society, from Angela Kang (The Walking Dead) and Lord & Miller. Amazing news for The Walt Disney Company & Disney+… right? Nope. Because while Warner Bros. Discovery & "The Mouse" rethink their streaming philosophies (including cutting budgets & productions), Amazon has not-so-quietly become "The One Streamer to Stream Them All" by taking advantage of "shifting streams."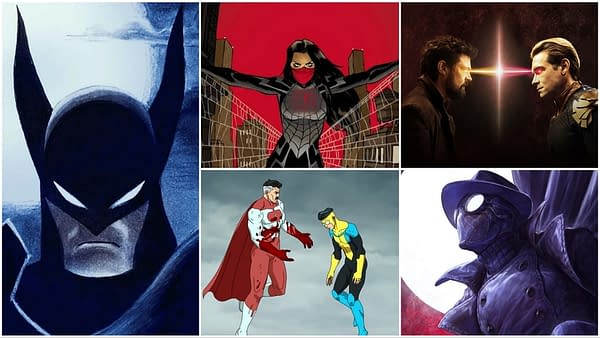 While we still have a bone to pick with Prime Video over Paper Girls and Utopia, Amazon already had series takes on Garth Ennis & Darick Robertson's The Boys (WildStorm/Dynamite Entertainment), Robert Kirkman's Invincible (Image Comics/Skybound Entertainment), and others to boast about when it comes to Amazon's "stream cred" regarding comic book series adaptations. But why are Batman: Caped Crusader, Spider-Man Noir, and Silk: Spider Society different? Because the days of mega-media companies dumping a ton of money into their own productions just to put them up on their own streaming services are over. Why?
Well, once upon a time… Netflix was pretty much the only streaming game in town, and they were making a killing off of their streamer-exclusive Originals. So much so that soon, everyone needed to have their own streamer so they could stop shipping content to Netflix. And that's when the bubble slowly began to burst because once everyone's Netflix? Then, no one is Netflix – not even Netflix. As the competition grew, streamers were spending more on content than what they were getting back financially – a business model that seemed to serve Netflix well (at least, for a little while). But when you're WBD or Disney, you have other businesses under your umbrella that begin to get impacted, so you don't have the same luxury of time that Netflix does. What we're seeing now (a point WBD CEO David Zaslav made when he first began his tenure) are companies willing to bypass their own streamer for the highest bidder when it comes to certain projects.
Reportedly, WBD gave the green light to shop Batman: Caped Crusader to a new home when it looked as if the animated series wouldn't hit until 2024, with a two-season deal reportedly in place. With Spider-Man Noir & Silk: Spider Society, we have a deal between Amazon and Sony for the Marvel "Spider Universe" characters that the latter has the rights to use. Again, surprising considering the way Marvel Studios & Sony have found ways to work through any licensing "bumps" along the way. But in both instances, Amazon took advantage of the situation by locking in bragging rights on some major Marvel & DC projects – and we still don't know what the other three Marvel/Sony series will be. Well-played, Amazon.