Two days after series creator, executive producer, and showrunner Caroline Dries explained why Batwoman chose to go with a new lead character instead of recasting the role previously held by Ruby Rose, a large number of fans are still taking issue with the move. On social media, some viewers aren't convinced that moving forward with a new lead character won't make the first season feel inconsequential. In addition, fans within the LGBTQ community are concerned that the move will result in a new lead character not as open about their sexuality as Rose's Kate was.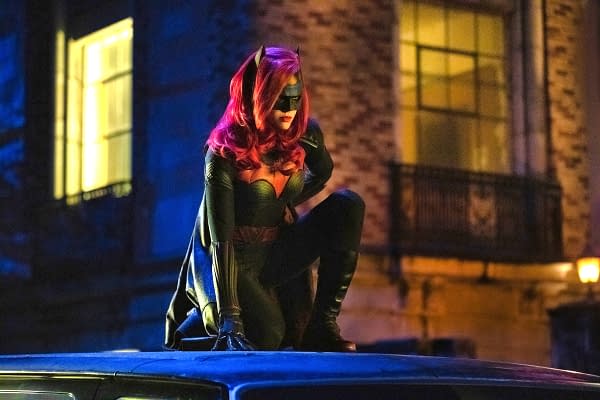 In a message posted to Twitter on Wednesday, Dries looked to address those issues by stressing that the series was not heading towards the "Bury Your Gays" trope (the practice of either replacing a gay character or severely downplaying their homosexuality) and reaffirmed the show's commitment to Kate Kane: "Like you, I love Kate Kane – she's the reason I wanted to do the show. We'll never erase her." Dries ended with a tease that Kate's disappearance will actually be one of the second season's major mysteries, before stating that the series has "no intention of abandoning" its commitment to LGBTQ justice and equality. Here's a look at Dries' entire statement, followed by her original tweet:
A note from me on behalf of The Bat Team… pic.twitter.com/V6iXjaCrA5

— Caroline Dries (@carolinedries) June 10, 2020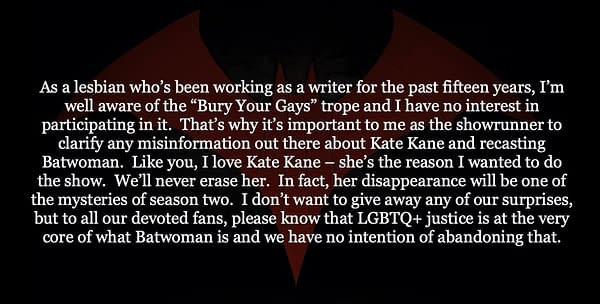 While inspired by Batwoman, Dries emphasized during an ATX Festival at Home event that "Ryan Wilder" was a "whole new character who in her past was inspired by Batwoman, so she will take on the mantle." The fact that she may be thrown into the fires of Gotham before she's ready is part of what Dries believe will make the second season so unique: "[Ryan Wilder] is maybe not the right person at the time to be doing it, so that's what makes it fun." Last week, a since-deleted casting notice posted on a Batwoman Reddit forum revealed that the series was looking to cast the role of "Ryan Wilder", described as a "female, Mid-late 20s, any ethnicity" followed by the clincher: "Ryan Wilder is about to become Batwoman."
The description continued, referring to "Wilder" as "likable, messy, a little goofy and untamed. She's also nothing like Kate Kane, the woman who wore the batsuit before her." The descriptions continued: "With no one in her life to keep her on track, Ryan spent years as a drug-runner, dodging the GCPD and masking her pain with bad habits. A girl who would steal milk for an alley cat could also kill you with her bare hands, Ryan is the most dangerous type of fighter: highly skilled and wildly undisciplined. An out lesbian. Athletic. Raw. Passionate. Fallible. And very much not your stereotypical All-American hero." The casting notice was also consistent with The CW and Warner Bros TV's commitment to casting a member of the LGBTQ community in the lead role: "Performers who identify as LGBTQ are encouraged to submit."
Enjoyed this article? Share it!