Batwoman Showrunner Talks Reasons for Changing Leads, Not Recasting
Less than a week after a casting call notice surfaced signaling that The CW and the producers behind Arrowverse series Batwoman were looking to move on from the character of Kate Kane (previously portrayed by Ruby Rose), series creator, executive producer, and showrunner Caroline Dries confirmed the decision. Speaking at an ATX Festival At Home Q&A session online, Dries revealed that recasting the role of Kate had been considered but Arrowverse executive producer Greg Berlanti was the one who pitched the idea of a new lead: "To be honest with you, I did consider the 'soap opera version' [of recasting] for a hot minute, because selfishly we already had a couple episodes written, and transition-wise it would be seamless." Dries continued, "Upon further reflection — and Greg helped me make this call, he is way smarter than me about this sort of stuff — he said, you know, we should just reboot the character in terms of reboot Batwoman as a different character, and also respect everything that Ruby put into the Kate Kane character. And I just think it helps the audience a little bit too, that we are not asking them to not address the elephant in the room."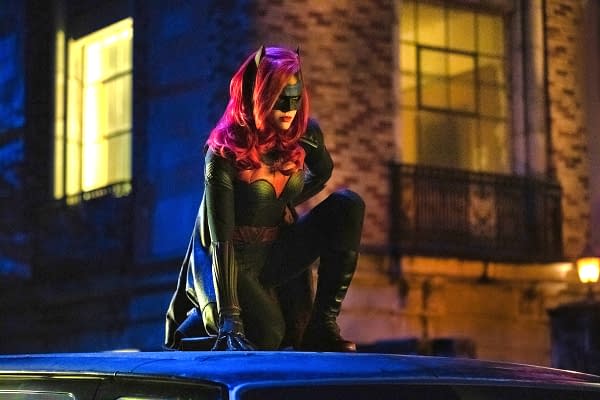 While inspired by Batwoman, Dries emphasized that "Ryan Wilder" is a "whole new character who in her past was inspired by Batwoman, so she will take on the mantle." The fact that she may be thrown into the fires of Gotham before she's ready is part of what Dries believe will make the second season so unique: "[Ryan Wilder] is maybe not the right person at the time to be doing it, so that's what makes it fun." Last week, a since-deleted casting notice posted on a Batwoman Reddit forum revealed that the series was looking to cast the role of "Ryan Wilder", described as a "female, Mid-late 20s, any ethnicity" followed by the clincher: "Ryan Wilder is about to become Batwoman."
The description continued, referring to "Wilder" as "likable, messy, a little goofy and untamed. She's also nothing like Kate Kane, the woman who wore the batsuit before her." The descriptions continued: "With no one in her life to keep her on track, Ryan spent years as a drug-runner, dodging the GCPD and masking her pain with bad habits. A girl who would steal milk for an alley cat could also kill you with her bare hands, Ryan is the most dangerous type of fighter: highly skilled and wildly undisciplined. An out lesbian. Athletic. Raw. Passionate. Fallible. And very much not your stereotypical All-American hero." The casting notice was also consistent with The CW and Warner Bros TV's commitment to casting a member of the LGBTQ community in the lead role: "Performers who identify as LGBTQ are encouraged to submit."