Remembering Stan Lee, Migos' Carpool Karaoke, and Time Travel Sasquatch Adventures with Colbert (BC's Late-Night Rewind)
Welcome Back to BC's Late-Night Rewind!
Buckle up, Late Night fans: we're delivering another action-packed "Top Ten" list of the creamiest of the crop from this past week. You may have already seen some of these, but we've also curated the best of the best that you might have missed.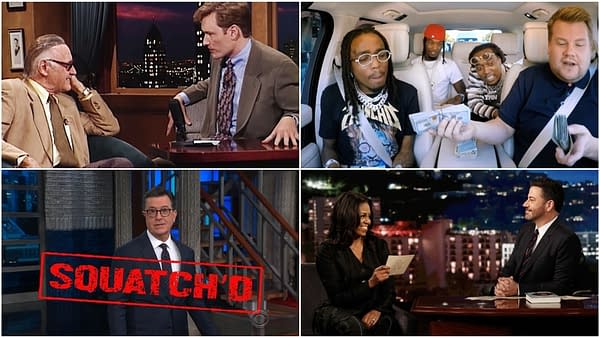 First up– We're breaking the rules this week and taking it to ELEVEN. Yes, mostly because there was too much good and I can't choose, but also because we're rebels and can add to our list if we want. And, because our number one spot is not technically from this week, we are still counting down the top ten moments from this past week. And trust me…you'll want to read to the end to find out our fitting throwback clip:
Number 11: Seth Meyers Takes A Closer Look at Trump and Voter Fraud
Meyers, better than anyone in the late night space, can cut through news stories and find the hypocrisy and ridiculousness. What better place to start than with some election hangover leftovers?
Number 10: The New Attorney General Loves Time Travel, Sasquatch, and Specialty Toilets
Do you know who Matthew Whitaker is? Oh, just the acting Attorney General who Donald Trump picked to oversee Robert Mueller's investigation into him. No biggie…right? But did you also know he apparently has an extremely colorful past helping scam veterans out of millions of dollars investing in fake inventions like time travel devices, or toilets designed for men with extremely large penises? Stephen Colbert breaks it down…and someone will get SQUATCHED!
Number 9: Melissa McCarthy's Price is Right Dream Fulfilled
Trivia: the studio where James Corden's Late Late Show is filmed is the former home of The Price is Right. Earlier this week, Octavia Spencer revealed that she and McCarthy used to come to tapings and try to get on the show:
Just a few days later, McCarthy showed up and Corden helped her fulfill her wish by playing a Price is Right game!
Number 8: Samantha Bee's Christmas on I.C.E.
While just a promo, you'll still want to brace yourself. Canadian comedy assassin Bee is preparing her Christmas special, and all of the money goes to charity. Good thing, because this will be offensive – just like locking children in cages, separating them from their families is offensive. Happy holidays, you sensitive snowflakes!
Number 7: So You Want To Be a Guest on The Daily Show?
Yes, seriously. Trevor Noah is giving a lucky viewer and their friends a chance to win a VIP trip to see The Daily Show and then actually get interviewed by the man himself. I'm entering at least five times, Veruca Salt-style ("You can' have it, it's mine!) Also, it supports charity, so that's good, too:
Number 6: Sarah Silverman's Thanskgiving Gratitude for . . . Donald Trump?
Silverman finishes her first (filthy, offensive to some, provocative and challenging) season of her Hulu streaming show I Love You, America produced by Funny or Die with this ode to why she's really, truly grateful for Trump. It's actually sort of sweet…in the most Silverman way possible. Oh, heads up– this is totally NSFW. This is the same show where – in only her second episode – she had nudists sit in the front row and talked to them about everyday topics so people could get used to nudity being more normal and not at all sexual. Her episode this week is great, like when she pretends to be the White House Press Secretary or talking about Wisconsin high school students en masse giving a Nazi salute while mentioning how many Holocaust jokes she's told. With the season over, now is a good time to catch up with this sweet but offensive talk show. We Love You Back, Sarah Silverman!
Number 5: Jimmy Kimmel Interviews Michelle Obama
Speaking of Silverman, her ex-husband/comedy partner (remember when the best bit Kimmel ever did was her song about Matt Damon?) Kimmel spoke to Obama and gave America nostalgic "feels" for the simpler times of three years ago. On top of that, she reads uncomfortable jokes she couldn't have said while in The White House, and throws some shade on her husband. Obama is the talk show equivalent of that good mac and cheese your friends bring to Thanksgiving. Perfect, crisp, comfort food that fills your soul with warmth.The interview ran long, so the extended version is online for us. Enjoy!
Number 4: #TurkeyDayTraditions
Jimmy Fallon and his writers outsourced/crowdsourced the best parts of their show to their audience. Is it laziness? Desperation? Trusting that the people who watch the show are funnier than the people making it? Maybe…but this bit on hilarious Thanksgiving traditions is perfect. Try incorporating some of these at your celebration this week!
Number 3: Hugh Jackman and Colbert Remember Stan Lee
The day Lee died, we mourned but also celebrated all of the great stories and characters he'd brought into our lives. Jackman happened to be on Colbert that night promoting his new film The Front Runner, but Jackman was effusive in his praise of Lee. The timing is cosmic serendipity at its finest, as in many ways Lee is responsible for giving us Jackman. In kind, the actor helped make X-Men a huge success – inviting the new rush of comic book movies over the past two decades. Jackman has some great stories here, and Colbert – supreme nerd that he is – has some as well:
Number 2: Carpool Karaoke with Migos
Wait, how can something be better than Wolverine talking about Stan Lee? Just watch. Some of Corden's Carpool Karaoke sessions can be painful, but there is some weird alchemy here that makes mixing him with Migos a perfect pairing. Highlights include talking about them inventing dabbing, singing Whitney Houston's "I Wanna Dance With Somebody" and Neil Diamond's "Sweet Caroline," as well as a trip to a top-end boutique to get Corden some drip. Biggest surprise? Corden has some serious bars:
Number 1: Stan Lee on Late Night with Conan O'Brien in 1995
Conan O'Brien is out on his Conan and Friends comedy tour, so there's nothing new from his show until 2019. But when Lee passed, they shared this touching – and prescient – interview O'Brien did more than twenty years (and three tv shows) ago. Lee not only talks comics, but also Marvel vs DC, letting readers decide who "wins" the crossover event, and his job as an obituary writer. Both he and O'Brien muse about whether someone, somewhere will pre-write obituaries about either of them. If you only knew, Stan. Excelsior, Generalissimo!
And there you have it! Hope you enjoyed our rewind of the best in late night for this week. Next week may be more sparse for new content with Thanksgiving happening and many shows taking a break, but we will be sure to bring you a heaping helping of whatever ends up on the tubes to help you sleep off your leftover turkey coma.
Did we miss something? A favorite bit or show we haven't covered? Hated one of these? You know we have comments sections for discussions just like this, right? See you there!
---
---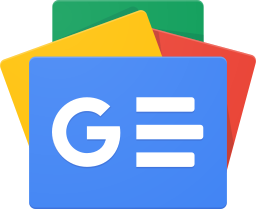 Stay up-to-date and support the site by following Bleeding Cool on Google News today!