Beavis and Butt-Head Do the Universe Review: Animated Return Scores
Beavis and Butt-Head is an anomaly of sorts as one of MTV's most popular animated series (when they were still committed to animation). Premiering in 1993, the duo are the brainchildren of Mike Judge from his Liquid Television short "Frog Baseball", which doesn't take any imagination as far as the simple act of cruelty translated to '90s success. Running for seven seasons, the series spawned a successful spin-off film in 1996's Beavis and Butt-Head Do America before ending its original run in 1997. Following the misfire… (fire, fire, heh, heh, heh) of the revival series in 2011, which swapped music episodes between their shorts with MTV's reality programming, Paramount+ came calling again with Judge following through with a new feature in Do the Universe and upcoming ninth season. This is your minor spoilers warning.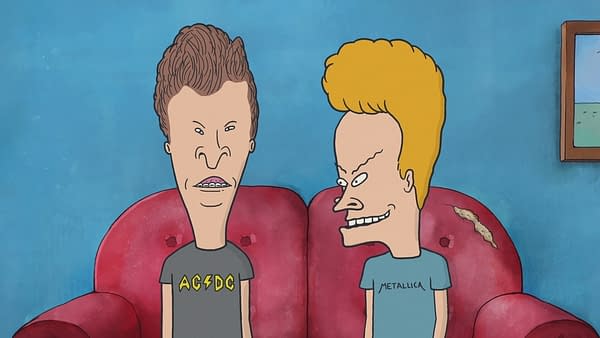 Beavis and Butt-Head Do the Universe initially takes place in the '90s to maintain the nitwit's youth where they're given a court-ordered mandate to attend space camp via NASA with the plot narrative of justice system gives at-risk youths another chance to make something of themselves, which the series recycled before. After seeing the two operate a machine with repetitive precision…nee resembling a sex act, Capt. Serena Ryan (Andrea Savage), recruits them she'll lead for an upcoming mission and PR stunt for the agency.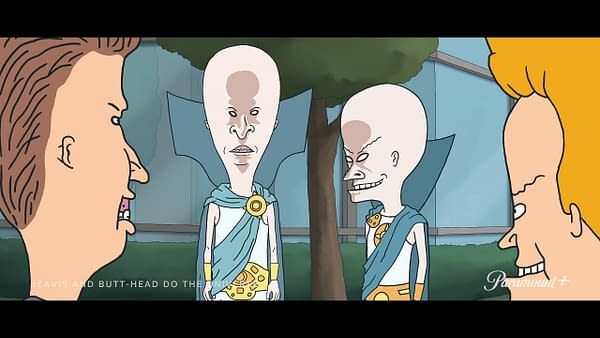 We get the NASA training montages with the two that are pretty straightforward. As atypical of the series, Beavis and Butt-Head (both voiced by Judge) misunderstand every teambuilding dialogue from Serena as leading them on to sexual conquest aka "scoring". A side note, as desperate as any streamer Paramount+ is to take advantage of their most successful IPs, Beavis and Butt-Head are about as un-#MeToo-friendly as it gets given their misogynistic core. When the series initially came out in 1993, they were at the center of controversy as male youths were emulating their psychopathic and misogynistic displays of toxic masculinity as well as idiotic hijinks, so much so that the series placed a disclaimer before every episode. I totally get the appeal, but like Al Bundy in Married with Children and Archie Bunker in All in the Family, it's always about their comeuppance from such acts, which sadly is often lost on a significant portion of the public.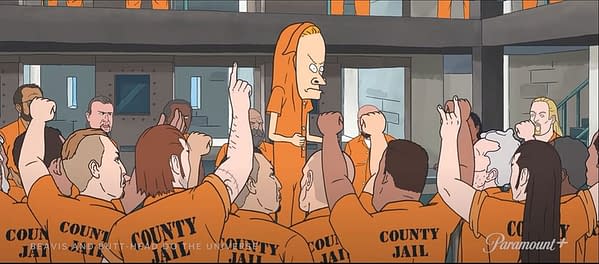 Do the Universe follows almost the same narrative as Do America as the duo tries to "score" against a woman they'll never have. After a disaster on the shuttle they caused, Serena orchestrates an "accident" to try to kill them only for them to end up traveling forward in time through a black hole to 2022. Upon landing, we find where Judge takes some inspiration from Rick and Morty, because of the way the narrative shifts to their "multiverse" with Smart Beavis and Smart Butt-Head, which have paler skin and futuristic garbs appearing several times in the incarnation's most coherent and eloquent to try to get their main counterparts to focus and go through a portal to their home time they keep moving… like somehow the plot won't allow them to just make it appear right next to them.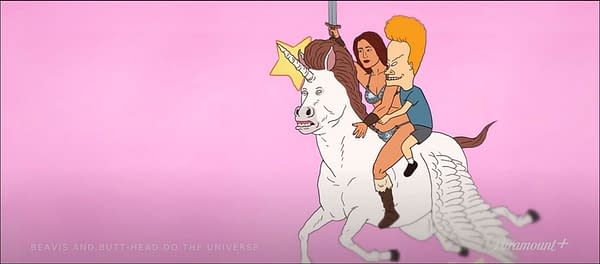 I appreciated that the modern gags for the most part don't seem forced as we get a sequence between Beavis and an iPhone that actually makes sense in a rare moment of nuance since Siri does respond to even mispronunciation of her name. Guess it was inconvenient for the purposes of the plot to remind them that smartphones don't have unlimited batteries. There's also some suspension of disbelief with a portable toilet as well… but it's a f***ng cartoon, people. While we get an impressive cast with Gary Cole, Nat Faxon, Chi McBride, Brian Huskey, Toby Huss, and Phil LaMarr, it's Savage & Tig Notaro's women's studies professor who teaches Beavis and Butt-Head about white privilege who really stand out. Overall, the film does a great job retaining the original humor of the '90s series as it did in Do America with its use of Robert Stack, Cloris Leachman, Demi Moore, and Bruce Willis. We got to see some of our favorite characters from the original series in their original time, but not in the modern times which could be the lead-in to the newest season of episodes, premiering later this year.
Beavis and Butt-Head Do the Universe
---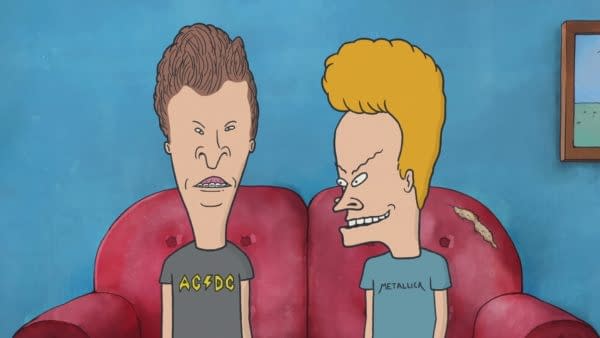 ---
Paramount+ & Mike Judge's Beavis and Butt-Head Do the Universe keeps the duo relevant in the smartphone era with new jokes, occasional insight, low-brow humor, and social commentary; In a star-studded cast, Andrea Savage and Tig Notaro shine through.
Credits
---
Directors
John Rice and Albert Calleros