Black Lightning Producer Salim Akil Sued for Domestic Violence, Breach of Contract
Black Lightning producer Salim Akil has been named in a lawsuit filed by Amber Dixon Brenner on November 20, 2018, with the actor alleging she had a years-long "physically and sexually abusive relationship" with the producer-director. Brenner is also suing Akil for breach of contract over a script Brenner claims she wrote and Akil used for his own projects without her permission or due credit.
In the suit filed, Brenner alleges she began "a dating relationship, which involved frequent sexual contact" with Akil approximately ten years ago. During that time, the actor claims she was the victim of repeated physical and sexual violence at Akil's hands – including numerous instances of violence in the form of slapping, strangling, and forced oral sex. Brenner's lawsuit also describes examples of verbal abuse, including threats of violence and death.
On Friday, November 30, Deadline Hollywood reported exclusively that in light of the allegations against Akil, Warner Bros TV have started an investigation into both Black Lightning and Love Is _____. Representatives for the studio would not comment on reports of the investigations, which Deadline writes formally started today – though the claims against Akil are not connected to his role as showrunner on the CW series.
Brenner's breach of contract complaint alleges Akil used her 2015 script Luv & Perversity in the East Village (LPEV) for a series pitch to ABC called Documenting Love that never made it past the preliminary stage; and the OWN series Love Is _____, which made it to air. Brenner states she shared the script with Akil with the hope of being able to collaborate on the project with the producer/director – and that the script offer to Akil "was made with the implied understanding that Defendant Akil would not use any of the ideas within LPEV without the involvement and compensation of Plaintiff."
In October 2018, Brenner posted her script to Kickstarter in an attempt to raise production funds but was unsuccessful: with a goal of $500,000, Brenner was only able to raise $7,736 (or 1%) of the campaign's goal: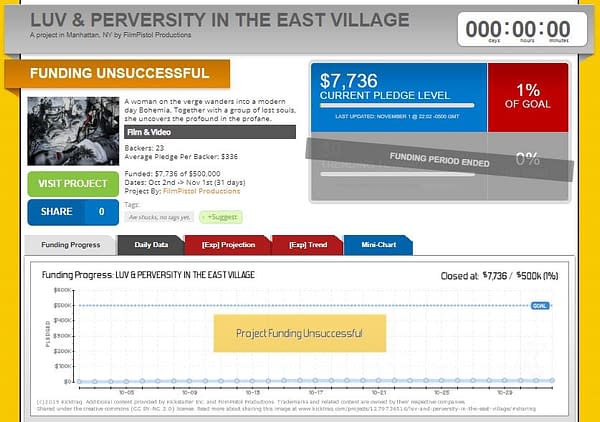 Having wrapped its freshman season in August and scheduled to return to OWN in 2019, Love Is _____ follows a successful, modern-day black couple (Michele Weaver and Will Catlett) in Hollywood as they balance their careers and family over the course of three decades. The series is told from the couple's present-day perspective, with the majority of the story taking place in 1990's Los Angeles. As the official synopsis on the OWN website reads, "Drawing inspiration from creators Mara Brock Akil and Salim Akil's own relationship journey, the series explores the highs, the lows, and the magic of falling (and staying) in love."
In the following clip, Nuri (Weaver) discovers a script of Yasir's (Catlett) that reads a little too familar, containing near word-for-word dialogue from a previous conversation the couple had months prior:
In the lawsuit below (and online), Brenner seeks compensatory damages, emotional distress, attorney fees, and punitive damages – though the amount being asked for is not disclosed in the complaint.
Amber Brenner's lawsuit… by on Scribd