Breaking Bad: Walter White & Jesse Pinkman Are Back Cooking (Chips)
Walt (Bryan Cranston) & Jesse (Aaron Paul) look to get into snack chips with a familiar face in this PopCorners/Breaking Bad Super Bowl ad.
---
Okay, Frito-Lay's PopCorners. You had us sold at the very moment when you announced that you would be revisiting Vince Gilligan's and Peter Gould's Breaking Bad/Better Call Saul/"El Camino" universe. But all of the credit goes to Bryan Cranston (Walter White, aka Heisenberg), Aaron Paul (Jesse Pinkman), and a certain someone who we won't name out of respect for spoilers because they found a way of making snack chips feel like something you could easily be killed over. I'm not sure if that was Frito-Lay's objective (and we still get weirded out by comparing chips to crystal meth), but it worked because it as definitely one of the most memorable ads during Super Bowl LVII.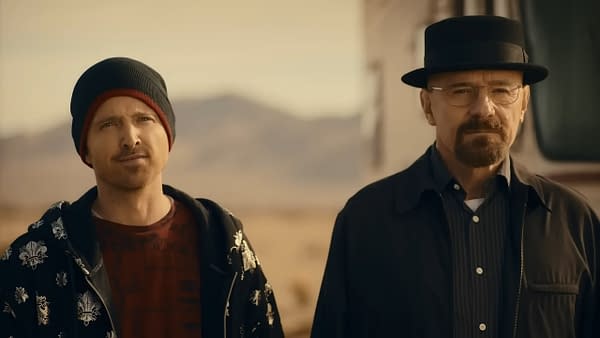 Now, here's a look inside the PopCorners multiverse as Walt & Jesse look to get their recipe out on the street- and that means having to make a deal with a very familiar face from the "Breaking Bad/Better Call Saul" universe (hint: rhymes with "Tuco"):
And here's a look at how Cranston got back into his iconic role one more time:
"I can definitely imagine revisiting it. Selfishly, I'd like to do so to keep this thing going," Gilligan revealed during an interview last year with Rolling Stone. when asked if he could ever see himself returning to his award-winning Breaking Bad universe. But before folks start hitting social media looking for when the next spinoff will hit their screens? Relax because if Gilligan does return, it won't be anytime soon. "But without naming any names, I look around at some of the worlds, the universes, the stories that I love, whether they're on TV or in the movies. And I think there's a certain point, and it's hard to define, where you've done too much in the same universe. Just leave it alone," Gilligan elaborated. "And some universes are much bigger and more elastic. Ours is a very small one, Albuquerque, New Mexico, versus some of these worlds and series of movies and TV shows. The main thing I'm scared of is becoming too much of a one-trick pony. Yes, I could do more with this universe. And maybe someday I will, especially if I fail at everything that comes next. Then I'll come crawling back. But right now, whether there's more room to grow or not — and there probably is — I feel like it's time to do something new."