Brooklyn Nine-Nine Season 7 Episode 13 Lights Out Pushes Real Good
Welcome to our review of "Lights Out," this week's episode of NBC's Brooklyn Nine-Nine. Though it might be more fitting if we started off with, "Welcome to The Purge!". When a massive power outage leaves Brooklyn in the midst of a blackout, the criminals let loose and go wild. With no consequences to concern themselves with, the streets are filled with crazy bachelorette parties, bank robberies, and one very bitter old lady who had us asking, "Did she just seriously shoot a man? In her defense, he had it coming. Actually, no, not really. Turns out she's just out of her freaking mind. Amy (Melissa Fumero) announces she is going on maternity leave, while Holt (Andre Braugher) and Terry (Terry Crews) break out the dance moves in an elevator: "Ah, push it! Ah, push it! Oooh, baby, baby! Baby, baby! Oooh, baby, baby! Baby, baby! Get up on this! Ow! Baby! Salt and Pepa's here!"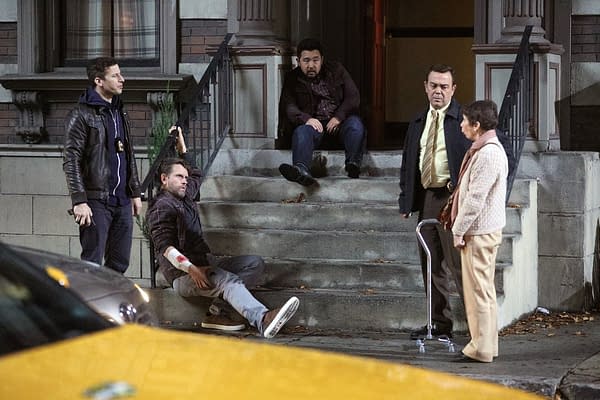 I have to say, Amy is f*****g fantastic this episode, with her crazy, controlling antics amplified by her going into labor while still trying to be in command of the blackout situation. It was one of Fumero's best performances, and she pulled off those contractions eerily well. Not surprisingly, there was no way "Little John McClain" aka Mac was going to be born under normal circumstances. Jake (Andy Samberg) and Charles (Joe Lo Truglio) head out to identify the reason for the massive power outage. Following the trail of blood, they locate the perpetrator through Charles' amazing sense of smell only to realize the whole thing was staged to cover up the bank robberies that were already in progress.
Now let me introduce you to Dotty, a psychotic old lady that slows down Jake's journey of getting to the hospital and had me laughing hysterically. She does shell out some great parenting advice, shoves her thumb into a perp's wound, and aggressively calls society out on its BS. She reminds me of my dear old nana in more ways than I care to count. Lucky for Jake, Amy gives birth at the precinct, with Scully (Joel McKinnon Miller) and Hitchcock (Dirk Blocker) setting up a beautiful birthing suite. Looks like those two aren't that useless after all. Oh, wait, there is more. With no epidural in view and being tended to by firefighters, Amy is distracted by Holt and Terry's dance moves as the whole precinct rallies together to welcome the baby into the world.
That little one will have one hell of a birthing story to tell: a father who journeys through the streets of Brooklyn on a horse to get to him, and a mother who saves the city while screaming obscenities every 3 minutes. There was no better way to bring a new member of "The Nine-Nine" into the world, and no better way to wrap the season. Before we go, let's not forget about this episode's Important Life Lessons: never ask Scully questions (ever), always wrap ice cream in ham, firefighters are just EMTs who sleep together, and all dads need to do is make money and have a nice thick belt for when it's time to teach their child a lesson.