Captain Pike, Spock to the Rescue in new 'Star Trek: Discovery' Promo
Yes, we know- anytime the powers that be at Star Trek (film and/or tv) change something or introduce a new version of a known character, fans are very….vocal…about their opinions on said change.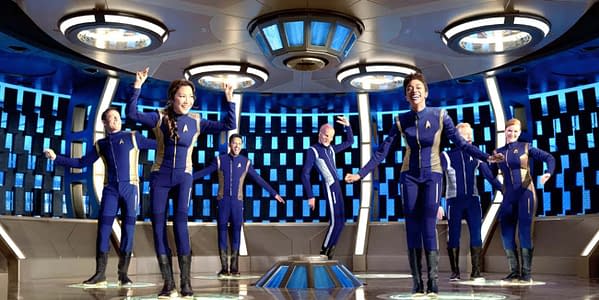 In the upcoming second season of CBS ALL ACCESS series Star Trek: Discovery, we'll be getting a new Trek tv-verse Spock, as played by Ethan Peck, grandson of Gregory Peck. We've seen glimpses of him in trailers, but, the most recent look at DISCO season 2 has something we've not seen- a smiling nu-nu-Spock.
Showrunner Alex Kurtzman spoke with TrekMovie.com about his version of young(er) Spock for season 2:
"What gets me so excited about the story that we get to tell with Spock this season is that it's the unwritten chapter of Spock. This is not the Spock that you know from the beginning of TOS, this is pre-TOS. He is not that formed Vulcan yet. His experience with the Red Angel and the signals has fried his logical brain. He cannot make sense of it. And he is emotionally ill-equipped to deal with it. So both logic and emotion are failing him, totally. And he is totally unsure of himself and trying to figure out how to make sense of the mystery and where he fits into the world. And it's through his complicated relationship with his sister that he's able to figure out how to become and actualize himself as the Spock that we know from TOS. And that's really exciting to us because it in no way violates canon, it just builds on what's been set before."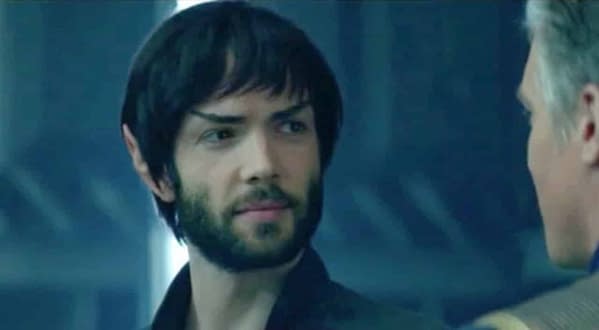 We're pretty excited to see what happens.
Star Trek: Discovery is set to return to CBS ALL ACCESS on January 17th 2019.