Charmed Reboot (Mostly) Wins Fans Over at SDCC Screening and Panel
Words and photos by Alex Arevalos, on site at San Diego Comic-Con 2018: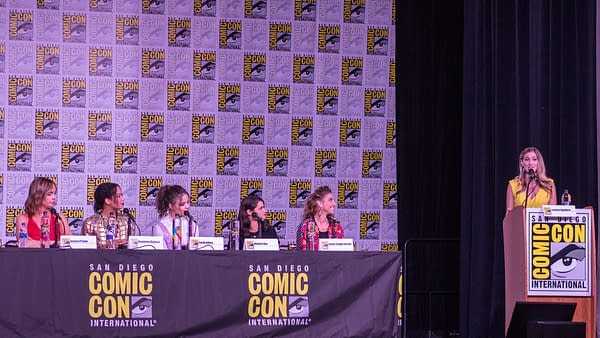 The screening of the new Charmed reboot's first episode opened to a packed room of fans expecting something that would take up the mantle of the original. The crowd reacted to the writing with a fair number of chuckles and a couple large laughs, mainly when Rupert Evans (Harry Greenwood) was on screen. It seemed, though, that a lot of the jokes — or attempts at jokes — didn't hit the mark and got no response from the crowd.
The three sisters, played by Madeleine Mantock (Macy), Melonie Diaz (Mel), and Sarah Jeffery (Maggie), had decent chemistry, but they just didn't have the almost instantaneous connection the original cast had.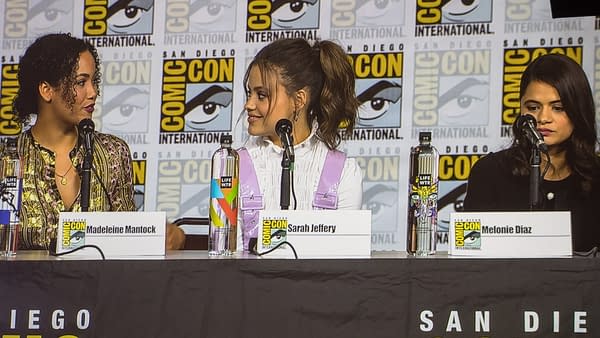 After the episode was screened there was a short panel, where all three leads were on stage with executive producers Jessica O'Toole and Jennie Snyder Urman. The panelists made short statements about how they are getting along together, as well as the fact that they want to take the show in the direction of "soap, magic, and real horror."
The writers were asked about how much LGBTQ+ tones would affect the show, and they spoke on the openly gay character of Melonie. The show will definitely seek to address a lot of the issues that are affecting society right now. This explained one of the earlier gags in the premiere lampooning the current American president Donald Trump.
Overall the panel and premiere were somewhat middling. The pilot showed a lot of promise, and the crowd reaction was amazing. The question that remains unanswered is whether this cast and these writers can create something as strong as the original show — previous series star Holly Marie Combs has doubts. However, I think the crowd's reaction shows the fans are very open to this new revamped Charmed and clearly liked the new cast a lot. They will start filming shortly, and we should see the full season released sometime in the fall of 2018.