'Impulse' Star Maddie Hasson Was "Totally Wrong" for the Part – So They Changed It to Fit Her
Words and photos by Hilton Collins: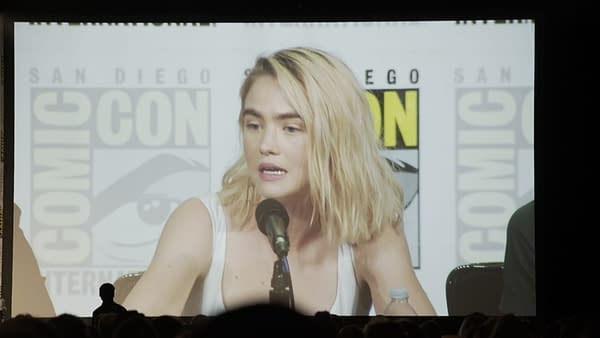 In Impulse, the 10-episode YouTube Premium series about a troubled teleporting teen, Maddie Hasson plays the titular character, Henrietta "Henry" Coles. Fans, cast, and crew loved Hasson's performance, but Thursday morning during the Impulse panel at San Diego Comic-Con executive producer Doug Liman stunned everyone when he told the audience that he initially thought Hasson was a bad fit for the role.
"She was totally wrong for the part."
But it wasn't an insult — it was the best compliment of the whole panel. Liman originally had a completely different version of the character in mind when he started the show. When Hasson read for the role however, he and fellow producers Gene Klein and David Bartis were so blown away by her performance that they decided to change the Henry character to fit Hasson, not the other way around.
Hasson thought she was totally wrong for the part first, so she became emotional when she heard she'd landed the role.
"I sobbed for a full five minutes," she said.
Hasson and other actors used intense emotion as a tool to play their characters. Impulse is based on the 2013 novel of the same name, the third book in the popular Jumper series. Trauma plays a key role in the storyline, right from the start. Sixteen-year-old Coles doesn't realize she has the power to teleport until Clay, a young athlete, sexually assaults her. The event's shock and horror prompt her to suddenly teleport away, and energy from the teleportation leaves Clay crippled. Drama from the attack and its consequences set the show in motion, as well as Henry's struggle to understand her new power.
Collider's Perri Nemiroff moderated the panel, comprising Liman, Klein, Bartis, and Hasson. They were joined by showrunner Lauren LeFranc and actresses Sarah Desjardins (Jenna Hope) and Enuka Okuma (Deputy Anna Hulce). The sexual assault was the inciting incident for Henry's character arc, which LeFranc found empowering from a storytelling standpoint. LeFranc saw link between teleporting from danger to the disassociation people feel during trauma. "Genre storytelling is so amazing because it's heightened," she said. To her, fantasy and sci-fi are great settings to explore tense dramatic situations.
Hasson added that she spoke with a therapist in her research to dig into the pain victims face. "Sexual assault happens to many people, women and men," she said. Okuma accessed a different kind of pain for her character as one of the few black citizens in the town Impulse takes place in. She grew up in a small town where her family was one of the very few black families in residence. "I could relate to being an outsider," she said.
LeFranc briefly discussed the show's bad guys, even though none of those actors were on the panel. Villains are complicated, and we all have good and evil within us. "We do things that are bad and we do things that are good and somewhere in between is where a lot of us lie," she said.
Panelists claimed they'd only just found out that Impulse was getting a second season before the panel started, so details on the show's next phase were vague. According to Bartis, Impulse season 2 should debut on YouTube sometime next year.