Cheer's George Wendt Joins the Greatest American Hero Reboot
Earlier this week it was announced that New Girl's Hannah Simone would be leading ABC's new single-camera comedy reboot of the Greatest American Hero. Now we get word that Cheers' alum George Wendt has joined the pilot. The reboot comes from the Fresh Off the Boat duo of Rachna Fruchbom and Nahnatchka Khan with Fruchbom writing the pilot script. The pilot re-imagines with a gender switch the Steven J. Cannell 1981 cult classic that starred William Katt as high school teacher given a super suit by aliens and then losing the instructions.
The Greatest American Hero will focus on Meera (Simone), a 30-year old woman who loves tequila and karaoke and has failed to find any meaning in her life. This makes her traditional Indian-American family unhappy. A mysterious event occurs, that changes her life forever as she is given a super suit to protect the planet. Meera has finally found purpose, but she may be the worst choice to save the world.
Wendt will be playing Meera's boss, Bob Rice. Also in the cast are Gia Sandhu (The Indian Detective) playing Mona, Meera's sister and Zenobia Shroff (The Big Sick) who will play her mother. The pilot will be directed by Christine Gernon (Speechless).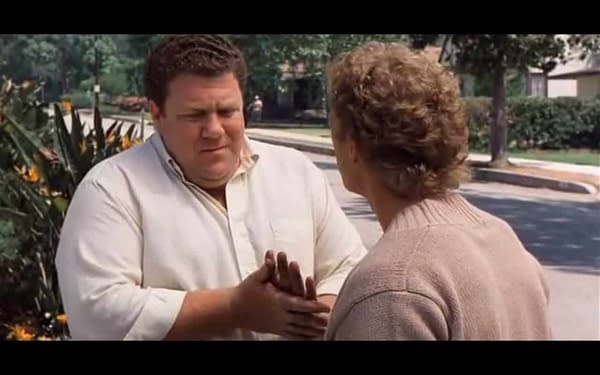 Wendt was nominated six times for his role as Norm Peterson on Cheers. Since then he's done a lot of single episode television and film work. Had his own show in 1995 for one season, The George Wendt Show, and recurred on Sabrina the Teenage Witch, Saturday Night Live, Modern Men and Clipped. The image above shows Wendy back in 1985 playing in the horror movie House opposite of the original Greatest American Hero, Katt.