'Cobra Kai': See How YouTube Originals' Sequel Series Connects to 'The Karate Kid' [VIDEO]
With less than two weeks to go before YouTube Originals' Cobra Kai returns for its sophomore season on April 24th, Jon Hurwitz, Josh Heald, and Hayden Schlossberg continue to give fans of the Karate Kid sequel series a lot to get excited about. This time, the trio – along with others from cast and crew – go back in time to discuss the first season and how the lives of Daniel (Ralph Macchio) and Johnny (William Zabka) have changed since the original film – and how history appears to be repeating itself:
In this previous preview, Cobra Kai proudly wore its Karate Kid love on its sleeve with a scene between Daniel and Robby (Tanner Buchanan), as Daniel flashes back to old friend and sensei Mr. Miyagi (Pat Morita) to explain the Miyagi-do dojo's philosophy to Robby. Except by the end of the scene, Daniel has an expression on his face that tells us that maybe Robbie isn't getting the point…
Meanwhile, Johnny has some matters from the tournament that still need to be settled – having no interest in seeing his dojo go the way of the old Cobra Kai and proving Daniel right – especially at the hands of Kreese (Martin Kove):
Speaking of Kreese… looks like he's making his intentions known to Johnny – but is that a good thing?
Here's a look at the official trailer for the second season of YouTube Originals' Cobra Kai:
Season 2 brings fans back into the action with Daniel LaRusso (Ralph Macchio) and Johnny Lawrence (William Zabka) after the shocking Season 1 cliffhanger featuring the return of John Kreese (Martin Kove). When a new rivalry between opposing dojos is born in the aftermath of Cobra Kai's controversial win at the All Valley Championships, Daniel realizes his next countermove is to open his own karate training school called Miyagi-Do, in honor of his mentor Mr. Miyagi.

What was once a personal feud between Daniel and Johnny escalates beyond their differences to engulf their students, who as teenagers, are already challenged to figure out who they are and who they want to be. Which path will they follow – Cobra Kai or Miyagi-Do?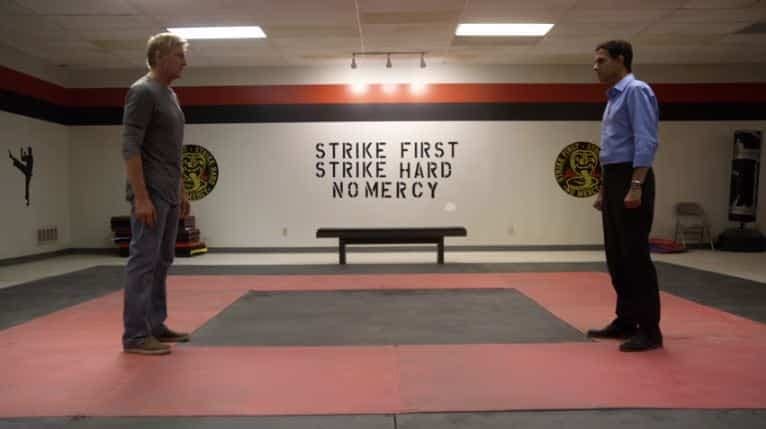 In the following featurette, the cast takes us behind the scenes to show the production was able to imitate the important aspects from the original Karate Kid film:
YouTube Originals' Cobra Kai returns for its second season on April 24, 2019.