Comisery Production Diary Week 7: An Interrogation & A Goodbye
We head into the penultimate episode of Comisery, the Asian-American Science Fiction Screwball Comedy webseries that Quentin Lee and I concocted. We created it as a fantasy about a group of Asian-Americans living through the Pandemic and Lockdown with a Science Fiction veneer. The next-to-last episode. Almost done.
Jennifer's Japanese Horror Shot
Jennifer Field, who plays Camila, isn't here this week because Camila had mysteriously disappeared, but she shot a short scene last week that serves as the cold open before the opening title. I had originally called this "the David Lynch shot", but Quentin turned it into a horror movie shot, with color filters and cross-fades added in post-production to make it look like a disturbing sudden invasion from a Japanese horror movie. So glad Jennifer and Quentin are fans of horror movies. Apart from Jennifer's absence, we have the entire cast appearing this week as well as a new addition. Amy Hill, Bee Vang, Harrison Xu, Sheetal Sheth, and Nat Ho are all here for three big scenes that make up the episode.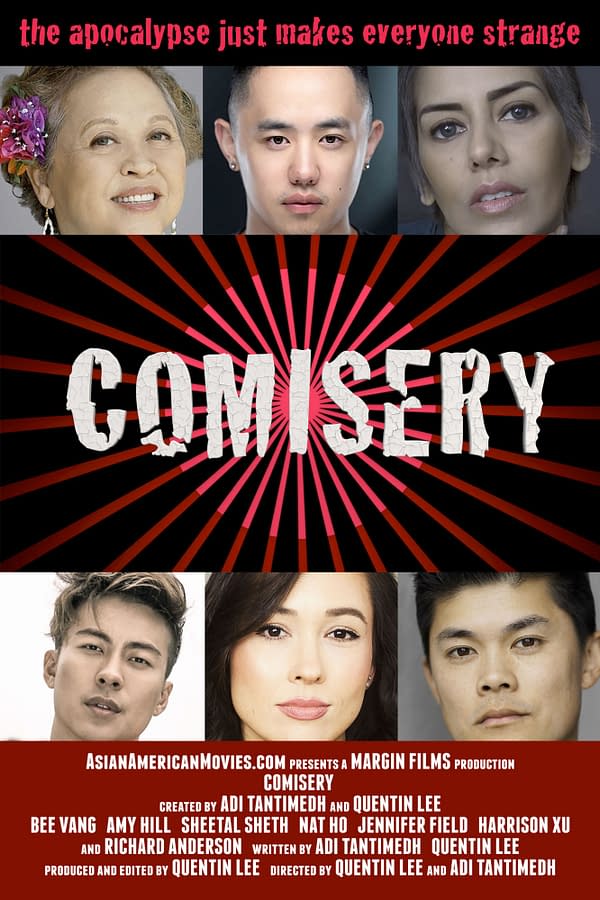 Richard Anderson's Comisery Exit
Week 7 marks Richard Anderson's last day in the production. We were rehearsing and shooting in a single 3-hour block on Wednesday because Richard was scheduled for major surgery the next day for an ongoing condition. He wanted to do this and brought all of his energy and concentration to the day. Richard was playing the final scenes for both his characters, Dave from Florida and Howard Hapman, the boss of Jennifer Field's character Camila.
Richard has two scenes in the episode: Dave from Florida's final scene with Amy Hill, who plays his therapist Mary Suzuki Miller. This scene is the conclusion of Dave's arc for the series (or Comisery season one?), and Richard goes, once again, above and beyond in his portrayal of a scared, vulnerable guy afraid he's going to die. He stuffed a tissue up his nose, wet his hair to look like he was sweating from a high fever, wrapped himself in a blanket and held a bucket for the character's nausea (which wasn't scripted). He was vulnerable, sad, heartbreaking, and kind of funny at the same time. He bounced off Amy, who was again masterful and seemingly effortless at making Mary Suzuki look like she was going through crap. It takes a lot of preparation and expertise for an actor to appear effortless. Amy knew just how a little could go a long way with just a slight shift in tone, a look, and staying still.
The Interrogation Scene
Next was the biggest scene of the episode, as Sheetal, Harrison, and Nat confront Richard as Howard Hapman. Richard opted to play Howard as utterly unhinged, a man falling apart at the seams. I wrote the character as a sexist, a masochist, and something of a sleazebag, and Richard added an additional layer. He gave Howard the tendency to burst into inappropriate laughter when under pressure or duress. It made Howard more unpredictable and
I don't know why, but watching Sheetal cuss and swear fills me with joy. Maybe she just synchs up with my Inner Angry Person. Her character Anika's contempt and frustration with the madness of the people around her might be the closest to my own reactions in similar situations. Sheetal might just swear more than every other character in the series, and they do their fair share. She improved more f-words into her performance in a way that rings absolutely true as Anika goes from contempt to disgust to a combination of bother contempt and disgust at Howard. Harrison and Nat are no slouches either. Nat exudes a kind of cool Zen menace that was deadpan and funny as Nate the would-be assassin. Harrison becomes the straight man in the scene and Kel's horrified reactions to everyone here is hysterically funny. Four actors at the top of their game.
Anika orders Howard to turn himself in and confess to a crime he committed. Quentin asks to change "Hollywood Division" to "Beverly Hills Police Station" in the script because Hollywood Station is a horrible place, which is my idea of a joke. I don't mind the change since it doesn't matter to me one way or another. I don't consider my dialogue set in stone if the director or actors want to improve it.
Comisery Cliffhangers & Beyond
The episode ends on another cliffhanger and introduces Quentin's friend and another brilliant actor Verton R. Banks, but his big scene with Bee Vang is in Episode 8 and I will talk more about him and his role next week. Quentin had asked me to write a new prologue and epilogue for the series so he could recut all 8 episodes into a feature-length version after he completes the series. Once we wrap on the script for Episode 7, we shoot the actors' insert shots that will be used in the theatrical cut of Comisery. We shot Richard's insert since he would be away next week recovering from surgery. We shoot Harrison, Sheetal, and Nat's inserts and will plan the prologue with Bee and Jennifer's epilogue scene for next week.
You can catch up with every episode of Comisery here.
Comisery (Episode 107: "Resistance")

Celebrate Independence Month with #comiserytv! Comisery is an apocalyptic science fiction comedy series told entirely through web chat sessions about a group of Asian-American friends living through an invasion by an alien virus now. Here's the fifth episode starring Jennifer Field (9-1-1), Richard Anderson, Harrison Xu (Shameless), Amy Hill (Magnum PI), Sheetal Sheth (Hummingbird), Bee Vang (Gran Torino), Verton R. Banks, and Nat Ho. Quentin Lee, the co-creator of the series, would like to express his gratitude for The Slants for contributing music. Watch #comiserytv for free and donate to our non-profit partner The Slants!

Posted by Chopso on Sunday, July 5, 2020