Constantine Animated Series Now Available on CW Seed
Today is the day. The new animated Constantine: City of Demons hits the CW Seed today with Matt Ryan once again reprising the role as John Constantine, Master of the Dark Arts.
The series is an adaptation of the story line All His Engines and involves his friend Chas coming to ask John for Help. The story was originally done by Mike Carey and is adapted here by J.M. DeMatteis. Ryan first took the role in the 2014 Constantine series on NBC. The show got a rough start, debuting late in the fall and having a major character change between the pilot and first episode and showing some episodes out of order. By starting late the network had little to go on when deciding not to give a back nine-episode order, and the series was cancelled.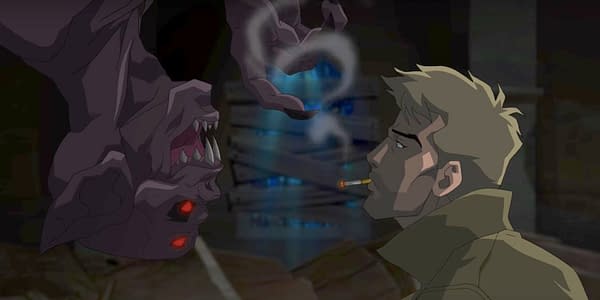 Ryan reprised his role on a fourth season episode of Arrow, voiced the character in the Justice League Dark animated series, and has shown up twice now on DC's Legends of Tomorrow with an appearance set for the season finale as well. It was announced this week that if Legends gets a fourth season, Ryan would become a series regular.
Below you will find the first episode of the five. Each is between six and seven minutes long — roughly 30 minutes if you put them all together. Damian O'Hare is on board as Chas. Constantine was co-created by Steven Bissette, John Toltleben, Jamie Delano, and John Ridgway. There is also an "inside" video below with Matt Ryan talking about the series and playing the role of Constantine again.