Daredevil: Jon Bernthal's Punisher "Born Again" Without Skull Logo?
Jon Bernthal's Frank Castle/Punisher may be making the jump from Netflix to Disney+. Here's why we're hoping the skull logo doesn't join him.
---
If you're reading this, then we're assuming this isn't the first time that you've heard that Jon Bernthal is reprising his role as Frank Castle, aka The Punisher, for Matt Corman & Chris Ord's (Covert Affairs) Charlie Cox (Matt Murdock/Daredevil) & Vincent D'Onofrio (Wilson Fisk/Kingpin)-starring Daredevil: Born Again. And to say that news was received well would be an understatement. But now that the adrenalin has worn off, there's a question that needs to be asked. Will "The Mouse" let Frank sport the skull & crossbones? Based on the history lesson we're about to share with you, we have a feeling that either Frank rocks the new symbol that debuted in Marvel Comics' Punisher #1 (2022) in March 2022 (from writer Jason Aaron and artists Jesus Saiz & Paul Azaceta) or he's going all-black clothing to give off the vibe if not the symbol. Why? Because a lot has changed since Frank was shooting every bullet he could get his hands on over at Netflix.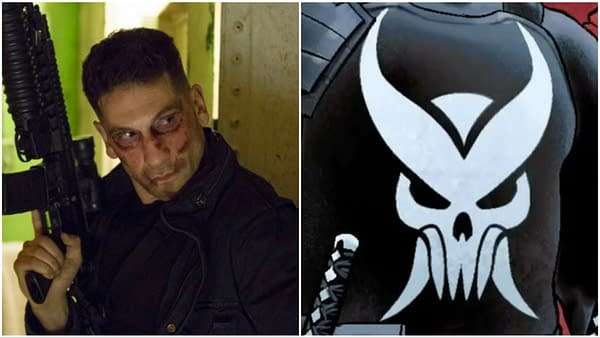 The Punisher Symbol: When Things Took a Really Bad Turn
For those of you who frequent Bleeding Cool, you know that we've been covering the continued controversy over the use of the symbol used by the Marvel Comics character The Punisher, aka Frank Castle: the huge, white skull with elongated teeth. Specifically, it was being used as some kind of "call to arms" by law enforcement units, groups, and organizations across the country in response to the Black Lives Matter movement and the demands for police reform and social justice in light of a national epidemic of police shootings (starting around 2015). And then we started seeing sightings of the symbol during protests and counter-protests in Detriot and Charlottesville, where the line between police officers and far-right groups began to blur more and more.
Did it matter that Gerry Conway, the character's creator, is vehemently against the symbol being used by these groups? Nope. The issue was even addressed in the comics in 2019 when Frank put two fawning, admiring police officers in their place: "We're not the same; you took an oath to uphold the law, you help people. I gave all that up a long time ago." Because even Frank could see the ten-ton irony of those who have sworn to serve and protect would get inspiration from a character whose very existence goes against the laws they supposedly swore to uphold.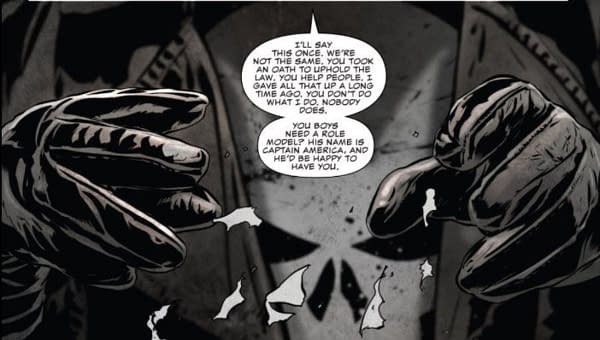 Speaking of far-right groups and how they entered the scene, there's Chris Kyle, who wrote about marking his equipment with the symbol during the 2003 Invasion of Iraq in his autobiography American Sniper. "We all thought what the Punisher did was cool: He righted wrongs. He killed bad guys. He made wrongdoers fear him. That's what we were all about," Kyle wrote. The symbol would be seen more and more, from Middle East encampments to frontline fighting in Afghanistan and Iraq. But the symbol also found its way into the military culture back here in the United States, corrupted even further by those who use it as a way of pushing radical, right-wing, close-minded, dripping-with-conspiracy thinking. That would lead, as we mentioned above, to Marvel Comics making a permanent (is there such a thing in comics) change official in early 2022. Considering the political & societal climate that we find ourselves in (where the original symbol has been co-opted even further by hate groups), I can't imagine Disney is interested in wading into wacky waters.
Targeted to premiere in Spring 2024 (for now, at least), the 18-episode Daredevil: Born Again cast would reportedly include Cox, D'Onofrio, Bernthal, Michael Gandolfini (The Many Saints Of Newark), Margarita Levieva (The Deuce), Sandrine Holt (American Gigolo), and Nikki M. James (Severance). Reportedly, Deborah Ann Woll & Elden Henson are not expected to return to their roles as Karen Page and Foggy Nelson, respectively, but that has not been confirmed.