The fourth episode of Viceland's Dark Side of the Ring documentary series, focusing on the tale of the Von Erich wrestling family, is a heartwarming tale of triumph over tragedy. Wait, what? You might find it hard to believe, considering the well-known story of the Von Erichs has earned the family the legend of a curse. Out of six sons of patriarch Fritz Von Erich, five died tragic, early deaths, before Fritz died of lung cancer in 1997.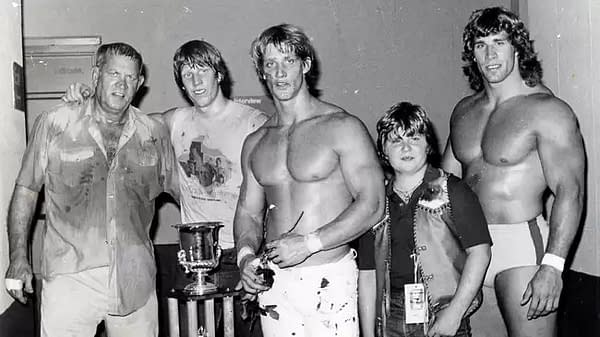 But this episode is titled The Last of the Von Erichs and focuses on surviving brother Kevin Von Erich, the second son of Fritz. It opens on Von Erich's land in Hawaii, where Kevin moved, as he says, to get away from the pro wrestling business, and where he currently spends his days at peace with nature, enjoying time with his children and grandchildren. Kevin Von Erich wrestled his final match in 2017, in Isreal, tagging with his two sons. The Von Erich family remain revered amongst pro wrestling fans in Israel to this day.
The Last of the Von Erichs has to cover the tragedy of five dead Von Erich brothers, so less time is able to be spent exploring the lives and careers of each brother than previous episodes that told the stories of one or two people. Fritz Von Erich's first son, Jack, died as a child after drowning in a puddle following a freak electrocution accident. David Von Erich, the third son of Fritz, died in his hotel room in Japan, as the coroner's report says and Kevin Von Erich insists, of complications from gastroenteritis, though it's long been rumored that David died of a drug overdose and Bruiser Brody, the subject of last week's episode, disposed of the drugs after finding the body. Next, it was fifth son Mike Von Erich who, after trying to replace his brother in the family business, committed suicide by overdose. Youngest brother Chris followed a few years later, committing suicide via gunshot to the head.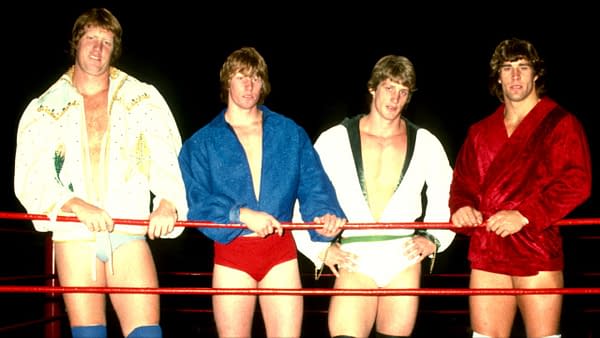 Perhaps the most well-known Von Erich is Kerry, who defeated Ric Flair to win the NWA Championship at the tribute show following David's death. Surviving the deaths of his brothers, Kerry went on to leave the family territory of WCCW in Texas to join WWF in New York. But Kerry wrestled with a secret: his foot had been amputated following a motorcycle accident. With the pressure of this secret, apparent drug abuse, his reduced athletic capabilities, WWF stripping him of his Von Erich legacy, changing his name to simply "The Texas Tornado," and the dissolution of his marriage, Kerry Von Erich committed suicide by gunshot in 1993, less than ten years after the death of his brother David.
None of this is new information to longtime wrestling fans, though casual viewers will find the story told in a compelling-enough fashion. Talking heads include family friend and WCCW official David Manning, wrestling legend Jim Cornette, journalist Dave Meltzer (who has a very messy office — shame on you, Dave), and of course Kevin Von Erich. The episode, as usual, is narrated by Dutch Mantell. The same formula as past episodes applies: shadowy footage of muscle-bound men dressed to look enough like the Von Erichs is intercut with the video interviews and old wrestling footage.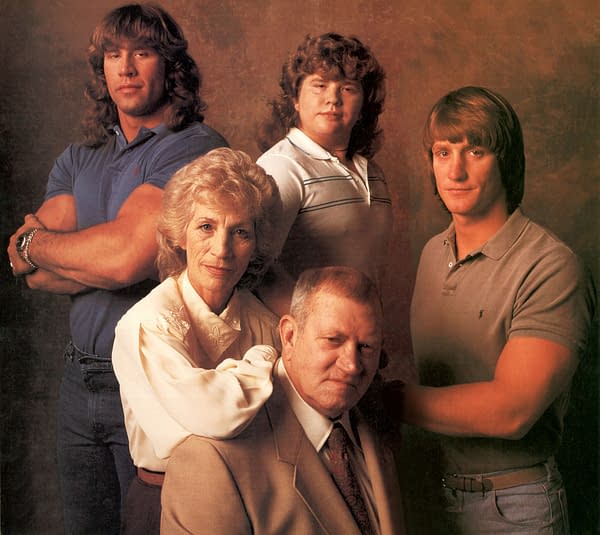 But what sets this episode apart is surviving brother Kevin Von Erich's seemingly happy ending. Kevin describes himself as the luckiest man in the world despite what happened to his brothers, whom, along with his father, he holds in high regard. Video footage filmed for Viceland shows Kevin Von Erich leaning against a tree in Hawaii, watching his sons Ross and Marshall, the youngest generation of Von Erichs, wrestling shirtless in the woods. Kerry Von Erich's daughter, Lacey, also wrestled for a time, winning the TNA Knockouts Championship before retiring from the ring in 2007. But Ross and Marshall, the talking heads declare, remind people of the original Von Erich brothers. Perhaps they will carry on the legacy?
Watch the episode below:
Enjoyed this article? Share it!